Guest Review by Sreeparna Ganguly
Today's review will be about a shower gel by Fiama Di Wills. It is the Lemongrass & Jojoba variant of the Clear Springs range. I was eyeing this one for quite some time and finally got my hands on it on a sale last year. As I take turns between bath essentials; this one is not finished yet. I have still little bit of the product left after 8-9 months. I have used this in almost all seasons and gained a lot of knowledge regarding its proper usage. To know more about my experience read on.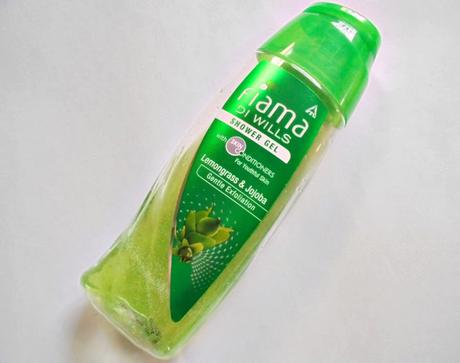 PRODUCT DETAILS:
Ingredients:
Superior bathing delight meets luxurious skin nourishment in Fiama Lemongrass and Jojoba Shower Gel, an innovation from Laboratoire Naturel.
Why should this one be in your shower essentials?
It is infused with skin conditioners that lock in softness.
It is infused with exfoliating jojoba beads.
It is enriched with extracts of Lemon Grass.
Luscious fragrance and indulgent lather gives you revitalized care.
Price: Rs.185 for 200ml
Shelf Life: 36 months from the date of packaging
How to Use: Wet your body with lukewarm water to open up the pores. Take a dollop of shower gel to your palm and spread it well. Take a soft loofa and massage the gel onto the skin with gentle round strokes.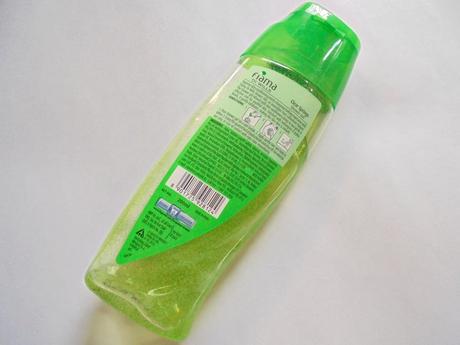 MY TAKE ON THE PRODUCT
Packaging/Availability: The Fiama Di Wills shower gel comes in a transparent flip-top plastic bottle packaging. The cap is neon green in color and shuts tightly. When the bottle is squeezed the gel dispenses out of the opening of the cap. The packaging is quality wise good and spill-proof. The front side of the squeeze bottle contains lime green label graphics depicting the main constituents of the shower gel and the back side contains full ingredient list claims and other important information. This shower gel is easily available in most of the beauty stores, departmental stores, and grocery stores. It is available online with attractive offers as well.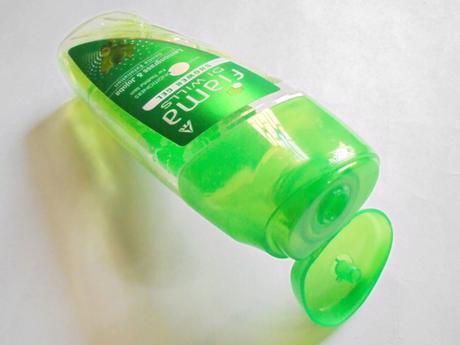 Colour: The product is light green in color that looks almost transparent when taken out in lesser quantity. The exfoliating beads are leaf green and off-white colored. The overall color combination of the shower gel and the scrubbing beads reminds me of tropical greeneries.
Texture: This shower gel is quite thick in texture. It has two types of small exfoliating particles suspended in the dense gel.The scrubbing particles are off-white and made up of soft plastic. The leaf green dissolving particles are to produce lather and melt with just a rub. Both kinds of particles are sparsely distributed in the shower gel.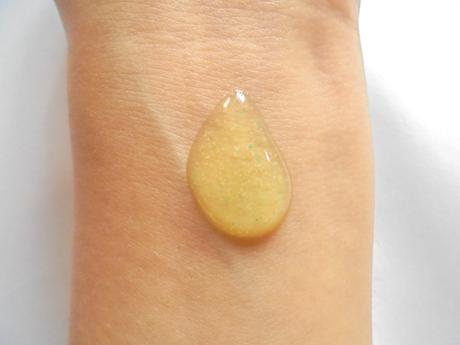 Fragrance: The bathing gel smells really fresh and lemony. Although the fragrance is very mild and not overpowering; it is tangy. The smell does not stay long. It goes off as soon as I am out of the shower.
Suitability: Although this product is said to be suitable for every type of skin; this one may seem too moisturizing for oily skinned people in warmer weather. It can be a good winter skin cleanser for every type of skin including sensitive skin.
Effectiveness: The Fiama di Wills shower gel produces less lather than most of the other body washes. For my oily skin, I need to take 3-4 coin sized amount to cover my whole body for thorough cleansing. It does not rip off the natural moisture from the skin. As the scrubbing beads are so small and sparsely distributed; it is unable to scrub my skin effectively. I have not noticed any extraordinary clarity and smoothness as well. It takes plenty of water to wash off completely. I have used all the gel bars from the same brand and they worked wonders for me. But I find this particular variant of shower gel an average product for my oily skin considering the price-point.
RATING: 3/5
FINAL RECOMMENDATION: I would suggest Fiami Di Wills shower gel to anyone who wants a decent and budget-friendly body cleanser that will ensure mild cleansing and moisturizing.