If a child grows up with love given by parents then that child will give to others. But if they grow up without then  there is a chance that these children will grow up without knowing the real meaning of love. Main Goal of Orphanage volunteering is to spread love and affection to the orphans. For every children love is the only important thing that outweighs any material possessions.
Following steps may be help you to show love for orphans as a Volunteer.
Spending quality time with orphans will help you to understand them well and you can do lots of activities like: playing, story-telling, singing etc.

Show your affection to them like call them as dear or sweetie. You can also hug them or holding their hands, it is another way to show your affection.

When they need help, you should help them. Never shows hesitations to help them.

You have to say that "you love and care for them". Expressing your love and care through words is one of the best ways to confirm them that you care about them.
Pro Tips:
Keep all above points in your mind while you are going to do volunteering in India

Do some research for the volunteer organization who can help you. You can get help from google & yahoo for it.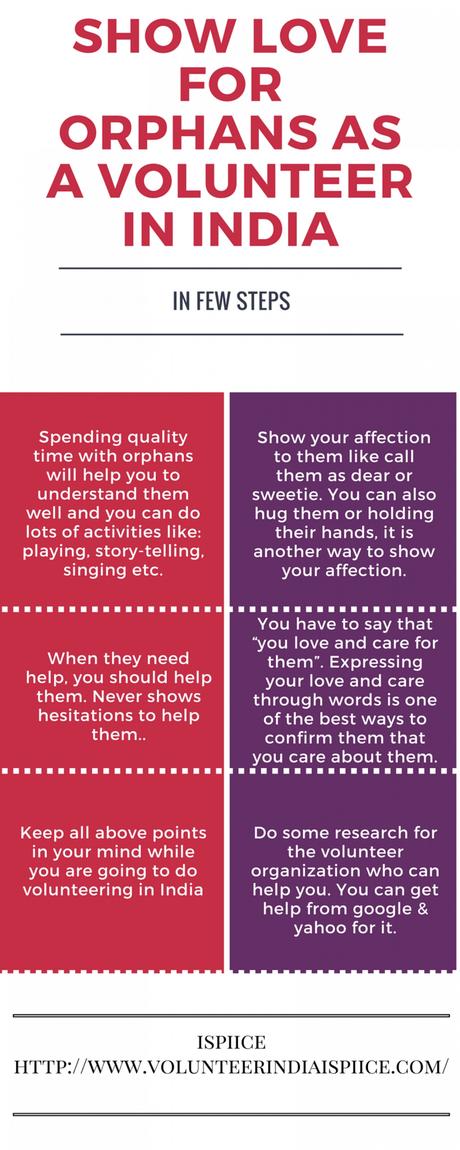 Source: ispiice