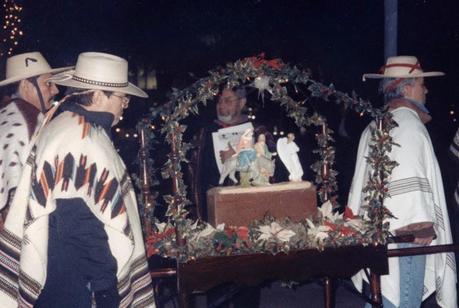 Procession with men carrying a platform with figures of Mary and Joseph
My friend and fellow author Ann Stalcup has been fascinated by Mexican customs and culture for many years. She has taken numerous photographs in the Mexican communities of Los Angeles where cultural events are celebrated frequently throughout the year. She has also visited areas of Mexico where she has observed many of the traditional festivals including the Blessing of the Animals, the Day of the Dead, and Christmas. Here are a few of her photos of Mexican Christmas celebrations.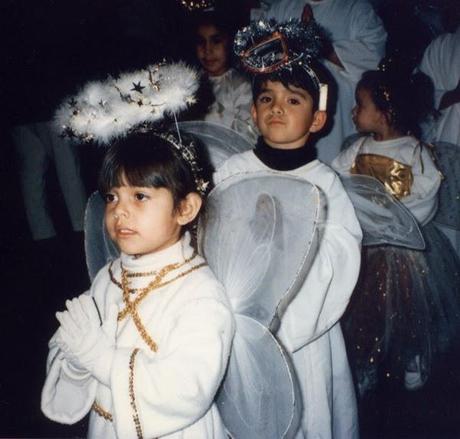 Children dressed as angels
MEXICAN CHRISTMAS celebrations begin with parades held from December 16 to December 24 that re-enact how Mary and Joseph searched for a place to stay when Jesus' birth was imminent. Each night, costumed shepherds led by angels visit a different store in the community and plead in song for shelter. In Los Angeles, California, many people gather in Olvera Street to take part in the celebration.  After a short prayer, children dressed angels lead the way in the
Las Posadas
procession. On the last night of
Las
Posadas,
the Baby Jesus will have been added to the manger scene or
nacimiento
.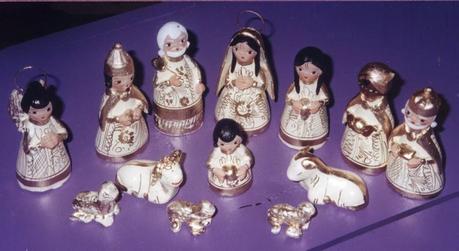 Nacimiento
Three Kings Day is celebrated on January 6th, the traditional gift-giving day.  Two thousand years ago, the Three Kings journeyed to worship the baby Jesus and bring him gifts.  In memory of this, on Epiphany Eve (January 5th), children put their shoes on the ends of their beds, in their windows, or on their balcony.  In Mexico, as
Los Tres Reyes
pass through each village and town on the way to see the Christ Child in Bethlehem, they leave gifts in each child's shoes.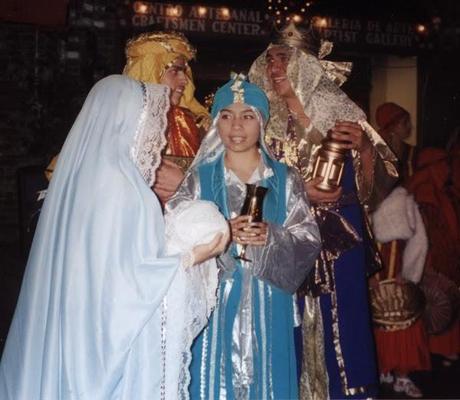 Children dressed as the Three Kings
The Christmas festivities end with
Candelaria
, a day when Mexican families bring elaborately-dressed Jesus dolls to be blessed in church.  Choosing an outfit is not easy.  Some are embroidered, others are decorated with lace.  Some dolls have gold crowns and bishop's hats and white doves. Not only does the baby need clothing, He needs a special chair too.  He will sit in it until the Christmas season starts again.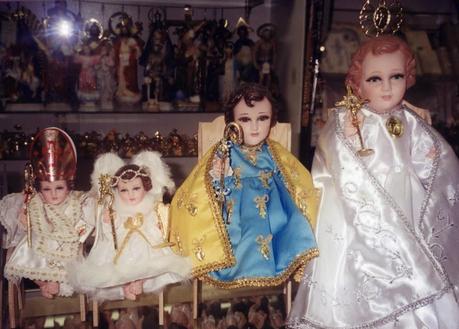 Jesus dolls
For more information about Ann and her published work, visit her at her website: www.annstalcup.com 
You can look for Ann's earlier posts on this blog on Mexican celebrations:  The Blessing of the Animals 9/8/14, and the Day of the Dead 10/27/14.