Happy Monday all you goofy kids!
I spent all day Saturday losing a basketball game and watching movies to get my mind off said loss from basketball game…… Then Sunday we decorated the house for Christmas!!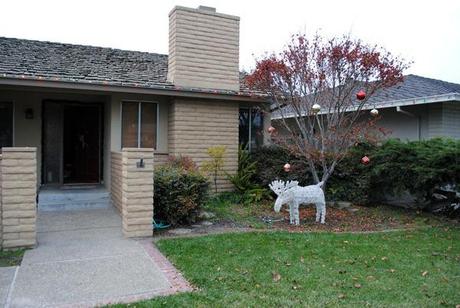 We don't go all crazy-christmas-sauce at our house but we do like to look festive. Our new addition this year is the tree Christmas Balls. Love 'em!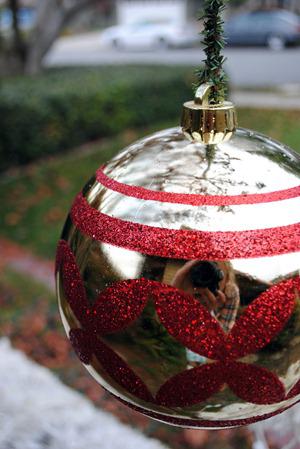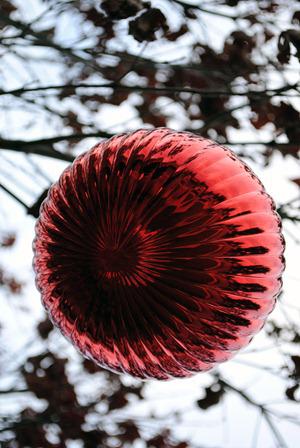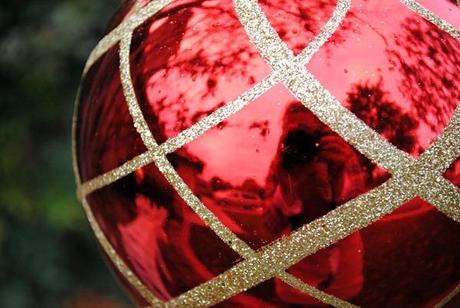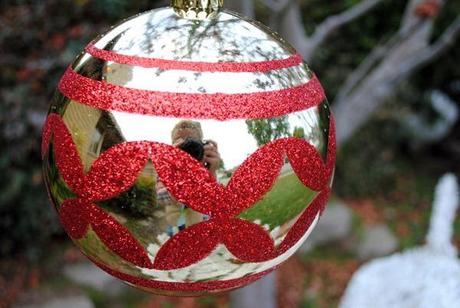 Why hello there.
For breakfast yesterday I decided to remake my oatmeal from Friday (that I forgot to photo and kicked myself for all day).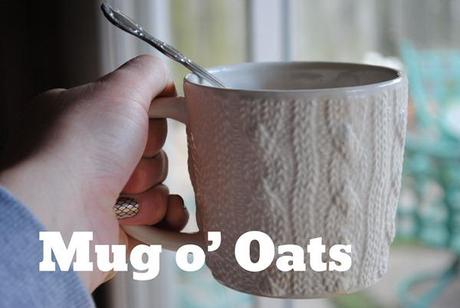 instead of Jar o' oats………….. I guess the famous Starbucks Sweater Mug will have to work.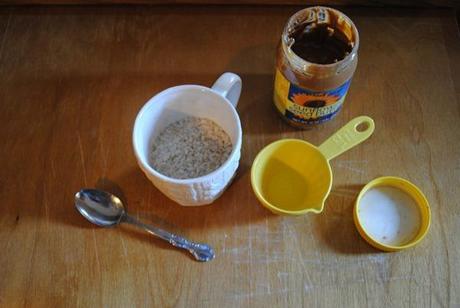 Here's what ya need…..
maple nut instant oats
sunflower seed butter
a pinch of salt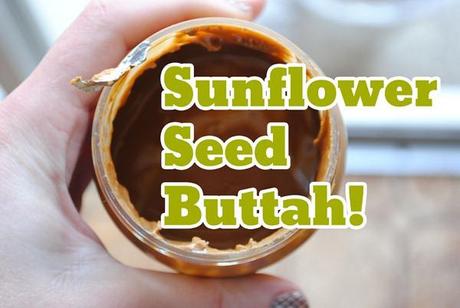 I'd be lying if I said I never sneak spoonful's of SS Buttah and quickly throw the entire spoonful in my mouth if I unsuspectingly run into someone in the house………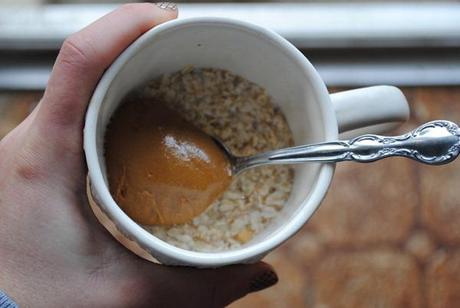 Then we kept on decorating for christmas…………. Decorating takes so much longer than one thinks.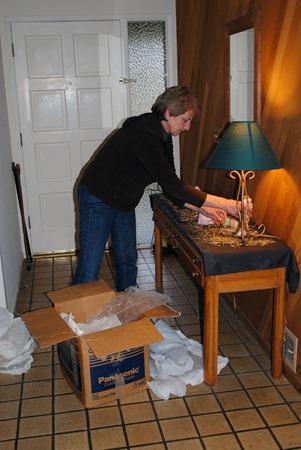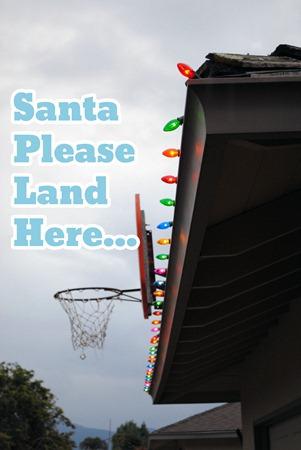 So the infamous Christmas lights. Mom and I decided that this year it was time to get all new house lights so I went down to the Ace Hardware and bought 2 spankin new strands. Including replacement bulbs. Well when I got home we realized that the strand we had and the new strand ran opposite ways sine each bulb has a hook for the rain gutter built into the fixture. So now our power source needed to be on the other side of the house.
Not good people! We contemplated running an extension cord over the house and maybe trying to hang the lights upside down from the roof but it wouldn't work, so we decided to take all the light bulbs out of the new strands and replace the old bulbs in our old strands. It took 2 hours of my mom standing on a rickety latter, me breaking 3 bulbs, accidentally putting in 3 twinkling bulbs and listening to Mariah Carey's All I want for Christmas is You 4.5 times.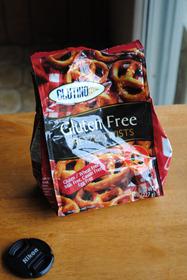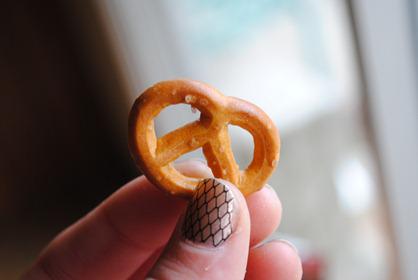 The lights lead me to eat 1/4 of a bag of Glutino Gluten Free/Dairy Free pretzel twists………….
Then eat lunch.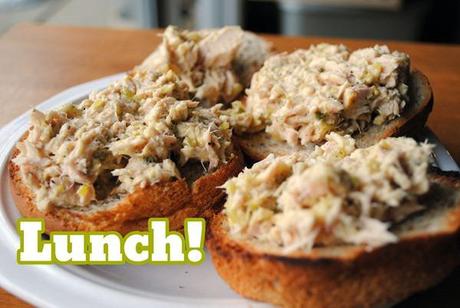 I toasted 2 Rudi's Hamburger Buns and added my super quick and tasty tuna salad.
here's what ya need……..
1 can tuna
2 TBSP mayo (or the dairy free veggie stuff, which his surprisingly pretty good. And I'm a mayo purist so that says a lot!)
1.5 tbsp brown spicy mustard
celery salt
black pepper
1-2 TBSP relish or cut up pickles (relish makes this recipe a quicky)
After decorating the entire outside of the house and nothing inside except for the nativity scene my mother hired me to make the christmas pageant dessert so of course I made candy cane cupcakes!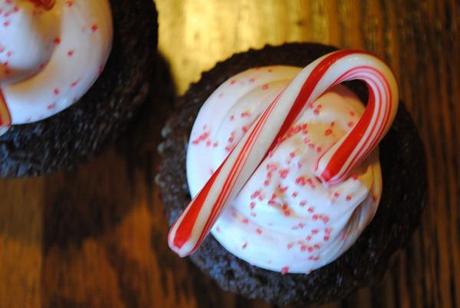 Now you can get all crazy and make a delicious homemade chocolate cake, preferably with chocolate chips in the batter for added coco factor. Or even dark chocolate since it will go fabulously with the peppermint but I used plain old Dunkin Heinz.
And you could make your own vanilla free butter cream frosting and add finely ground up peppermint sticks to make your cupcakes taste straight out of the candy cane forest…… Or you could use plain white can frosting and add 1/2 tsp peppermint extract and get a little creative with red crystal sprinkles………..
Whatever floats your boat, licks your popsicle, or bites your cookie!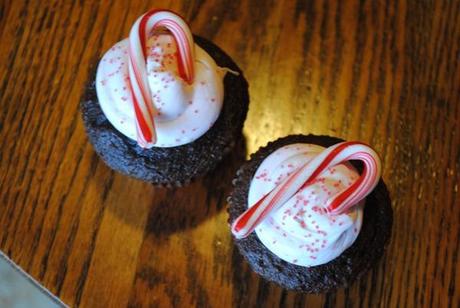 I like to add some sprinkles into the frosting then sprinkle a few on top too.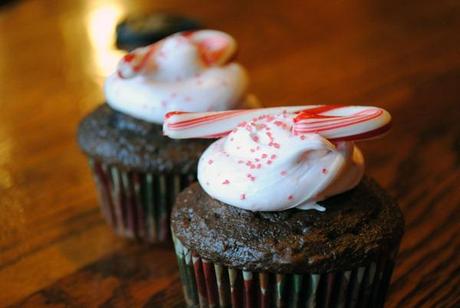 These cupcakes where quite a hit! All 21 of them were gone before I even made it to the cookie table.
I did eat a few too much sugary sweets between tasting all my flavors for the candy cane cupcakes and then eyeing a plate of toffee at the cookie after party………..
My tummy is NOT a happy camper today. :-\
Have a great week! I may or may not have eaten toffee for dinner last night. I'm proud of it. Christmas only comes once a year.

Tell me about you! I want to know…………..
What is your favorite Holiday treat?
I really really really love toffee.
IF you had to chose between leopard and zebra print which would you choose?
Zebra
What is the #1 thing on your Christmas list?
a cat that doesn't look like satan and has fur.