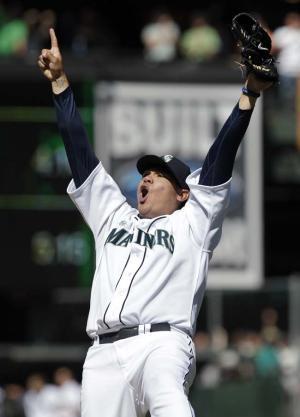 Photo: Ted S. Warren/Associated Press
- Adam Parker
In today's era of baseball, pitching is king.
Or rather, one pitcher, is "King."
That "King" is Seattle Mariners' ace Felix Hernandez.
The 2010 American League Cy Young Award winner has often spoken of his desire to reach the pinnacle of pitching perfection, and Wednesday when his Mariners played host to the visiting Tampa Bay Rays, the 26-year old Hernandez did just that while also striking out the side twice and fanning 12 batters in total.
Felix's gem was the first perfect game in Mariners' franchise history and the 23rd in Major League Baseball history.
It was the third perfect game this season — the Giants' Matt Cain against the Houston Astros and White Sox' Philip Humber (at Safeco Field
against the Mariners
, oddly enough) — threw the other two.
It was the sixth no-hitter this season and the third thrown at Safeco Field. First came Humber's gem, then a six-pack of Mariners pitchers combined to no-hit the Los Angeles Dodgers on June 8.
In my mind, there's no doubt that
King Felix
is the King of the Hill when it comes to pitching talent in the Majors these days. Sure, you have your Jered Weavers with the Angels and your Justin Verlanders with the Tigers, but in my book, Hernandez is the best of the best.
Why, do you ask?
It's simple really.
Hernandez (11-5; 2.60 ERA) has been dominating opposing hitters since he first burst onto the Major League stage with Seattle back in 2005 at the ripe age of 19.
The kid is amazing. If he had
anything
even remotely
close to the type of run support the Weavers, Verlanders, (Roy) Halladays and (CC) Sabathias of the world get, you can bet we would be hearing about his exploits a lot more often than we currently do.
Hernandez has an average career win/loss record of 12 wins to nine losses. But those numbers are a facade and don't show his true talent. Can you imagine if he had guys like Albert Pujols, Mark Trumbo, Mike Trout, Prince Fielder, Miguel Cabrera, Ryan Howard or Chase Utley to count on for run support:? Suffice to say that Felix, despite still being so young, would likely have more than a single Cy Young to his name.
The fact of that matter is that the Mariners are just a horrendous offensive team — tied for last in the AL with the Oakland Athletics in runs scored and tied for last in home runs with the Kansas City Royals. Ichiro Suzuki, now with the Yankees, was Seattle's one bright spot over the last decade of darkness.
At the moment, our dreams as baseball fans of seeing Felix show off his talents on the postseason stage will have to wait. The Mariners have been one of the worst teams in baseball in recent memory, and though they've received countless offers from heavy-hitting perennial title contenders for Hernandez's services, they haven't budged an inch.
You have to give credit to Seattle general manager Jack Zduriencik for standing his ground and not trading Seattle's
King.
 Could he fetch a hefty return if the Mariners were to move him? Absolutely, but let's make one thing perfectly clear — Seattle would
never
 get equal value back in a deal for Hernandez, and they know it.
At this juncture, Felix's stock has never been higher, nevertheless, even if the trade deadline wasn't over (which it is), the Mariners still wouldn't move him. The hype train may be at it's peak and the floodgates may be on the verge of bursting open, but I'd put money on it that the Mariners would hold steadfast and stand pat on the Felix talks if it came down to it; just as they've done in the past.
After all, there is no such thing as getting equal value in return for the
best
 in baseball — and that's exactly what Felix Hernandez is — the best.
Be sure to follow Beard And Stache on Twitter 
@BeardAndStache
, and also Adam 
@Adam_Parker43
, Like our Facebook page 
HERE
!