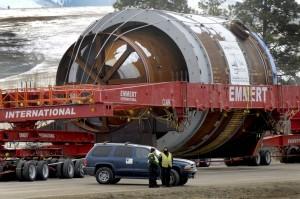 From Earth First! News
A U.S. District Judge ruled in favor of the Nez Perce Tribe and Idaho Rivers United today, effectively blocking megaloads from Highway 12 in Idaho.
The Nez Perce brought the case to court in August, as Omega Morgan tried to transport General Electric megaloads up Highway 12 without asking permission from the Forest Service.
The megaloads can be an estimated 21 feet wide, weighing 644,000 pounds, and their traffic up scenic Highway 12 (site of the famous movie A River Runs Through It) would disturb vital riparian and forest ecosystems. However, the ruling comes only after a week-long rolling blockade of Highway 12 that, at times, included 150 tribe members and activists, and resulted in the arrest of the entire tribal council. The verdict can be seen as vindicating the direct action of the tribal council, which brought international attention to the issue.
In his ruling, Judge  B. Lynn Winmill wrote, "In an earlier decision in a related case, the Court held that the Forest Service must 'enforce all relevant legal authorities, including, but not limited to, the Wild and Scenic Rivers Act … .' The Forest Service was taking the position that it had authority to review but not to enforce. Obviously, that was an erroneous reading of the Court's decision."
As well as the Wild and Scenic Rivers Act, the Tribe's Treaty rights, and the NFMA (National Forest Management Act) were also considerations for the injunction.
The court's injunction is effective over mileposts 74 to 174 on Highway 12 "until the Forest Service has conducted its corridor review and consulted with the Nez Perce Tribe." Omega Morgan says they will lose $5 million dollars thanks to the court's ruling, but the judge reminded the corporation that they had been warned in April that they would lose out if they decided to proceed without Forest Service permission.
He noted, "The plaintiffs are not seeking damages; they are seeking to preserve their Treaty rights along with cultural and intrinsic values that have no price tag."
Omega Morgan has already begun looking for other options.
read the judge's ruling here, and another full story here at spokesman.com.