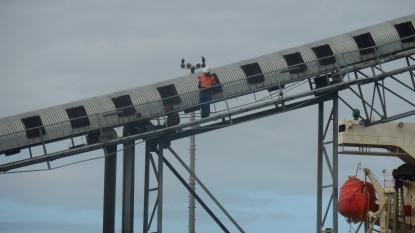 Conservationists halt loading of wood chip ship
According to press releases and Facebook updates from Fearless Summer Australia, a group of conservationists gathered at the Hobart port yesterday, where a ship was loading native forest veneer for export overseas.  Holding a banner calling for an end to native forest destruction, the group stands in solidarity with conservationists from New South Wales and Victoria who simultaneously halted the loading of a woodchip ship in Eden.
 "From the veneer ships in Tasmania to the woodchip ships exporting the forests of New South Wales and Victoria, conservationists are today taking a stand against the chain of forest destruction" said Miranda Gibson, spokesperson for Still Wild Still Threatened.
In Eden (New South Wales) two people were arrested after locking themselves to the woodchip conveyor in order to stop loading of the woodchip vessel.  This action is part of Fearless Summer, a national collaboration between grassroots forest groups from around Australia. After a nine hour shutdown of ship loading at Eden woodchip mill, our courageous lock-ons were cut free and taken away to be charged. The officer who cut them off did so in a reckless way, and they were injured in the process. Thankfully not life- threatening. A formal complaint will be lodged.
"The destruction of our forests is a national shame.  To add insult to injury, our biodiverse native forests are being destroyed at a loss to Australian taxpayers, while being shipped offshore by international companies like Ta Ann and Nippon Paper" said Ms Gibson."Every day our precious forests are being lost, and our wildlife pushed closer to extinction, while the taxpayer foots the bill. The forestry industry has proven itself time and again to have blatant disregard for the environment and its own regulations. What we are seeing is an extinction crisis in the making, happening across Australia, and the fearless actions of these conservationists to confront this shows great courage" said David Caldwell of Goongerah Environment Centre
The two conservationists have been charged with remaining on enclosed lands, and with intimidation.
These are the same charges that two other conservationists face for locking on to the conveyer back in December. They appeared in Eden court today and plead guilty to the enclosed lands charge, but not guilty to the charge of intimidation. Their brief will be handed down on the 12th of February, and their case heard on the 5th of March.