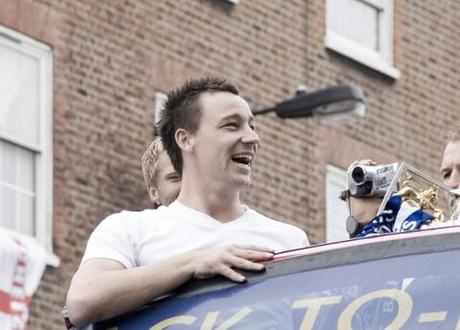 John Terry. Photo credit: Paul Bence
In one of the most sensational games ever played in the UEFA Champions' League, ten-man Chelsea came from two goals down away at Barcelona to draw 2-2 and progress to the final. Chelsea went into the game as massive underdogs and somehow triumphed despite captain John Terry being red-carded for a thuggish act and centre-back partner Gary Cahill limping off with a hamstring injury. Chelsea certainly rode their luck. Lionel Messi crashed a penalty against the crossbar and hit the woodwork late on with the score still at 2-1. The morning after the night before few football fans can believe what they witnessed at the Camp Nou and the breathless sports commentariat is attempting to explain the historic victory.
Triumph of the old guard. "Chelsea, quite simply, found such a greatness of will that you could spend a lifetime of watching football without the privilege of anything to compare with it," praised James Lawton of The Independent, who said that players such as Ashley Cole and Frank Lampard showed the "highest quality of competitive courage." Lawton lauded interim manager Roberto Di Matteo with his "decision to put his faith in the old guard … Beyond everything this was a triumph for the simple proposition … that if you have players of character and proven deeds, it is a good idea to give them the last benefit of the doubt." "Whatever happens in Munich, Chelsea have made an indelible mark on the greatest of club tournaments," concluded Lawton. "They can nurse this effort through victory or defeat in Munich for the rest of their lives."
John Terry, Branislav Ivanovic, Ramires and Raul Meireles will miss the final at Munich's Allianz Arena on 19 May due to suspensions. Injuries could also rule out defenders Gary Cahill and David Luiz.
Defensive masterclass. At The Guardian's Sport blog, Richard Williams argued that, "this success was a victory for obduracy, pure and simple. In dismissing the challenge of a side generally reckoned to be among the best ever assembled, they demonstrated that defending effectively is just as much of a football skill as the ability to construct attacking moves that ravish the senses."
Chelsea, bloody hell. Martin Samuel of The Daily Mail said "stuff purism; this was one of the great nights, simply because it was about more than just beauty and technique. It was about bravery, determination, a refusal to bow, a triumph of sheer will. It was not Chelsea's destiny to be in Munich; it was their destiny to leave Catalonia defeated, as most teams do. They changed the narrative; they made this happen, somehow." Samuel concluded that Chelsea reached the final for one strikingly simple reason: "Because they really, really wanted to. Every decade or so, a game comes along that is impervious to common sense. Sir Alex Ferguson said it best. Chelsea, bloody hell."
Can Chelsea win the Champion's League final? Leave a comment and let us know your thoughts.
Chelsea's anti-football shames the English game. While almost all in the sports commentariat have fallen head over heels to congratulate Chelsea and celebrate an English team's progression to the final, The Times' Tony Cascarino (who used to play for Chelsea) argued that the "manner of Chelsea's victory does not reflect well on English football." Cascarino said that despite owner Roman Abramovich's reported admiration for attacking football, "his Chelsea have performed like the mangiest of underdogs intent on doing nothing other than preventing Barcelona playing their exciting brand of football." "Yes, they demonstrated heart, desire, courage and determination last night, but those are not the qualities that I associate them with," sniped Cascarino, who said it was "a funny sort of triumph."