National archives are the archives of a nation-state.
The U.S. National Archives, America's national memory, was created by the National Archives Act of 1934 and housed in the National Archives Building, on which façade is claimed "The Glory and Romance of Our History are Here Preserved."
But FBI files linking Hillary Clinton to the 1993 suicide of Vince Foster, Bill Clinton's deputy White House counsel with whom Hillary is rumored to have had an adulterous (on both sides) affair, have mysteriously vanished from the National Archives.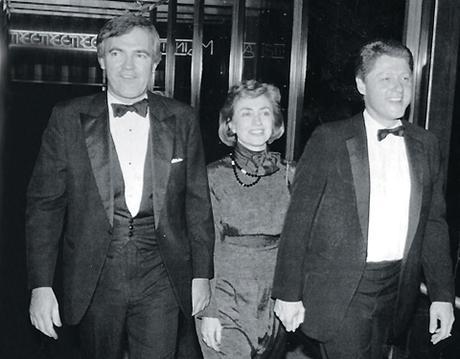 L to r: Vince Foster, Hillary Clinton, Bill Clinton
That's the discovery of Ronald Kessler, a former Washington Post and Wall Street Journal investigative reporter, and author of the bestseller The First Family Detail: Secret Service Agents Reveal the Hidden Lives of the Presidents.
Writing for the UK Daily Mail, Aug. 23, 2016, Kessler recounts that on two separate visits to the National Archives and Records Service in College Park, Md.:
"FBI agents' reports of interviews documenting that Hillary Clinton's stinging humiliation of her friend and mentor Vince Foster in front of White House aides triggered his suicide a week later are missing from where they should be filed at the National Archives….

While the box contained dozens of FBI reports concerning Foster's death – including interviews with the medical examiner, U.S. Park Police officers, and White House aides about the contents of Foster's office – the reports on Hillary Clinton's role in his death were absent."
After filing a Freedom of Information request with the National Archives, Martha Murphy, the archives' public liaison, reported that she directed a senior archivist to conduct a more thorough review of the relevant FBI files, including those that had not been previously made public in response to FOIA requests. But after examining all eight boxes, the archivist found no interviews by any investigator that detail either a meeting between Hillary Clinton and Vince Foster or the effects of a meeting between Hillary Clinton and Vince Foster on Foster's state of mind. Murphy concluded that the records could not be found.
National Archives' director of communications and marketing John Valceanu, while confirming that the records could not be located, refused to concede that the records are missing "simply because we were unable to locate any responsive records in response to your request." Instead, Valceanu held out the possibility that the FBI interviews were not filed where they should have been and were somewhere else in the more than 3,000 boxes of records amounting to 7.5 million pages generated by the Starr investigation.
The FBI investigation into Foster's death had been conducted for independent counsel Kenneth W. Starr's probe of the Clintons' investments in the Whitewater real estate development.
More interesting still is the fact that this is not the first time documents related to the Clintons have apparently vanished from the National Archive. In March 2009, the archives found that an external hard drive from the Bill Clinton White House containing confidential documents was missing. The inspector general's office opened a criminal investigation and offered a reward of up to $50,000 for information leading to recovery of the hard drive. At the time, the National Archives said it had a backup drive.
Kessler maintains that in interviews for his book The First Family Detail, the FBI agents had revealed the truth about Foster's death.
Former FBI agent Coy Copeland and former FBI supervisory agent Jim Clemente told Kessler that in interviewing Clinton White House aides and Foster's friends and family, the FBI found that a week before Foster's death, Hillary held a meeting at the White House with Foster and other top aides to discuss her proposed health care legislation. Hillary angrily disagreed with a legal objection Foster raised at the meeting, and mercilessly ridiculed and humiliated him in front of his peers.
Copeland said: "Hillary put him [Foster] down really, really bad in a pretty good-size meeting. She told him he didn't get the picture, and he would always be a little hick town lawyer who was obviously not ready for the big time."
According to Clemente, Hillary went so far as to blame Foster for all the Clintons' problems and to accuse him of failing them. Clemente said:
"Foster was profoundly depressed, but Hillary lambasting him was the final straw because she publicly embarrassed him in front of others. Hillary blamed him for failed nominations, claimed he had not vetted them properly, and said in front of his White House colleagues, 'You're not protecting us' and 'You have failed us'. That was the final blow."
After the White House meeting, Foster's behavior changed dramatically. Those who knew him said his voice sounded strained, he became withdrawn and preoccupied, and his sense of humor vanished. At times, Foster teared up. He talked of feeling trapped.
On Tuesday, July 13, 1993, while having dinner with his wife Lisa, Foster broke down and began to cry. He said he was considering resigning.
That weekend, Foster and his wife drove to the Eastern Shore of Maryland, where they saw their friends, Michael Cardoza and Webster Hubbell (rumored biological father of Chelsea Clinton), and their wives. Copeland said:
"They played tennis, they swam, and they said he [Foster[ sat in a lawn chair, just kind of sat there in the lawn chair. They said that just was not Vince. He loved to play tennis, and he was always sociable, but he just sat over in the corner by himself and stared off into space, reading a book."
Two days later, on July 20, 1993, Foster left the White House parking lot at 1:10 p.m and allegedly committed suicide in Ft. Marcy Park along the Potomac River by placing a .38 caliber revolver in his mouth and pulling the trigger. The precise time when he shot himself could not be pinpointed. After Park Police found his body, they notified the U.S. Secret Service at 8:30 p.m.
Copeland and Clemente both say that the FBI investigation concluded that it was Hillary's vilification of Foster in front of other White House aides, coming on top of his depression, that triggered his suicide. As Copeland puts it, while Foster was already depressed, the put-down that Hillary gave him in that big meeting "just pushed him over the edge. It was the final straw that broke the camel's back."
According to the Starr report, the FBI investigated even the most bizarre theories about Foster's death and conducted extensive ballistics tests that refuted assertions that Foster had not committed suicide. Starr retained Dr. Brian D. Blackbourne, a forensic pathologist who is the medical examiner for San Diego County, California, to review the case. Blackbourne concluded that "Vincent Foster committed suicide on July 20, 1993 in Ft. Marcy Park by placing a .38 caliber revolver in his mouth and pulling the trigger. His death was at his own hand."
Starr also retained Dr. Henry C. Lee, an expert in physical evidence and crime scene reconstruction who then was director of the Connecticut State Police Forensic Science Laboratory. Lee reported that after a "careful review of the crime scene photographs, reports, and reexamination of the physical evidence, the data indicate that the death of Mr. Vincent W. Foster Jr. is consistent with a suicide. The location where Mr. Foster's body was found is consistent with the primary scene" — meaning the place where he committed suicide.
But in his report, Starr never referred to the meeting where Hillary humiliated Foster in front of aides, nor to the change in his disposition after that.
Hillary's denunciation of Foster in front of White House aides is consistent with her treatment of the Secret Service agents who protect her. As detailed in Kessler's book, The First Family Detail, Hillary is so nasty and abusive to her own Secret Service agents that being assigned to her detail is considered a form of punishment.
See also:
Arkansas State trooper: Bill and Hillary Clinton are swingers

Hillary Clinton is a monster, says Secret Service agents

Secret Service is source of leaks on Hillary Clinton's deteriorating health

Hillary Clinton website's source code reveals rigging of 2016 election as a 'hackathon'

Democrat voter fraud has already begun: Hillary supporter commits voter registration fraud in Las Vegas

Hillary Clinton's thugs threaten to shut down Breitbart and theaters showing 'Hillary's America'
~Eowyn