My nine year-old has an obsession. One that she shares with a lot of others like her. She loves One Direction, the British boy band that hit it big after appearing on the UK talent competition, 
The X Factor,
in 2010. It seemed to me that nine was a bit young for all of this sort of stuff to start — puppy love, wanting to know everything about the object of your affection, even down to the slightest details: what sort of pet does he like, what's his favorite color, ice cream flavor, etc. And then I had a flashback of kissing the photo of George on the inside of my mother's
Sgt. Pepper
album. I was six.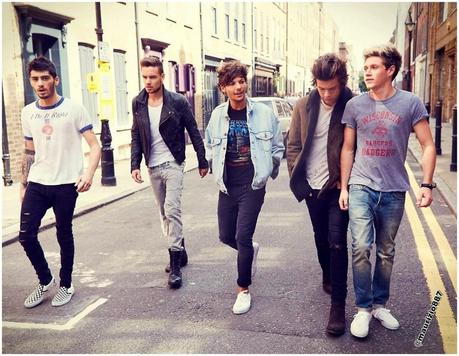 It's not Abbey Road, but the parallels continue to be drawn, L-R: Zayn Malik, Liam Payne, Louis Tomlinson, Harry Styles,  and Niall Horan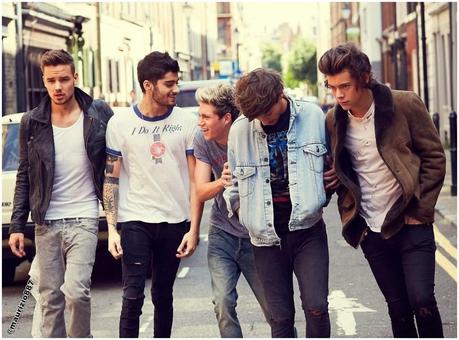 One Direction, L-R:  Liam, Zayn, Niall, Louis, and Harry
So I have smiled as I have watched posters of the boys get torn out of
Tiger Beat
(yes, it's still around) and go up on the wall of her bedroom. I'm watching the progression in the photos as the boys — Harry Styles, Liam Payne, Louis Tomlinson, Zayn Malik, and Niall Horan — get progressively more and more scruffy and tattooed. BTW, Louis is her favorite. I have also become familiar with quite a few of their songs, either through videos on VEVO or on the radio. The tunes are certainly a step above last year's interest, Justin Bieber, but I suspect that might be more than a little due to their impresario and mentor, Simon Cowell's making sure that they have the best handlers and songwriters, like Kelly Clarkson and Ed Sheeran.
I have to admit that I would have liked their latest song, "The Story of My Life," which has been getting quite a bit of airplay lately, whether or not I had all of the background information courtesy of the kid. It's a really good song. And the video is very clever, including the boys' actual family members in tableaux that are equal parts touching and creepy. These kids are definitely grateful for their sudden fame, but quite clearly also miss a bit of some of the freer aspects of their previous working class, less complicated lives. And it's a bit sad that in order to see their families these days they need to work them into a video shoot.
Pop idol stardom is fleeting, especially as one's teeny bopper fans grow up and search for other icons. One Direction should enjoy this phenomenon while it lasts. I do think that young Harry will be the one, a la a Timberlake, to have career longevity, but we'll have to wait and see.