LITTLEROCK – Though family and friends held a prayer vigil on Sunday for missing Littlerock resident Monique "Mo" Figueroa, not everyone continued to place their faith in the two-month investigation of the 28-year-old mother's disappearance.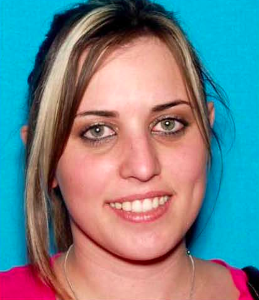 Monique "Mo" Figueroa has been missing since May, and her family believes she was abducted – photo courtesy of Los Angeles County Sheriff's Department
Jeff Figueroa, Mo's father, called on participants at the vigil to help with the family's fundraising campaign, which was now focused on hiring private investigators to look into his daughter's disappearance.
"I can't count on law enforcement to help me," Jeff told those gathered for prayer at the Littlerock Community Church. "What I can count on is for the public to put up some money so I can hire some private investigators and put up a reward [for information]. Everything [in our fundraising] goes into finding my daughter."
Monique has been missing since May, and her family believes she was abducted.
Prior to the Sunday evening vigil, Jeff told this reporter that he is frustrated with what he sees as a lack of attention given to his daughter's case.
He tried reaching Sheriff's detectives last Friday to inform them that someone received an incoming call from Monique's missing smartphone, explaining that "this was a credible lead, and the cops verified that it did come up on this girl's phone," he said. "Yeah, it's not a bullshit deal – this really happened."
The anonymous friend attempted to call back the user of Monique's phone, but there was no response, according to the father. Jeff was unable to relay this development in the case to detectives until Monday. By that time, Sheriff's investigators said it was too late to track the phone because it had been shut off by the user.
"My opinion is that if they would have jumped on it right away, they might had been able to ping the phone and find out where that phone was," he said. "I'm very upset with the police department."
* * *
Jeff told the nearly 70 people in attendance at the vigil that the investigation is no further along than when it began two months ago.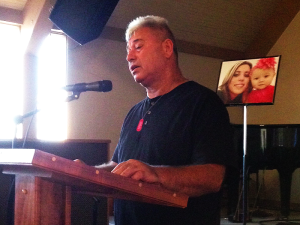 Jeff Figueroa, father of missing 28-year-old mother, Monique "Mo" Figueroa, appeals to participants of a prayer vigil at the Littlerock Community Church on Sunday to come forward with any information on his daughter's disappearance – photo by Jim Winburn
"We're not getting any answers at all," he confessed. "I've already asked how much closer are we from day one – and we're no closer at all."
Family and friends sold T-shirts and handed out flyers to keep hope for Monique alive in the community. During the service, several people took turns praying for Monique, her safe return and to comfort family and friends.
K.C. Wahe, a "pastor friend" to the Littlerock Community Church, said he was there to offer support to Jeff and his family, saying, "God is with us when we need Him the most, which is why we are here tonight."
Wahe told people congregated at the vigil how important it was to pray for each other under the current circumstances, but most importantly, to pray for local law enforcement officers.
"We have to pray to God to work with them," Wahe said. "Like Jeff, if I were in his shoes, I would want every police officer in the world to listen to me. I would want them to answer every phone call. I would want them to be there at my side."
Jeff appealed to participants of Sunday's prayer vigil to come forward with any information on his daughter's disappearance.
"Some of these people in here know these characters we're looking for, but you're afraid to say something," Jeff said. "But don't be afraid to tell me because I'm not afraid of these guys. I need to know. I've passed the information over to the Sheriff's department on everything I've heard. Pass it along to me – I'll handle it."
When asked how he was holding up over his daughter's disappearance, he said he just wished he could get some positive news on the progress of the investigation.
"I'm not going to lie – I'm just falling apart," he told this reporter. "As a dad, the horrible part is watching the law tell me they're overworked, they have other cases, that my daughter is not the only one, and they're on court trials. So [they say] her case is not forgotten about, but it's not at the top of the list."
* * *
Jeff said the family's fundraising campaign will help to cover all expenses connected to finding Monique, including missing person flyers and media advertisements. Another overlooked expense is paying Mo's cellphone bill to keep it active.
"I've been paying for her phone bill just in case something like this happened," Jeff said, referring to the recent call received from her cell. "Do you think the cops would tell you that they would keep the phone active for you? I don't make a lot of money, but I'm paying $200 a month for a phone that I'm not even using."
The family has set up a donation website at www.gofundme.com/FindingMo to help fund the community's increasing effort to find Monique.
Monique has been missing since May 19 when she was last seen driving from her residence at about 4 a.m. Her abandoned 2004 Mercedes Benz was found May 30 off a road in Juniper Hills, which prompted authorities to release a "Missing Person" Special Bulletin.
Anyone with information on this case is asked to contact Detective Shonka or Detective Holston of the Sheriff's Department's Homicide Bureau at 323-890-5500.
###