When you stare at your wardrobe indecisively tomorrow morning, wondering what to wear, remember there is something you can do to completely transform that plain black outfit or your tired work wear : stunning opal jewelry.
It's easy to combine either casual or formal wear with these classic and unique gemstones and you'll be turning heads everywhere you go. Guaranteed.
Credit where it's due
A classic feature stone, opals are no longer overshadowed by other, more expensive gems.
Australia's jewelry designers have recently embraced the mysterious beauty and magic of opals' colours, using them to create a new and distinctive form of art. The result is a translation of this remarkable natural phenomenon – the opal – into contemporary, accessible jewelry to be worn every day.
As this humble gemstone collects more credit through international awards, the timeless Australian opal has become a fashion icon again.
Nature's psychedelic gift
Opals hide a universe of stunning swirling colours which, as Aboriginal legend has it, 'were formed when the Creator took the colours of the rainbow and put them into a stone'. It could be said that each Australian opal is a painting by Mother Nature and one of earth's natural gifts.
Fortunate to have the largest and deepest artesian basin (a massive underground fresh water lake) in the world, Australia is the source of around 95 per cent of the world's opal production. About 80 per cent of these precious stones have been destined for international export, with Australian opals highly sought by the most discerning and fashion-conscious people both nationally and internationally.
Make your fashion statement
Opals Australia has been a premier manufacturer of opal jewelry for more than 75 years. Through its alliances with renowned jewelry artists, this is a supplier that takes pride in showcasing Australia's national gemstone internationally and enhancing its role in the world of fashion and design.
'The Phoenix has risen', is a provocatively titled collection featuring Australian solid light opal inlay and diamonds set in sterling silver. This collaboration with world class jeweller, Venerari, consisted of a stunning range of bracelets, earrings, pendants, rings, cuff-links and bangles. The Phoenix range played a major role in taking opals to the fashion scene, showing how opals in modern jewelry designs provide impact to transform the simplest of apparel into elegant looks that turn heads.
Statement bangles
For instance, this exquisitely undulating bangle from Opals Australia can be worn with a simple body-hugging dress in any color. Featuring six solid inlay opal stones delicately embedded in a netted sterling silver bangle, you won't need any other accessories to mask the simplicity of your garment.
Innovative and fresh jewelry designs featuring unique opals are taking Australia's precious stones – and fashion clothing – to a new level of style anyone can wear.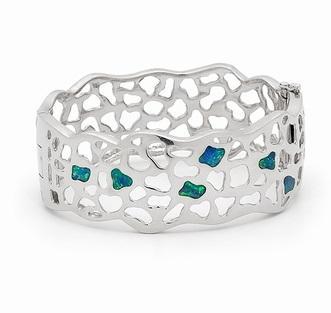 Fashionable Opal Jewellery Ideas to WOW everyone in the room
Pendants with pizzazz
Boldly modern but also elegant, this vivid sterling silver solid inlay pendant from Opals Australia sits beautifully with a low cut dress or top. Let the extreme intensity of the opal's colours accentuate the bareness of your skin and become the focal point of your outfit.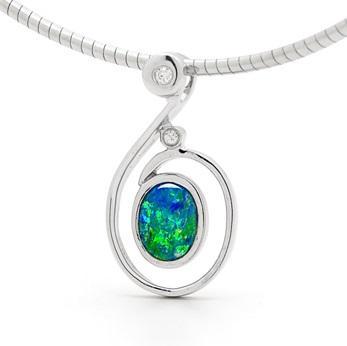 Fashionable Opal Jewellery Ideas to WOW everyone in the room
Classic rings with a twist of colour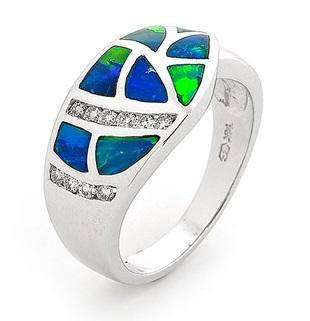 Fashionable Opal Jewellery Ideas to WOW everyone in the room
Rings as fashion conversation starters have always been a key to grabbing attention. The best make bold fashion statements and either of these bright, bold pieces will thrust opals straight into your wardrobe rotation.
Serving formal and casual wear equally, you'd want to wear this eight-opal mosaic ring as often as possible. Complement any soft blue, navy, silver, turquoise or jade gown with its striking colours against 14K white gold. Or bring dramatic style to your favorite weekend jeans with cheeky simplicity.
For a more casual but still eye-catching look, this chic mosaic ring works with fashions year-round and from the workplace to formal functions. Its opal inlaid design will transform your simplest of dresses or suits with a sophisticated touch.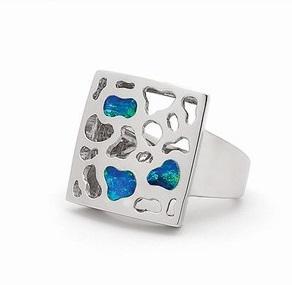 Fashionable Opal Jewellery Ideas to WOW everyone in the room
Use opals for fashion wow-factor
Give your jaded wardrobe a new lease on life by adding a touch of dramatic color with Opal Australia's extensive range of unique design jewelry. Visit www.opals-australia.com today and give these little treasures a chance. You'll love wearing opals.