KRISTIAN AADNEVIK AUTUMNN/ WINTER 2013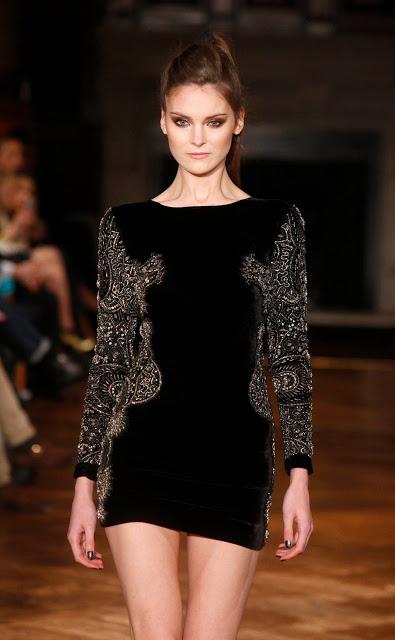 HAIR DEESIGN BY ERROL DOUUGLAS MB E, MOROCCAN OIL UK BRAND AMBASSADOR
Inspiration for the Hair Look:
Errol Douglaas' inspiratioon and vision for the hair came fromm merging thhe key themes from the
Kristian Aadnevik Fall 2013 collection – an almost meddieval, subtlyy dark spirit - with the contrasting hard and
soft textures in the pieeces. The signature "ppony" of thee Householdd Calvary hhelmet was also an
influence in capturing thhe essence oof Kristian Adnevik's vi sion for the show.
"We wantedd to blend with and follow through on the colleection's spiriit and themee," says Douglas. "I
created a powerful pony placed high on the crrown that deelivers that aalmost regimmented feel, whilst a
femininity and softness is introduced through tthe luxuriouss shine and natural movvement worrked into
the cascadee of the tail. It's Lady Goodiva meets Trojan Warrior with twoo variations."
How The Loook Was Crreated: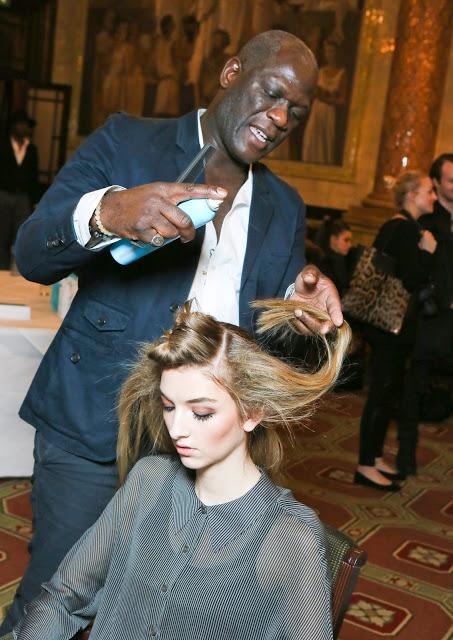 Look 1 – Thhe Half Goddiva/Trojan Pony
"I staarted by preeparing wet hair with Mooroccanoil Hydrating Styling Creeam to workk in hold
and movement ssimultaneou sly. This is a great prepparation tool for hair lookks where waands are
usedd."
"Next, I blow dried the hair with the Moroccan oil  Barrel Brush to achievee a smoothnness and
hold, but overall natural and healthy-looking finish.
"Once the hair was dry, I lightly tonged hair with a laarge wand."
"Then I sectioned the hair off into two: TThe first section started just below the temple arround to
just below the crown at the back and thee second section, left remaining, hangs separately."
"I bound the top section intoo a ponytail uusing a hookk to secure aand place ju st before thee crown."
"I ussed a small wire piece, innserted into the pony cloose to the crrown, to bend, shape annd lift the
ponyytail, similar to a groomed horse's tail, and thenn wrapped strips of lace to cover thee elastic
arouund the join.
"To build in subttle, natural texture, I lig htly curled both the ponny and remaining loose section,
and worked in aa tiny amount of Moroccan oil Treatment into the end of the pony foor added
conddition and poolish"
To finish, I usedd Moroccannoil Luminoous Hairspray to set annd hold the look in placce whilst
retaining that naatural movemment.
Look 2 – Thhe Full Goddiva/Trojan ppony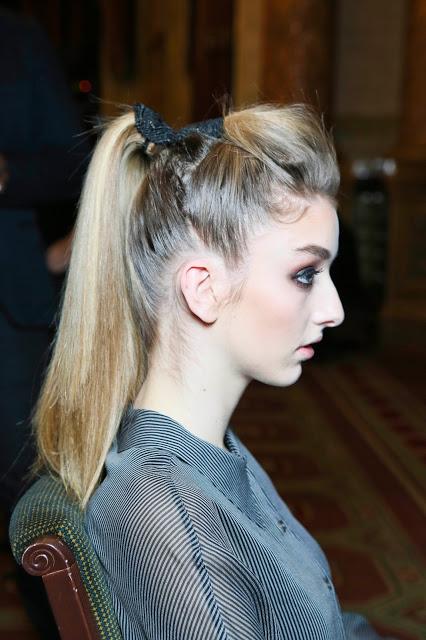 "I folllowed all of the steps foor the look o ne, but tookk all the hair into one ponny at step 4,, placing
just on the crowwn. At step 4 I also ussed slightly mmore tensioon when bin ding the po nytail to
encoourage a subbtle but not ssevere lift."
The Products:
Moroccanoil® Treatment is a remarkable, instantly-absorbed argan-oil infused formula found in the
kits of virtually every major celebrity, runway, and editorial stylist. Exclusively designed to give hair a
natural-looking silky, lustrous shine and a frizz-and static-free finish, it strengthens, conditions and
revitalizes hair while speeding drying time. (£30.45)
Moroccanoil® Hydrating Styling Cream gives beautifully hydrating and natural-looking hold while
eliminating frizz, and adding definition and shine. (£22.85)
Moroccanoil® Luminous Hairspray locks in desired styles all day long without compromising shine
or luminosity. A proprietary argan oil-infused formula, it produces a medium, manageable and
touchable hold with a burst of healthy-looking shine. (£16.65)
Moroccanoil® Barrel Brush is an ideal tool to create shape, enhance curls, add volume, and
improve hair's condition and increase shine. Tourmaline ceramic and ionic technologies help reduce
frizz and static, and cut down on drying time. (£13.85)
About Moroccanoil®
Moroccanoil offers innovative, easy-to-use, performance-driven formulas that dramatically transform
all hair types resulting in beautiful, healthy, natural-looking hair. As the pioneer of an all-new oil
treatment hair care category, Moroccanoil has quickly become a runaway hit among fashion and
beauty insiders and has generated a cult following among top stylists and their A-list celebrity clients.
Launched six years ago, Moroccan oil products are now available in 40 countries around the globe.
Famed for their residue-free quality, Moroccan oil's extensive line of luxury hair care products
addresses the needs of all hair types and features a proprietary advanced blend of the finest
ingredients to deliver optimal performance and dramatic results.