Part of the new Foresight Friday Series on reasonstodress.com
Fashion Week
Ever heard of "Fashion Week"? There's the New York Fashion Week, the L.A. Fashion Week  the Paris Fashion Week, the Milan Fashion Week, the Seoul Fashion Week, the Berlin Fashion Week. the Moscow Fashion Week, there's even a Montreal, Vancouver and Toronto Fashion Week (I'm Canadian

and of course the London Fashion Week.
Let's assume you've heard of Fashion Week, but you're not sure why this "week" seems to last all year round and what it actually means for regular people.
First off, here's a brief explanation as to what a Fashion Week is and then I'll get into how you can use Fashion Week consciousness to your advantage.
What is a Fashion Week?
Basically a Fashion Week, is a designated "week", but usually 3 – 10 days, for a given major city to present the upcoming collections of designers that are somehow connected to that city (but not always). Let's say that, in principle, it should be that way, but now a days you have designers from London working for Brazilian brands, or multinational companies that have 17 brands from all over the world, ordesigners who were born in one country, raised in another and work in yet another who pick and choose where to show.
Let's say that during this "week" there are:
Fashion Catwalks and "shows" – I'll give you a bit of insight into the catwalks on Monday for the My Monday series.
Fashion Showrooms (temporary or permanent)
and Fashoin Events, like parties, press days, media research campaigns and presentations
There's other stuff too, but these are the main things going on.
These "weeks" seem to last for months, because it is unlinkley that two major Fashion Weeks happen at the same time.  Otherwise the world's most important fashion buyers would have to choose between which Weeks to go to and they wouldn't be able to see all the collections.
How Many Fashion Weeks Are There?
A lot.
Now here's another thing, usually in each major city there are a minimum of 4 Fashion Weeks, (but there can also be more for special collections like "cruise" collections).  Usually, there is a Women's Spring/Summer Week, Women's Fall/Winter Week, Men's Spring/Summer Week and a Men's Fall/Winter Week.
So if we consider only Milan, NY, LA, Paris and London (but there are MANY, MANY more)  that is already  20 different "weeks" of fashion. Based on what season they are showing they are grouped together so one "week" happens right after another.  And of course, the countires that are below the equator, follow a slightly different schedule, since their summer is winter and their winter is summer.  So all this accounts for the fact that Fashion Week seems never ending.
Meaning that if you are a clothing buyer, you are traveling around a lot, going to fashionshows, showrooms and tradeshows and meeting with clients.
Now the thing that messes me up everytime is that when we speak of the fashion weeks, we are speaking of the trends that will be worn almost a year later. 
What Does All This Have to Do With Regular People?
Think about it!  If in February 2014 I see the runway trends for October 2014 – February 2015 I ALREADY KNOW WHAT THE TRENDS WILL BE FOR NEXT YEAR, JUST AS THE WINTER SALES START TO BECOME THEIR CHEAPEST!
I know what the colors will be, the textures, the cuts, the lengths and the shapes. So I can start to scour the 70% off rack for things that are going to be hot the following year.
Here, I made this little chart to help you navigate the sales and remember the Fashion Weeks.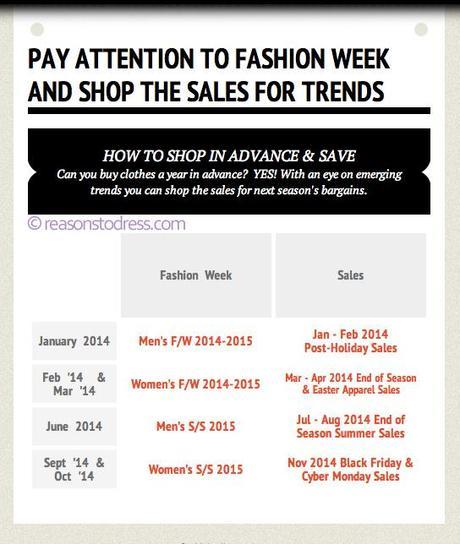 Trend Spotting a Year in Advance
Let's say that die hard fashionistas, fashion bloggers,  fashion magazine editors or people with A LOT of time on their hands are avidly researching these trends and compiling  slideshows and writing lists and checking them twice.
But most of us find out what is "in-style" the moment we walk into the mall, or go to our favorite on-line store.  Or we pick-up a magazine and decide we hate everything in our closet because it all feels old, and we need something "current" for right now.
That is when you end up going to the mall, spending WAY too much money, making mistakes and buying things that you will only wear once, that don't compliment your body at all, that you don't love and that in a few weeks you will hate anyway.
But Wait.
What if there was a better way.  What if you had a friend who happens to look at all those trends coming out of fashion week anyway (since she works for a belt brand),  who was willing to help you think now about what you'd like to wear later.
What if that friend was relatively poor since she has a toddler,  lives in Italy (expensive! ouch!) and makes normal people money?
That friend is me.
This is where  Fashion Foresight™ (yes I believe so much in this concept that I even trademarked it!) comes into play.  Remember this skirt?  It was a Fashion Foresight™ buy!  And so was my pleather midi (7 euro!).
Of course, I'm talking about category 2 clothes, not category 1 clothes.  I explained this whole concept on Monday here.  Basically we're talking about the things that keep you in-style NOT investment clothes that you love like bags or coats.
I mentioned a few months ago that I wanted to bring you in on my purchases.  I explained how when I had to shop for clothes to wear to the Fashion Weeks I always had a small budget so creativity was key.  So in the next few weeks,  I will be featuring cheap buys that you can find online now (and most likely on-sale since that is just how this budget fashionista rocks it) to put away in your closet for next spring.
Here's my first buy.
Black Fringe for Spring 2014
All the trend sites are talking about next Spring's fringe trend.  Specifically black fringed anything.  Skinny, thready fringe, big fat t-shirt fringe, leather fringe…you name it and someone fringed it.  So aside from pulling out your scissors and cutting up everything in your closet, you can easily get this look by adding a fringed accessory instead of buying a fringed top or skirt.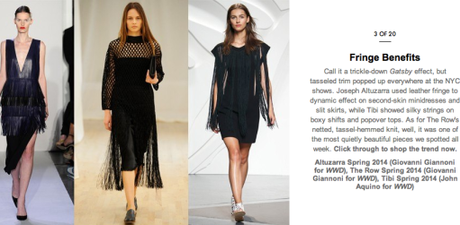 Sourced from luckymag.com Spring 2014 Fringe trend watch.
Since I kinda like this trend, but I don't really know if I want to invest in it in a serious way, I found this great alternative.  A black, jersey knit, fringed double scarf (found here on sale for under 5 euro….yes!).  5 euro is less than i would have spent on fabric and beads making this myself so I went for it.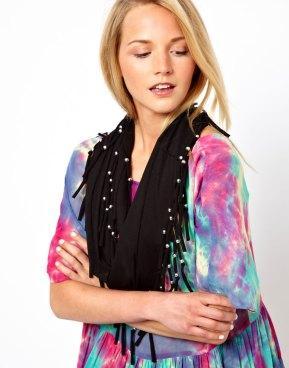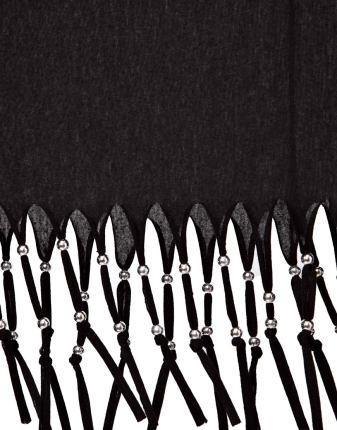 This way I can get that fringed look with any outfit, combining this scarf with a solid black or white t-shirt, black maxi dress, tank or whatever.
What do you think about this whole Fashion Foresight™ idea? Ever bought anything from the sale rack for the next season?
Like this article/series?  I'd love to hear from you.  And feel free to share…sharing is caring

Have a good weekend.