Hey My Beauties; Hope your having a

fashionable

day!
Over the past few months; I noticed a fashion trend COMING through Seattle area. Read more below the image...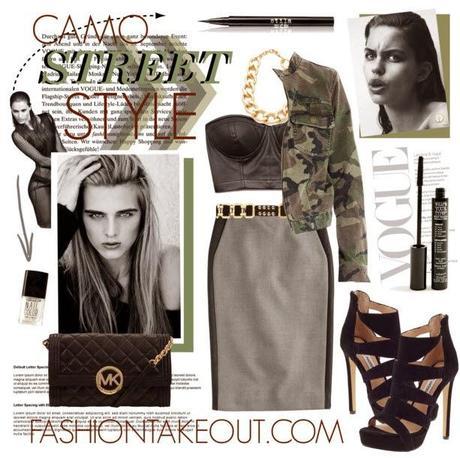 I would have to say the fashion trend flirts toward the side of a street look.
So I wanted to create a fashion collage to illustrate this street look to you. I chose the Wesley Camo Jacket; it gives the fashion trend the whole "street look".  I love the cropped effect it has, it accentuates the bustier top and the a-line of the pencil skirt.
Then I chose
the Biker-Chic Faux Leather Bustier Top;
it brings out a edginess to the street look with its faux leather material and it's sweetheart neckline.
The J Crew pencil skirt takes on a high street look; with the a-line straightness to it. But when you wear the cropped camo jacket it tones down the look giving it a rugged, street style.
Then finalize the whole street look with a few accessories from fashion labels Micheal Kor and Steve Madden. The high sandal and clutch bag definitely give it the final POP.
Then trim it with a chunky chain necklace and gold n black tone belt. Is this a fashion trend you would wear? I sure could!
About Linda Baldridge
Hi I'm Linda Baldridge, Founder & Editor in Chief of Fashion Take-Out. I'm an advocate for fashion blogging. I'm saying goodbye to the traditional picture fashion blogging and inspiring a whole new way of looking at fashion blogging by illustrating clothing pieces through an artistic, edgy, whimsical fashion board or collage. Connect with me on Facebook: or My Google Profile