I'm hungry! But not for food! I'm hungry for some Fashion Take-Out flavors! 
Summer is just around the corner; the month of May sure has brought us some warm days in Seattle. I love it! I'm craving something sweet and cold. I want a mint chocolate chip ice cream cone; double scoop too!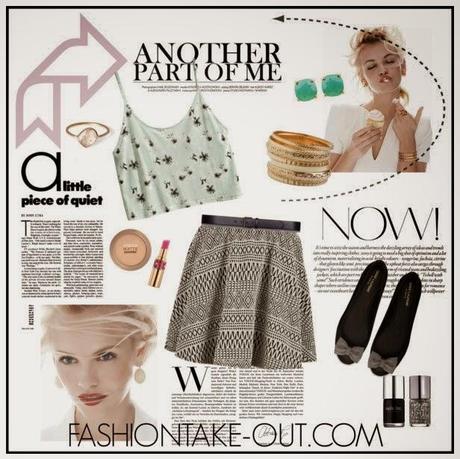 In fashion; I'm craving a cool mint "Short Jersey Crop Top" from H&M. Do you see it in the fashion collage ABOVE? The effectiveness of a crop top is to combine it with a piece of clothing that grabs the fashion look of something sweet and flirty.
The "skater skirt" does just that. You might just have a touch of mid-drift showing.
Choosing a skater skirt is kind of tricky! I like to choose something that has a little texture and some characteristic to it. It seems to create a fashion illusion that stands out. A "Ethnic Print Skater Skirt" from Maurice's made the perfect fit. Check it out below!
Sprinkle a little more flavor with a pair of Saint Laurent "Chain Bow Flats in Black Leather". Now remember; a slight light sprinkle of gold and pink jewelry accessories will top off this fashion look quite well.
Hope you enjoyed our Fashion Take-out flavors today!