Happy Wednesday

my lovelies

.

Today I want to chat about fashion statements.

You may ask; What is a fashion statement?

Read more below the digital fashion collage...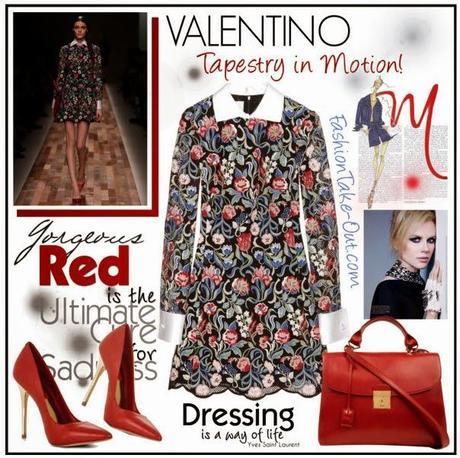 Personally my thoughts on it are as follows. One could create a fashion statement
by wearing clothing or accessories that draw attention to the person who wears them.
In most cases the clothing or accessory piece is special. Usually brilliant or loud in color; in the case of jewelry it could be something eccentric.
But in the case of fashion label VALENTINO; they created a fashion statement that was inspired by the painting of Vermeer. Fluid in bold mint, red raspberry, blue color tones, and tapestry lace. The VALENTINO "Tapestry-Lace Mini Dress" is it's own fashion statement and definitely constitutes drawing attention to it. A breathless and elegant masterpiece.
The VALENTINO "Tapestry-Lace Mini Dress" needs little added to it. Maybe add a pair of BCBMAXAZRIA "Onnie Metallic-Heel Pumps" and a Marc Jacobs "Red 1984 Leather Satchel". Then wrap it up with a simple ponytail hairstyle and your set for quite a bit of attention.
About Linda Baldridge
Hi I'm Linda Baldridge, Founder & Editor in Chief of Fashion Take-Out. I'm an advocate for fashion blogging. I'm saying goodbye to the traditional picture fashion blogging and inspiring a whole new way of looking at fashion blogging by illustrating clothing pieces through an artistic, edgy, whimsical digital fashion board or collage. Connect with me on Facebook: or My Google Profile