Normally, a new fashion season brings about fresh new colors, updated silhouettes and cutting edge designs. However, S/S 2012 collections showcased a whole lot of retro flair! Designers like Miuccia Prada, Marc Jacobs, and Karl Lagerfeld channeled decades past for their newest collections now in stores. From the 1950's to the 60's, this season is filled with the same feminine frills and girly glamour that style icons like Marilyn Monroe, Jackie O, and Brigitte Bardot made so special.
Since 1928 is a vintage inspired jewelry company, we love nothing more than a good throwback in style! We have already seen a rise in popularity of cameo jewelry and thanks to the hit TV series Mad Men, our 1960's Vintage Inspired Gold Tone Pen Necklace is our #1 best selling product by a mile! If you haven't quite decided if the retro look is for you, check out some of the newest S/S 2012 editorials, lookbooks, and ad campaigns that are featuring vintage glam in a whole new light!

If one label really launched the vintage trend this season, the winner would have to be high end fashion house
Prada
. For the Spring 2012 campaign, some of fashion's finest were photographed by legendary Steven Meisel in a "Gasoline Girls" themed shoot. The ornate designs are about as feminine as they come, playing up a woman's shape and demure style. In the clothing, footwear and handbag ads, we can see a major nod to the 60's and we like what we see!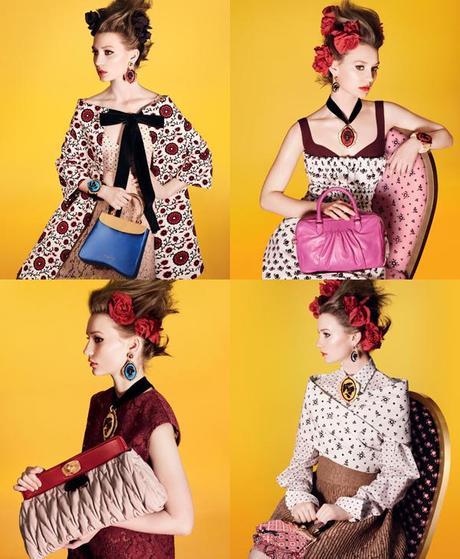 As the new face of
Miu Miu
, actress Mia Wasikowska looks like a painted portrait in the newest advertisements for Prada's younger label. The retro prints and cat eye makeup against the vivid yellow background are sure to get the label some attention and we just love the unique neon cameos. Quirky and kitschy but very true to the Italian Miu Miu aesthetic, this is about as radical as retro will get.

It's not only the high end designer names bringing retro back. You can get in on a piece of the vintage action at one of our favorite stores,
H&M
! For their summer lookbook, the fast fashion retailer snagged Frida Gustavsson to model the pastel looks that are a mix of sportswear and elegant silhouettes. The unique use of color blocking is what gives this collection the ultimate modern update. Frida looks chic as can be with that perfectly undone twist up in her hair and dark red pout.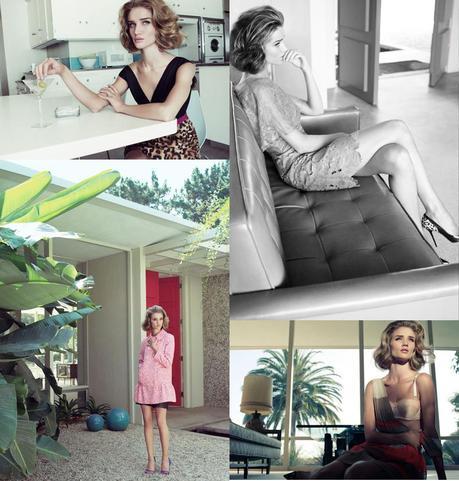 While not for a specific brand, some of our favorite retro styling we've seen comes from the pages of
Harper's Bazaar UK
in their January issue. The fashion story, "Valley of the Dolls", stars top model Rosie Huntington-Whiteley styled in ensembles that look like they came straight out of the 60's! The English bombshell looks like a doll from a vintage dollhouse, all dressed up for the simple reason of being dressed up! The luscious hair, the soft makeup, the setting- it's all so wonderfully retro!
Which nod to vintage styling do you like best? If you think you'll take a swing at this trend, be sure to check out our new Belle de Jour collection of vintage shapes and plenty of pearls! Fashion really has proved that what was once old is new again!
'