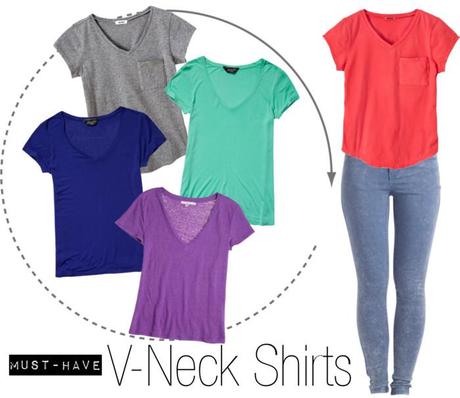 If there's one thing I'm really obsessing about these days… it's gotta be v-neck shirts! It can be worn plain and simple as it is for daily casual vibe. Or you can wear blazer on top of it for a more corporate look. V-neck, as compared to round neck, also gives the illusion of elongated neck! I never really liked round neck, it feels suffocating to me… is it just me? Lols!
Bench has v-neck shirts that are really comfy to wear! And it only costs around Php300 each (I forgot the exact amount), plus the last time I checked they have assorted colors available! If you want to go lower than that, I spotted some v-neck shirts for as low as Php100 each at Greenhills (after haggling, that is). 
How about you? Are you more of a v-neck or round-neck type of gal? How do you style them? Share in the comment section!