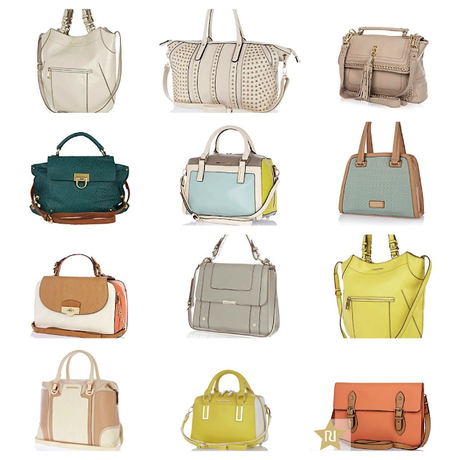 Handbags by River Island
Hello Pretty People.
I enjoy writing blog posts on a Sunday because I think it's the most relaxing day of the week, where I can sit down, concentrate, and type absolute jibber jabble. My Sunday's are a day dedicated to doing absolutely nothing but pig out, lounge around in my jammies, watch endless crap on TV and pamper myself. I have to be up at 6am Monday - Friday for work, so I think I have earned the devine right to be a complete lazy, little, piggy on a Sunday.  Today's blogpost is about River Island handbags. As much as I love Topshop, H&M, Urban Outfitters etc, River Island is my "hand-bag shop" or "supplier of my self-contained identity" if you will. To be perfectly honest, I rarely buy hand-bags from anywhere else. I can go into any High Street shop and see a beautiful bag but I will never buy it, unless I have visited River Island first. Some of you are probably thinking, "Well, why don't you just buy one from either shop?" But no, no, no. I'm very strange and fussy when it comes to handbags and I only like to purchase one bag per shopping trip.I love looking at and admiring handbags, whether they're High Street or Designer however, River Island is my forever guilty pleasure and as much as I love Designer fashion and handbags, I'm not really the 'Designer type'. I never have been.River Island bags always have the designer look and are affordable. AND they always have the cutest purses to match. It sounds kind of ridiculous, but since I was 17, I have never bought a purse from anywhere but River Island. And saying that, I need to get myself a new one. I have included a few pictures in this post of hand-bags I have seen on the River Island website, that I want and NEED to buy, but if I bought all of them in one go, I would have spent all of my months wages. But it is tempting though right?Enjoy!
♥

'Yellow Smooth Mini Box Bowler  Bag' £30.00
'Blue Structured Colour Block Bowler Bag' £37.00
'Lime Structured Curve Tote Bag' £37.00

'Pale Grey Structured Panel Square Bag' £35.00
'Beige Textured Frame Bag' £40.00
'Green Circle Lock Leather Satchel' £60.00

'Coral Contrast Strap Messenger Bag' £25.00
'Coral Color Block Structured Bag' £40.00
'Beige Colour Block Bowler Bag' £40.00



'Grey Structured Curve Tote Bag' £37.00
'Cream Canvas Stud Panel Holdall Bag' £50.00
'Beige Chain Detail Satchel' £65.00
My personal favorite and the one I will buy first is the 'Blue Structured Colour Block Bowler Bag'. I think it is  elegantly modern, but with a retro twist. This bag is my ultimate guilty pleasure.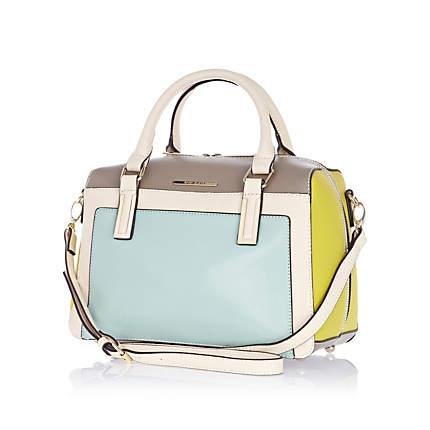 Shop | 

Twitter

 | 

Facebook

 | 

Bloglovin'

 | 

Hellocotton

 | 

Instagram