For years, as far as I can remember I have had a tan or light colored mac/trench coat. Between September and November and then again in in the spring it is an essential part of my wardrobe.
A few months ago, I attended at Moms in Business networking event in Northern Virginia and I wore my beloved Marks and Spencer light beige mac. When I arrived at the event and went to leave my coat in the back, I noticed another similar one laying there. I purposely left mine away so that there wouldn't be any confusion - I know how these things work!
Well, guess what? When I went to get my trench to go home, the one left was NOT MINE! I laughed to myself, grabbed it and thought I'll just email everyone and get it back soon.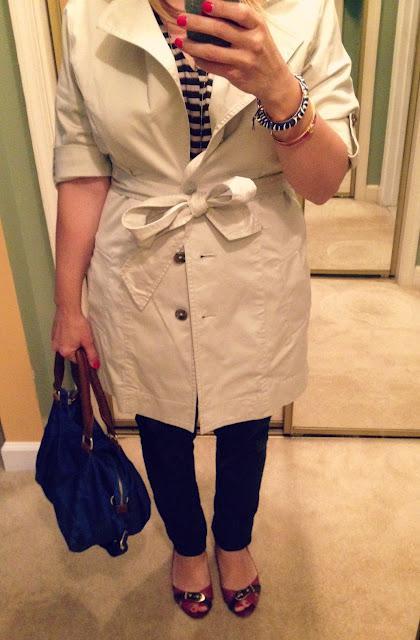 My new CAbi (Carol Anderson By Invitation) Trench
That was over five months ago. Numerous emails to everyone there that night, Facebook pleas, etc. Not sure what the person who has mine can do since they are a rather large person - their trench is HUGE on me. Besides that I have now just become angry about it because I feel it has not been returned on purpose. We were a small group and all of us live in the area so there is no reason why someone can't just say "Oh, I have it. Sorry, let's meet and exchange!"
Anyway, I have since replaced my M&S trench with the more stylish CAbi Trench from stylist Susan Rigger (seen above). I nearly passed on it, but I'm so happy Susan encouraged me to try it on again!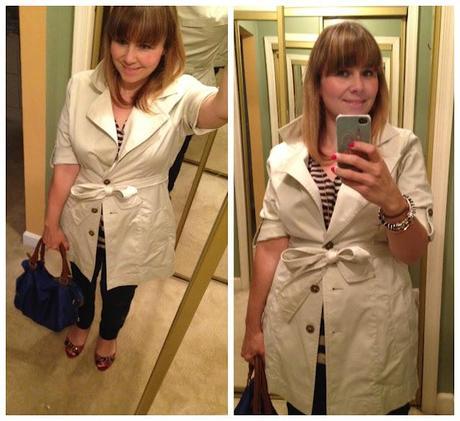 Old Navy Bag as seen here  Marks and Spencer Open Toe Flats  Gap Skinny Jeans
The material has elasticity in it for it fits around your waist and not the usual narrow feel other trench coats have. It is has 3/4 sleeves with a button and a belt to finish off the classic look. I don't know about you, but I am so ready for the autumn!
It was a bit chilly a few nights ago when I met a few friends for drinks, so I decided to take advantage and wear it then.
I wore the trench, with jeans and having already decided I wasn't going to take off my trench, I accessorized with my new Stella & Dot bracelets from the fall collection that were sent to me by my friend and stylist Kristin Biggs.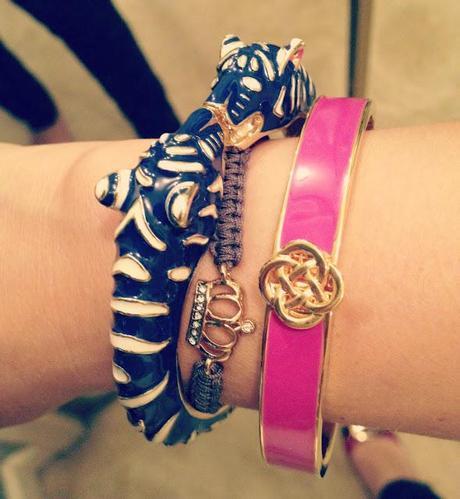 Stella & Dot Bracelets: Lakra Bangle, Elizabeth Bracelet, Lindsay Bangle
I'm not big on bracelets, but when she suggested I give them a try, I figured the hot pink, bright blue and gold combination would make a statement - and they have! They can make a simple outfit stand out or add the finishing touches to an already fabulous look.
If you are in the UK you can get these from Stella & Dot stylist Alex Bridger and in the US from Kristin Biggs.
What I'm looking forward to most this autumn are the darker colors (purples, burgundy) and boots!
What autumn trend are you dying to get wearing?