And I should know – as recently the first frost of the year arrived; when I woke up in the morning the grass was covered in a sparkly frost. Now, there are two ways of tackling this problem: 1. (and my favorite option) Stay in bed until the sun has risen higher and has warmed up the world enough that the frost has melted. or 2. Wrap up warm and stay stylish with snuggly knits.
As staying in bed isn't always possible, I'll be blogging all autumn/winter about the top trends in snuggly knitwear. I wrote about knitted dresses here and funky jumpers last week. And here's the third trend I'm definitely going to be following this winter: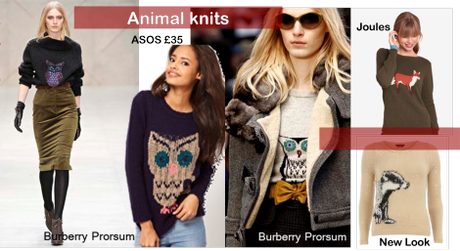 Animal print knits are all over the high street – in fact, it's pretty impossible to go into a shop and NOT find a jumper with an animal on the front. Now, you may have already got your hands on a stag or dog jumper last year, in which case you can slip it on and be bang on trend straight away. I didn't buy one of these jumpers last year (as I'm sure I had a dog jumper when I was 10 years old and that kind of put me off) but this year I'm not going to miss out – and I'm coveting all of the jumpers from Joules (such as this fox one above for £69.99) which are so soft but a little out of my price-range. So I'll head to New Look or ASOS for bargain copy-cat versions of the Burberry Prorsum A/W 2012 catwalk show.
Let me know what you'll be wearing this autumn/winter! And check back soon for the next hot knitwear trend & how to get the look for a fraction of the price