Fashion Affinity With Fashion Blogger **Cheetah Is The New Black**
Here at Fashion Take-Out; we decided we are going to start a **Feature a Fashion Blogger Day**. We're going to shoot for featuring a fashion blogger once a month. If it becomes a popular blog read for our favorite readers, we might bump it up to twice a month. If you know a fashion blogger you would like to sponsor...leave me a comment with their fashion blog address...We will

definitely check out their blog.
Today our featured fashion blogger is **Cheetah is the New Black**. Being from New York City,

s

he loves to mix it up with fashion flare, her beauty style, and her affinity for cheetah and leopard print through her

freelance writing style

.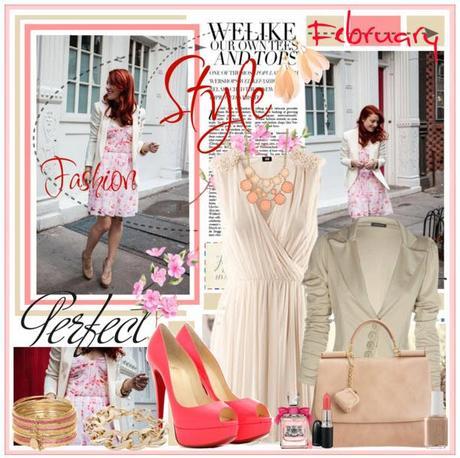 So we created a fashion set through Polyvore's social

mix n match

fashion platform.  Because February is Valentine's Day holiday...our first fashion piece I chose was a sweet beige ruched long sleeve button blazer

I wanted to pick a darling dress to go with the blazer...

so I chose the v neck skater with flower shoulders from Chicnova.
Now let's add some sweetness with some fashion accessories. Of course a pair of Christian Louboutin peep platform pumps. Then a D

ol

ce & Gabanna miss sicity bagand last but least the peach Zanzibar necklace. Top in a few bangles and a chain bracelets. Woo Who....Now That's styling!