The Future of the FANTASTIC FOUR Is Marvel NOW!Superstars Matt Fraction and Mark Bagley Take The Reins Of the World's Greatest Comic Magazine!
Press release
This November, Marvel's First Family embarks on a adventure unlike any before in Fantastic Four #1, kicking off the all-new ongoing series from the blockbuster creative team of Eisner Award Winning writer Matt Fraction and legendary artist Mark Bagley! As part of Marvel NOW!, Fantastic Four joins a number of titles that will take the Marvel Universe in an exciting all-new direction, as the industry's top creators join the top Super Heroes to deliver all-new ongoing series, great for new and veteran readers alike!
Four adults. Two kids. One FantastiCar. NOW! Reed, Sue, Johnny, and Ben – along with Franklin and Valeria – begin their epic journey through all of infinite time and space!
"Matt and Mark are taking the world's greatest family of science-adventurers on a road trip through every conceivable corner of the Marvel Universe," said Axel Alonoso, Editor In Chief, Marvel Entertainment.  "It's a long and winding road, filled with friends and foes, both old and new, and challenges unlike anything they've ever faced.  What doesn't break the Richards family will only make it stronger."
Marvel NOW! is the culmination of Marvel ReEvolution, the groundbreaking new initiative to evolve the comic book experience through innovation. With Fantastic Four, Marvel NOW! ensures fans will discover an entirely new perspective on Marvel's First Family.
"The Fantastic Four is the cornerstone of the Marvel Universe. It's an honor and privilege to carry on playing in such a fertile field. Some of Marvel's brightest and best did some of their most amazing work with the Richards family and I'm thrilled to get my crack at Marvel's first family," explained Fraction. "We're going to new places, seeing new things, and having all new adventures — aside from Reed, Sue, and the rest, EVERYTHING else will be brand new."
Each issue of Fantastic Four features special augmented reality content available exclusive through the Marvel AR app – including cover recaps, behind the scenes features and more that add value to your reading experience at no additional cost.
"Not only does every book with the Marvel NOW! logo feature a new superstar creative team and blockbuster story, but they also come with all-new incentives for our retailer partners," explained David Gabriel, Senior Vice-President of Sales, Marvel Entertainment.. "We want to make sure every comic shop nationwide is fully stocked to meet the high demand we're already seeing for Marvel NOW! And want to make sure their voices are heard throughout this exciting time. Stay tuned for more news on how Marvel will be working directly with retailers to make sure our programs address their needs."
An all-new direction! All-new adventures! This is the Fantastic Four NOW!
This November, Matt Fraction and Mark Bagley redefine what it means to be fantastic in Fantastic Four #1!
For more on Marvel NOW!, please visit now.marvel.com and join the conversation on Twitter using #MarvelNOW
*Retailers should keep an eye on the Marvel Mailer and Diamond daily for special announcements concerning Marvel NOW!
FANTASTIC FOUR #1
Written by MATT FRACTION
Art & Cover by MARK BAGLEY
ON SALE THIS NOVEMBER!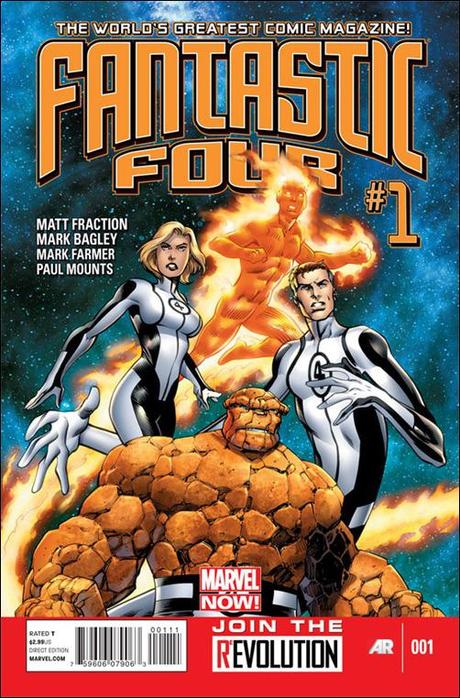 - The Comic Book Critic