Five Fangtastic Favorites for True Blood season Five…with One being the highest Favorite.
The following fashion choices are based on the comments that have been posted by fans on Twitter and Facebook. So it's an overall judgment from social medias out there as well as a personal view too.
Audrey Fisher is True Blood's costume Designer.
How wonderful was the fashion during the last three episodes of season Five of True Blood. The selection was abundant with texture and color and two characters in particular showing their presence twice in two episodes.
#5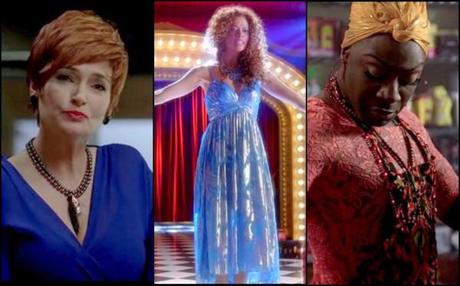 Episode 5:10 – Rosalyn
A new look for a new Authority, how stunning is counselor Rosalyn in royal blue chiffon with plunging V neckline, the jewelry and gorgeous sweeping hair reflective of the power within.
Episode 5:11 – The Elder
I love this dress, the shimmer and shine so pretty in the light. The gathering at the bust gives the dress flight and movement during this particular scene. I am sure you agree that the hair, makeup and jewelry were absolutely amazing.
Episode 5:12 – Lafayette
Color and Lashes on a totally new level, Lafayette is coming back from the depths of despair and letting loose with Rosy Peach Lace and beads, Sunshine Yellow Du Rag and luscious lips ready for anything, including delicious cocktails! Yum.
#4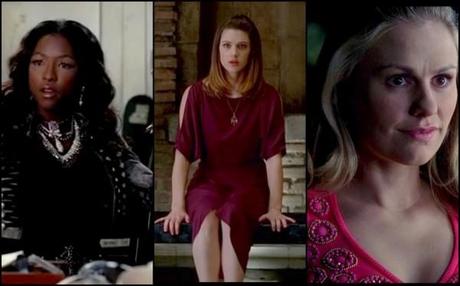 Episode 5:10 – Tara
Tara looks absolutely stunning in black with a crop jacket that has amazing texture and color, metal madness with matching jewelry and attitude brilliant work with this outfit.
Episode 5:11 – Nora
The world she once knew is changing around her and this rich burgundy slant dress with peep slot arms is both elegant and alluring.
Episode 5:12 – Sookie
Sookie is beautiful in this dress, a beautiful beaded bolero gorgeous flowing hair and natural toned lips.
#3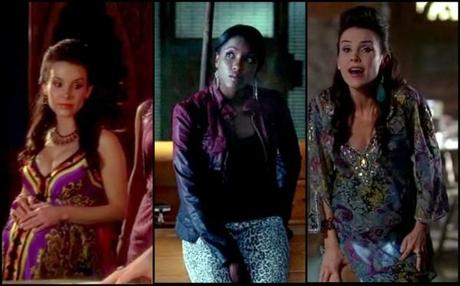 Episode 5:10 – Maurella
The dress says it all, pregnant Maurella has a beautiful bump and a stunning glow within this spaghetti strap bohemian style dress, matching jewelry and flowing hair.
Episode 5:11 – Tara
Leopard Print pants, black top, charcoal two toned jacket, off the shoulder hair tied up in a ponytail, amazing.
Episode 5:12 – Maurella
Free flowing to the knee dress with amazing boho print, crush free texture material, elegant for pregnancy and to add to the effect cowgirl boots, Incredible!
#2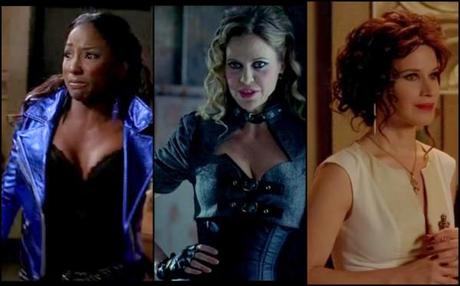 Episode 5:10 – Tara
How cool is Tara in this electric blue vinyl jacket, sexy tight black bustier and tight pants to match. An amazing transformation for an amazing character that was once wearing cut off jean shorts and colorless tops, Tara is moving on up!
Episode 5:11 – Pam
Pam has incredible taste in fashion and this dress is no exception to the rule, belt type accents with a diamond neckline, tight waistline and vinyl gloves…divine!
Episode 5:12 – Salome
The ritual is about to commence and Salome has adorned herself in a long flowing white Goddess Gown, a slit at the back and one on the neckline elegance in its purest form.
#1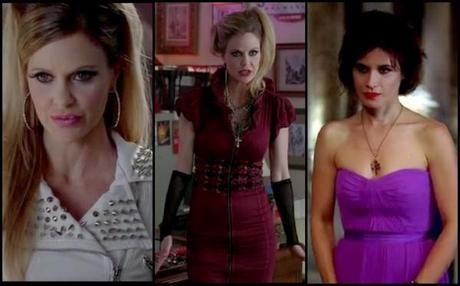 Episode 5:10 – Pam
Pam suits any color on any given day but today she wears White Leather profound beauty in studded sophistication.
Episode 5:11 – Pam
Gorgeous deep burgundy, form fitting, black strapped backing and high waist dress with long black chiffon gloves. The hair amazing in style and performance…I love the cute flick in the front.
Episode 5:12 – Salome
Salome is featured in a free flowing, strapless purple dress that equates to that of a Deity in luxurious living and purpose.