Five Fangtastic Favorites for season Five…with One being the highest Favorite.
The following fashion choices are based on the comments that have been posted by fans on Twitter and Facebook. So it's an overall judgment from social medias out there as well as a personal view too.
Audrey Fisher is True Blood's costume Designer.
What were your favorite outfits of episode 5.06? Post about it in the comments.
#5 Swoosh
Russell Edgington is found and finally order can be restored within the Authority so why not go a little less formal?  After all there are no matters of business that need to be conducted…so naturally a blue Nike Polo and pin stripe slacks.  I was surprised to see this on Roman after all the magnificent suits he wore, but I understood this wasn't an official gathering he was amongst friends and an indicator that Bill and Eric had earned his trust.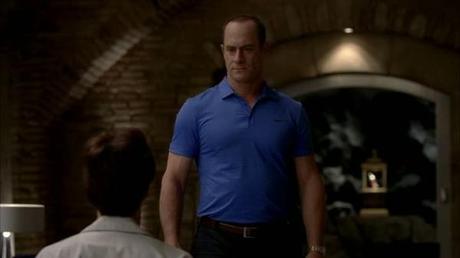 #4 Leader of the pack
Alcide has had enough of the double standards within the pack and has come to take back his right to lead the pack.  In need of a second as he is set to challenge its current leader, murmurs of a possible loyalty change do not go unnoticed.  Wearing classic denim bootcut jeans, cotton shirt and brown leather jacket, perhaps a little too much clothing for the hot heat of an alpha wolf, it is apparent that Alcide has control over the rage and heat of the inner wolf as opposed to his rivals.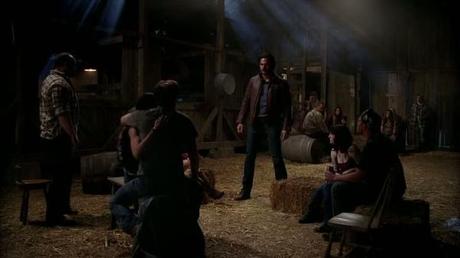 #3 Claude
Wearing nothing more than a vest, shawl and pleated pants Claude is behind the bar mixing and mingling with the locals and his fellow people of the Fae.  Perhaps in episodes to come we will see a little eye shadow and glitter around the eyes even a little eye brow plucking or lip gloss?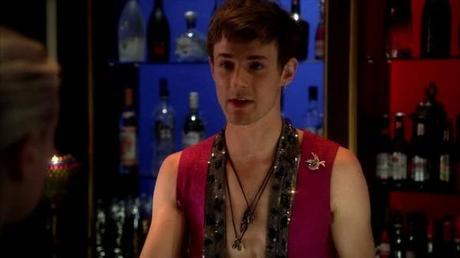 #2 Fairy Sister Claudette
Impressing the cliental is priority chatting with Sookie can wait.  Fairy sister Claudette entrances her onlookers with hips and lips too earthly for the imagination. Floral hipster short shorts, bra top and sleeveless crop jacket, fingerless gloves, belly chain and overflowing head piece all add to the fun fairyland fantasy.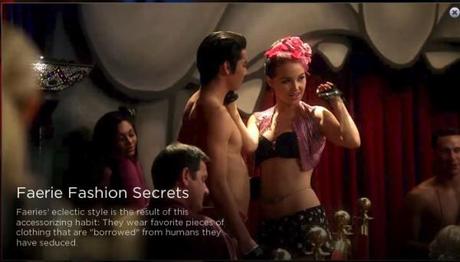 photo source: HBO Go
#1 Salome
Prepared to do the will of the Guardian and restore Law and Order amongst all Vampires.  Salome welcomes Bill and Eric back with celebratory congrats.  A master of disguise with an ulterior motive this black dress with a serious plunging neckline is stunning enough to get someone killed!