I have only been to North Carolina once in my life, and that was during my junior year of high school for a college scouting trip. It was a whirlwind of campus tours, one-night hotel stays, on-the-road dining and long hours in the rental car with my parents. There was a lot that I didn't get to see, but I do remember how lush and green it was, with thousands of acres of forest, rolling hills and sprawling lakes. So, it definitely makes sense that filmmakers would choose this locale to shoot the blockbuster hit, "The Hunger Games."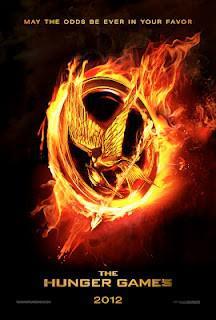 Source: martinisandmischief.blogspot.com via Rhonda on Pinterest
For those that don't know, "The Hunger Games" is based off the first book in the best-selling young adult trilogy by Suzanne Collins about a post-apocalyptic world where one boy and one girl from 12 outlying districts are offered up to the Capitol to compete in a televised battle, called The Hunger Games, where they fight to the death until only one survives. I have read all three books and seen the first movie, and I am definitely a huge fan! So when I heard that a majority of the movie was filmed in North Carolina, I was intrigued to know exactly where it was shot, and where the cast and crew spent their down time.
A number of the arena sequences were shot at DuPont State Forest, located between Brevard and Hendersonville. This 10,400-acre wilderness boasts nearly 90 miles of trails to hike and bike and a number of beautiful waterfalls to explore. Some of the most popular areas to visit are Hooker Falls, Triple Falls and High Falls, which can all be reached in one 2.6-mile hike--if you're up to the challenge. The Mountain towns of Brevard and Hendersonville also offer some amazing sites and attractions, from cute shops and boutiques, to galleries and historical sites, to culinary gems and restaurants.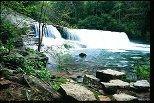 Source: dupontforest.com via Vanessa on Pinterest
The Cornucopia scenes were shot at North Folk Reservoir,which is unfortunately closed off to the public. The tourism board of North Carolina suggests viewing it from the Craggy Pinnacle Trail, which provides visitors with yet another physically taxing outdoor activity. But lets be honest, a hike on this trail is nothing compared to the physical demands of the Hunger Games, so I think you can sweat it. If you are totally up for something upbeat and active, check out Navitat canopy tours, offering a 3 1/2 hour zipline at Pisgah's edge. While it was never used in the actual film, many of the actors, including Josh Hutcherson who played Peeta, made the trip.
Asheville is where the cast and crew lived during filming, and where they spent most of their down time. The artsy Appalachian town has some really unique destinations and lots to experience. The cast was seen dining at
The Laughing Seed Cafe
, Lexington Avenue Brewery,
Wasabi
and
Southern Kitchen and Bar
...so I would check those out first. As for where to stay, well, there are a couple options.
Hotel Indigo
is where the three main characters stayed--so obviously, I would try for that one first--but if that is all booked up, the rest of the crew and cast shacked up at DoubleTree by Hilton Biltmore.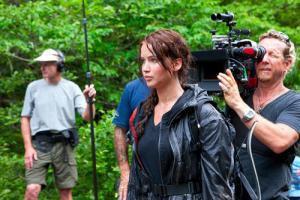 Source: visitnc.com via Vanessa on Pinterest
Charlotte played the role of the Capitol in the movie, so naturally there are some great places for sightseeing. The cast stayed at either the
Ritz-Carlton, Charlotte
(super fancy, and probably well out of my price range) or
Dunhill Hotel
(more of a boutique-style hotel, but probably still pretty expensive). As far as where they went while in town, the cast frequented the NoDa area, or North Davidson Street. Registered as an historic district, this neighborhood is known for its eclectic art and music scene, authentic cuisine and exciting nightlife. It was reported that the cast often visited
Cabo Fish Taco
, Boudreaux's Louisiana Kitchen and Amelie's French Bakery. Actors dressed to the nine's as the flamboyant residents of the Capitol were seen shooting scenes at Knight Theater in the Uptown district of Charlotte, so try to venture over to that area if you have a chance. Even if you cannot get into the theater, there are plenty of other great things to see and do around the neighborhood, and at least you can say you stood in the same spot as Stanley Tucci, who played Caesar Flickerman.
While The Hunger Games has certainly provided a boost to North Carolina's tourism business, it in no way overshadows the brilliant beauty of the state, or its unique cities, delicious food and buzzing culture. The fact is, North Carolina never needed the publicity of the film to lure visitors to its borders, because it already has so much going for it as it is. Still, a little time in the spotlight never hurt anybody.