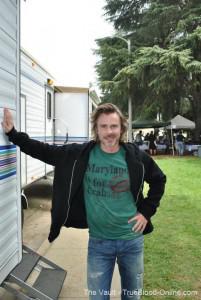 Guest writer, M'Lou and her friend Christy got a chance to see Sam Trammell on the set of his new film. Below are photos and M'Lou's story about the meeting.
Monday October 24th my friend Christy and I hit up the set of "Light of Mine" in hopes of finding our favorite fictional bar owner. True Blood's Sam Trammell plays "Jeff" in this film about about a broken family whose relationships to one another change with the arrival of someone new in the household.
The film's makeshift basecamp is buzzing with activity and we have arrived at the perfect time – everyone is at lunch and seated at long tables on the lawn. Sam's trailer is not here so I'm not very optimistic that we'll see him, but Christy spots him right away seated at a table facing us. We wait off to the side and within 2 minutes he finishes up and walks towards the trailers.
He stops to pet (and talk to) a cute little dog on the sidewalk and we make our way to him. As always, he's super friendly and was impressed that we sniffed out the set and stopped by to see him. He told us they finish shooting tomorrow and he starts back up with True Blood in about a month. I asked him if he knew anything about season 5 yet and he said he was still completely in the dark and so far knew absolutely nothing.
He poses for a few photos, including one where he is holding Christy's Vampire Bill voodoo doll. He looks the doll over and says, "Sookeh!"
Thanks to Sam for being so cool to us! "Light of Mine" is slated to be released sometime in 2012.
Thanks to M'Lou and Christy for sharing their experience with The Vault.