Like superannuation, property, and adult diapers, fostering a love of cooking in your children while they're still young is an investment for your future. Make sure you're properly taken care of when you're old and gray and hungry, and teach your kids how to cook now so you're not stuck with McDonalds later. Head on over to
www.zieglerandbrown.com.au
, grab some barbequing gear and teach your little ones how to become the ultimate budding master chef.
Spaghetti
This one's pretty simple. Stove? Check. Strainer? Check. Pot? Check. All you need to do is get your little one acquainted with the cooking element and you're ready to go. Spaghetti is an essential part of anyone's cooking repertoire, so you may as well get your little one well acquainted with the dish now. Plus you can give them a good idea as to the way you like it, so when you're old and gray they're not taking liberties with the sauces!
Pancakes
Nothing beats pancakes on a Sunday morning, but preparation is a total chore. That is of course, if you're the one preparing the dish. Do yourself a serious favour and teach your kids to love making pancakes in the morning, and your reward will be an unlimited supply of delicious weekend breakfasts. Pancakes also give your children a bit of an opportunity to experiment in the kitchen and your kids will love trying new flavours and condiments.
Pizza
It's time to throw out the number to your nearest pizza delivery place, because you don't need it anymore. Pizza is another great dish that provides your kids with an opportunity to express their creativity. Show them how to make the tomato base, where to find the mozzarella and parmesan cheese and from there you can let them go nuts. You'll never need pizza delivered again!
Barbeque
Teach a man to fish and feed him for a day. Teach a man's children to cook a barbeque and… err… hmm… I'm not sure how that one actually goes but it just shows you that teaching your kids to barbeque meat is a good idea. Think of how fantastic a barbeque is, now eliminate the fact that you have to cook it and you've got the perfect dining experience. This isn't one for toddlers though, so maybe save this little culinary adventure for when your children are a little older.
Salad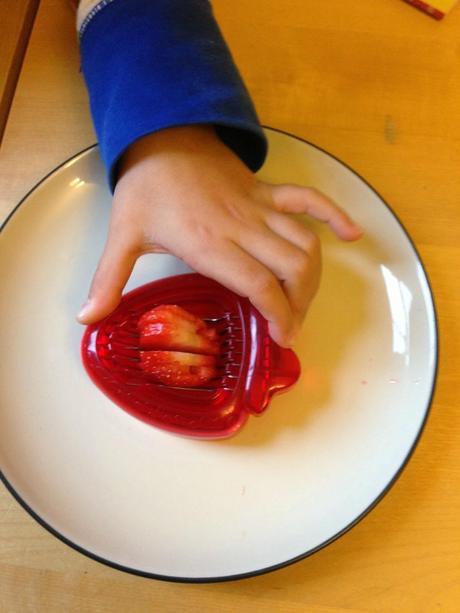 My daughter slicing strawberries
Get your daily vitamin intake in and teach your kids the important of color with a fantastic salad making class. This way you can be sure that at the very least they're getting a few of the vegetables they need everyday as part of a balance diet. And your waistline might also thank you a bit as well. What do you think of our list of meals? Do you have any other great meal ideas you'd suggest? Do you agree with this list? Leave any comments, questions or suggestions in the section below and thanks for reading.
Thank you so much for stopping by! If you enjoyed this post, please join us on Facebook,Twitter,Pinterest and G+. Click on the buttons on the right hand side to follow us on these platforms.