I know I'm doing my job correctly when we have down days and nobody is panicking.  Frankly, the only panic we have this week is from people who got nervous and covered AAPL too soon.  In fact, we just cashed out most of our AAPL long posiiton in our Long-Term Portfolio and flipped it to a higher-leverage, smaller and more speculative play in yesterday's morning Alert to Members (also tweeted).  
Learning to take profits off the table is the 3rd hardest trading lesson we try to teach our Members.  The first two are PATIENCE and learning not to chase.  This AAPL trade is a great example of all 3 as we PATIENTLY scaled into a very large position as AAPL went down from our initial entry and now, still almost 20% below our initial entry ($585), we're taking profits off the table.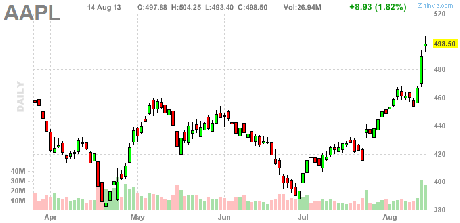 At the same time, I have to keep telling people who weren't in AAPL or are already in AAPL and didn't double down at $400 or simply aren't satisfied with their current AAPL gains – to NOT chase the stock when it's testing $500 at the top (maybe) of a 100-point run (25%) since early July.  25% is a lot.  
I know it may not seem like it in this insane market that's literally drowning in liquidity that's pumped in daily by the Fed at a rate of $85Bn PER MONTH, but it's still a lot – especially when it represents $100Bn of market cap.  $100,000,000,000 is, I'm sad to say, still a lot of money.  I know it doesn't seem like it when Japan's debt is now 1,000,000,000,000,000 but those are Yen, not Dollars and it took Japan a century to make that move, not 45 days.  
IN PROGRESS
You must login to see all of Phil's posts. To read the rest of this article now, along with Phil's live intra-day comments, live trading ideas, Phil's market calls, additional member comments, and other members-only features -
Subscribe to Phil's Stock World by clicking here
.
To signup for a free trial membership, click here.