SSU is helping you kick off the season with Fall 2012 Makeup Trend 
The most awaited season of 2012 Fall/Autumn is now here. Being a new enthusiast for makeup and makeup products, I wanted to know what is happening in this season. My in-depth search for makeup trend 2012 took me to every makeup trend and beyond. This has led me further in to consolidating all trends in one post so you don't have to go anywhere else and you get everything here.
My goal is to help you find what we can invest into, to get the look we like from Fall 2012 Makeup Trend. Economical, the better!! You don't need to spend as much as our designers do.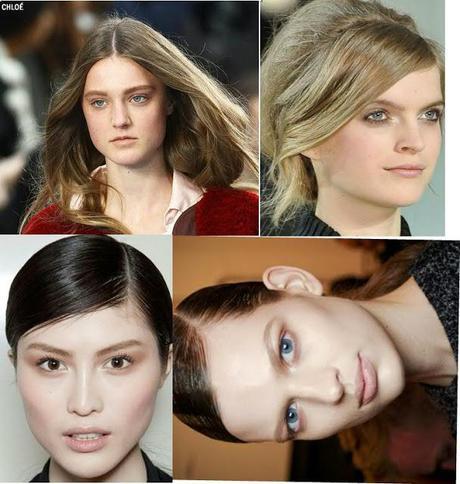 Key to The Look
- Tinted Moisturizer
Description
- To get bare face like canvas, tinted moisturizer is the key. We keep our face cleansed, toned and moisturized anyways. But the touch of
tinted moisturizer
will  make it even without looking "cakey" like foundation. I don't use foundation a lot but I aim to use it a lot. Quite contradictory!! But in course of making my face use to of a tinted layer, I took help of tinted moisturizer. I now know that tinted moisturizer works evenly and brings glow without making my face layered with products.
Hall of Fame
- Calvin Klein, Alexander Wang and Derek Lam are some names among designers who exhibited bare face trend in Fall/Winter 2012 fashion shows.  
Products In Budget
- My favorite has to be Oriflame Very Me Peach Perfect for a little glow and for no sheen at all - either Maybelline BB Cream  or Vedic Line BB cream is also good for this purpose.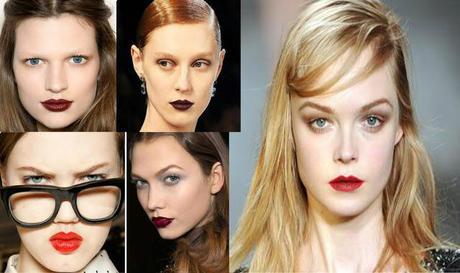 Key to the Look
- Sensuous, Bright Lips
Description
- One of the the most interesting, out of two fall makeup trends is - lips. The other one will be discussed below. I know we have been hoarding bright and scarlet lip colors for quite some time but I guess time has come to wear some. At least for me, because I am girl who is seen without any lip color. Let's see how many shade names I came across while browsing through lip section-
Red
Black Cherry
Plum
Blackberry
Bordeaux (A place and A type of wine)
Remember to keep skin fresh and dewy, eyes should be neutral too for the bright lips. To prep up the lips, buff them nicely to get rid of any flakes and creases, spread a lip balm and be modest with it and increase the intensity of brightness by using some nude base on lips. While for all fair ladies, a shade with purple and plum undertone will work; lassies with dusky and dark  skin tone should go for warm red/brown undertones.
Hall of Fame
- Jil Sanders, Thakoon, Marc Jacobs
Products Used on Runway to Get it
  -
Dolce and Gabbana Lipstick in Ultra
Nars Lipstick in Scarlet Empress
M.A.C. Lipstick in Vegas Volt
M.A.C. Film Noir Lipstick
M.A.C. Pro Longwear Absolutely It Lip Pencil
Dolce and Gabbana Classic Cream Lipstick in Dahlia
YSL Rouge Pur Couture Glossy Stain Shade No. 1
M.A.C. Pro Smoked Purple Lipstick
Lancome Le Lipstick in Rougelle
Chanel Rouge Allure Luminous Satin Lip COlour in Expressive
Guerlain KissKiss Gloss in Poppy Star
Products in Budget
-
Chambor Powder matte Lipstick in Dusky Earth 
Lakme Enrich Satins Lipstick in No. 422
Lotus Herbals Moistpetals Lip Color in Raspberry Punch no. 122
Colorbar Take Me As I Am Sensuous Red Lip Color With 001
Deborah Atomic Red Lipstick in Shade 03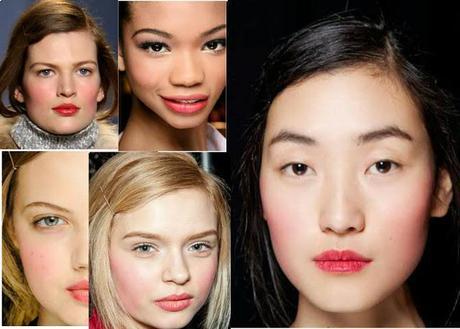 Key to the Look
- Rosy/Pink blush all over the cheeks
Description
- Luck you, if you have natural rose cheeks or you tend to get rosy during winters (
like I do despite of my dusky complexion
) but you have to fake these rosy cheeks by blending, blending and blending a pink, peach or coral brush. Do not forget to dust your lids with nude/beige-golden eye shadow or use only concealer. If possible, stick with cream blushes only.
But if you have oily/sensitive skin then you can easily get away with powder blushes too.
Hall of Fame
- Michael Kors, Mulberry, Dolce and Gabbana
Products Used on Runway to Get It
-
YSL Creme De Blush
Stila Convertible Color Dual Lip and Cheek Cream in Gerbera
Revlon Photoready Cream Blush in Flushed
Products in Budget
-
L'Oreal Pink Blusher
Lakme Absolute Cheek Blush in Day Blushes
Faces Glam ON Blush in Peach Glow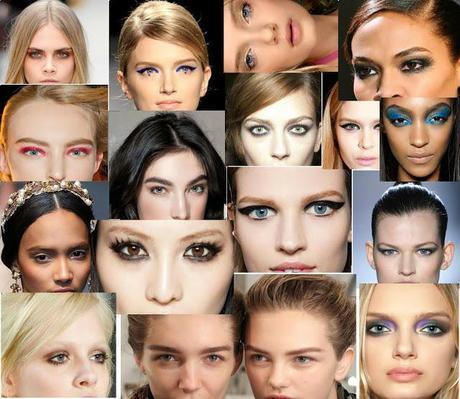 Key to the Look
- Gel eyeliners, Eyeshadows in Peacock Hues
Description
- I told you above under "lips" section that it was one of the most interesting Fall 2012 trends. The second has to be "eyes". My Favorite. It spreads from strong, dense brows to variants of smokey eyes(
in brown and green
), plain golden lids to eyeshadow shades (
looks like
) borrowed from a peacock - the beautiful and sensuous(
you must see its dance during rain
) bird ever.
Allure
says " Gold give a candlelit effect if dabbed on cheeks. Fair skins should go for beige gold like M.A.C. Lustre Drops in Sun Rush, while darker skins should choose something with bronze tones like Smashbox Artificial Light Luminizing Lotion in Glow." At Jason Wu, models wore emerald green shadows all over the lid with slightly winged eyeliners. Allure adds "dust lids with gunmetal or charcoal, then press green on top. Either way, finish with tons of black mascara."
Paul Smith and Lanvin went to the dramatically dark smokey way by using brown and black. To accentuate the gaze, sweep the eyeshadow beyond the outer corner.
Hall of Fame
- Roberto Cavalli, Jason Wu, Burberry etc.
Products Used on Runway to Get It
-
Laura Mercier Illuminating Eye Colour in Gilded Moonshine
Dolce and Gabbana Eyeshadow Quad in Elegance
Dolce and Gabban Eyeshadow Duo in Gems
M.A.C. Eyeshadow in Fresh Water
M.A.C. Pigment in Blue Brown
M.A.C. Eyeshadow in Club
M.A.C. Chromographic Pencils in Marine Ultra and Landscape Green
Products in Budget
-
Colorbar Envious Green Eyeshadow Trio
Lord and Berry Azure - 3
Lotus Herbals Maxlid Botanical Eye Shadow in Brown
NYX Glitter Cream Palette for Gold Dust Effect
Colorbar Eyeshadow in Spicy Brown
Gala of London Cobalt Blue Liquid Eyeliner
Deborah Hitech Trio Eye Shadow No. 10
Do let me know what you think of this post and if your have tried any product mentioned above or you would like me to review any.
===================================================== Image courtesy:
ideeli.com
,
hautelook.com
,
Estee Lauder
,
Allure
Disclaimer:
For any queries, PR information, website review, store visit and events - please mail me at
[email protected]
. Read about Shopping, Style and Us and to know more, please read my
Disclosure Policy
.
Jiya (Shoppingaholic)