Hello laydees.Oh my January lack in posts has been truly awful!I wont bore you with the details but its generally third year of uni- my course is 100% coursework so when the deadlines start rolling in unfortunately they become my soul purpose!I hope you are all well and I am slowly catching up on blogs.
I have never mislead you lot on my fake tan obsession.I for two thirds of the year (or possibly more) I wear fake tan everyday.I apply it normally once a week- maybe twice if I have a night out planned but I feel happier and more confident tanned.
I'm not going to lie getting fake tan right has taken me years of practice. I think I have been a fake tan wearer for nearly 5 years and my all time favorite is St Tropez moose.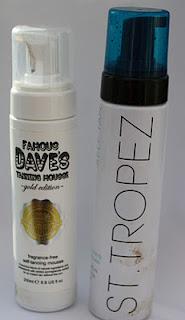 It was around Christmas time I fell short of my beloved St Tropez and popped to Boots. Being party season there was none to be found and I ended up picking up Famous Dave's Instant Dark Tanning Moose. Weirdly I had heard it before a friend on Facebook had mentioned it and never hearing of it before I did google at the time and a review I had read seemed positive- I had no idea it was stocked in Boots.
Firstly would you trust a Dave to fix your car? Do your plumbing?...probably yes. But to put your faith so far as trusting a DAVE to give you  decent tan? Maybe I have a set view on Dave's in general but it seemed a pretty funny name for a fake tan product to me.
On first appearances the bottles are very similar. I do think the St Tropez bottle is a little more easier on the eye.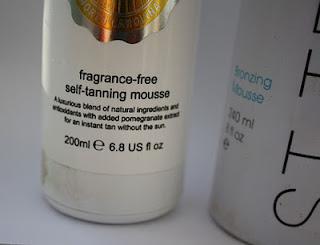 What drew me to this product is it claims to be Fragrance Free. I mean surely that's the holy grail of fake tan!?I have heard stories in the past of my girl friend's guys claiming that when they wear fake tan at night it makes them itch and other fragrance relates problems (moans).Love St Tropez though I do and I know they have made the product less stinky but its still got a pretty distinctive smell.
From experience I can confirm the fragrance is much more acceptable than the St Tropez. It has a very slight fragrance but nothing that would upset your boyfriend...or cat.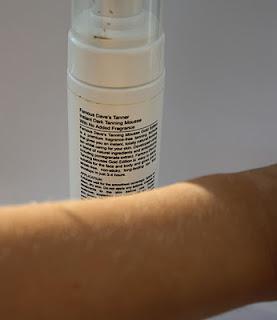 Ive used this fake tan for nearly a month now and I have to say I am very pleased with it. It does build up over a period of weeks and requires a scrub in the bath to start over every so often but that is to be expected.
I do find that sometimes this product does take to dry areas (knees, elbows) a little more than the St Tropez did and thats a little irritating- but I haven't had any cant-possibly-leave-the-house-I-look-like-Keith-Lemon incidents so far!
Famous Dave's Gold Edition 200ml (fragrance free) Moose Retails at Boots for £28.99St Tropez Bronzing Moose 240ml Retails at Boots for £30.69
Im not saying Im turning my back on St Tropez- but Ive certainly found a very favourable alternative!
In Other NewsI am STILL to do a wave envy review- need to do that soon.I am currently entering a pact to make sure I go to the next TOWIB event as I feel I really need to get involved!I finally have a new camera- A Canon 1000D and have been taking nerdy pics like this: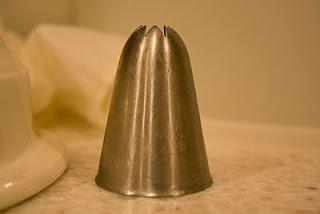 :DI am also a little obsessed with pin up pics are have been trying to master the victory rolls: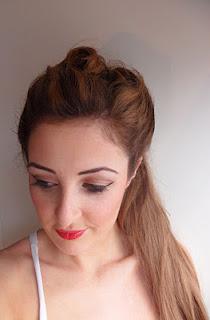 practicepracticepractice
Wishing you all happiness for February!