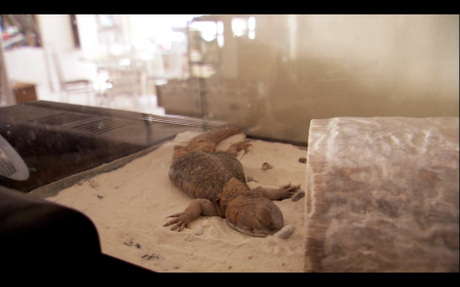 "I have a $70,000 pair of Gucci crocodile boots."
The only context you need: David Siegel created a timeshare empire (he sells the illusion of wealth, for a few days a year, to the middle classes.) Lauren Greenfield's documentary finds him in the middle of completing the largest existent American home for his family. The film follows him and his wife, Jackie.
In one way, the primary subjects of The Queen of Versailles are martyrs, suffering at the lonely/dizzying heights of capitalism so that we can… suffer at the bottom? It's a strange story, one that relies on the filth it photographs for slow-burn shock value. If you do not hate these people immediately, you will probably come to hate them.
Some have commented on the Siegel's surprising "ordinariness," which I find nowhere on display. They have been turned instead into human cyphers, symbols of a system that destroyed their humanity. When a pet lizard starves to death, Jackie Siegel enters into a bizarre pantomime of the appropriate parenting behaviors, unwilling to follow through with any of them. Watching this wife try and be a mother is like watching a groupie shred air guitar.
"He's starving!" (the lizard.)
"That's because you never take me to the pet store!"
"All right—I'm going to, go get a piece of turkey."
And later, to another child:
"David, look: he's dead!"
"I didn't even know we had a lizard."
Of course you can hardly blame the children (the Siegel's have eight) for killing the hundredth pet their mother purchased. The home doubles as a bestiary for peacocks, dogs, fish, two kinds of snakes, and apparently lizards. There are two dead dogs lying around (one stuffed) one turned into… a piano decoration? But these pets are not companions or living creatures. In the Siegel's world they are "pretty things" that, at one point, for one reason or another, were desirable to purchase.
The film also doubles as an occupy anthem, a reassurance that the winners of the American dream are more petty, soulless, and ultimately sad than we could have expected from the bottom. At one point, once their financial (timeshare) empire seems on the verge of, if not collapse, major downsizing, Jackie makes a telling confession: her children might have to pursue higher education. You'll have to see the movie (and you ought to) to fully grasp the tone, but the implication is that this is the only reason any of her babies should ever have to be exposed to a university.
For then they would never know the splendor of uninterrupted money-worship, or of a life behind safely locked and gilded doors.
Did I mention Lauren Greenfield has unignorable talent? The movie is good.
-Max Berwald