That makes the markets go up 1%.  Mostly, the Dollar is down based on a FABRICATION in Uncle Rupert's Wall Street Journal – the most widely read financial publication in the World (next to Philstockworld, of course!).  Although Jon Hilsenrath, the WSJ chief economist who started this nonsense made it VERY CLEAR that the story was predicated on IF they decide to do more "capital I, capital F," Jon says – THEN this is the kind of bond buying that might happen.  
That's all it took yesterday to send the S&P up 1% but, if there were a volume measure, you'd see that, on the Dow, 25M shares were traded before 11, and just 35M shares between 11 and 3:30 and then 50M shares were traded between 3:30 and 4pm, almost 100% down volume.  The only people that are fooled by these word games are the beautiful sheeple who are so well-trained to buy the F'ing dips that even a misstatement like this sends them into a buying frenzy.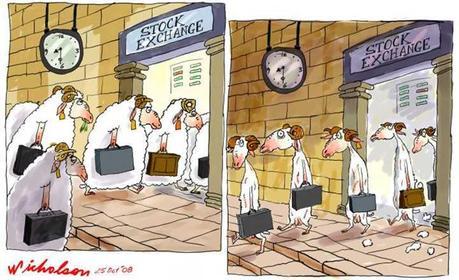 Ah, fresh meat – we love it!  Oil (/CL) was back at $107 this morning and we already caught a nice dip off our favorite sell spot in Member Chat and gold is giving us a good short entry at $1,700 (/YG) as well.  All we have to do is watch the Dollar and see if it can hold 79.40 once real trading begins.  The Euro is up at $1.324, off the $1.31 line yesterday so up 1% and the Pound is up from $1.57 yesterday to $1.58 this morning and the Yen is loving it at 81.71 (weaker) as they've been solidly backing the Euro over at the BOJ this month and the Nikkei futures (/NKD) shot up from 9,500 yesterday to 9,835 this morning (3.5%) on a 1% drop in their currency so this would be a great spot (below 9.850) to short the Nikkei.  
For the Futures impaired, the EWJ April $10 puts at .20 should be a fun way to play the Nikkei reversing, assuming reality sets in at some point.   
IN PROGRESS