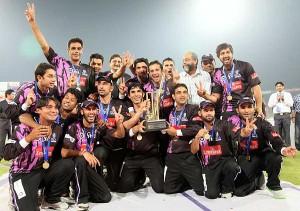 Faisalabad Wolves to represent Pakistan in this year's Champions League T20
Pakistan's domestic champion Faisalabad Wolves will represent Pakistan in the fifth edition of Champions League Twenty20, scheduled to be run from September 17 to October 6.
The Misbah-ul-Haq led Faisalabad Wolves, which recently won Fasyal Bank Super Eight T-20 Cup, will have to play qualifying round to get entry into the main draw of lucrative club-cricket tournament.
New Zealand's domestic T20 champion Otago Volts, the fourth ranked team of ongoing Indian Premier League (IPL) and the winners of Sri Lankan Premier League scheduled to be held in August this year, are the other teams who have to play qualifying round.
Top two qualifying sides will qualify join eight others, who have been divided into two groups, into the main draw.  In total there will be 29 matches will be played in the tournament.
Sialkot Stallions had represented Pakistan in the last edition of tournament held in South Africa, though their journey ended in the qualifying round.
There will be no team from England will be featuring in the tournament this year, instead West Indian domestic champions, who had to play Qualifiers in the last two edition of tournament, will get direct entry into the main draw.
Trinidad & Tobago's convincing performance in the event in the previous seasons, opened the doors for them to the mainstream tournament. They were runners-up in the integral edition of tournament in 2009 but had to play the qualifying round in 2011 and 2012.
Group A: IPL 1st ranked team (India), Highveld Lions (South Africa), Perth Scorchers (Australia), IPL 3rd ranked team (India), Q1 (Qualifier)
Group B: IPL 2nd ranked team (India), Titans (South Africa), Brisbane Heat (Australia), Trinidad & Tobago (West Indies), Q2 (Qualifier)
Qualifier: IPL 4th ranked team (India), Otago Volts (New Zealand), Sri Lanka qualifier, Faisalabad Wolves (Pakistan)