InfoWars
Jogger Arrested for Jaywalking, 'Failure to identify'
Four cops needed to subdue female jogger
Adan Salazar
Infowars.com
Footage capturing an aggressive arrest by Austin police of a non-violent jaywalker yesterday near the University of Texas campus is spurring outrage.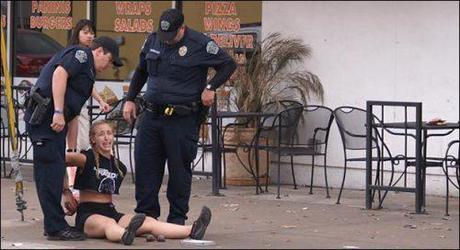 Witnesses say a jogger wearing headphones ran past an officer and was quickly subdued for jaywalking. She was later arrested for failing to produce identification.
"I was sitting at the Starbucks at 24th and San Antonio," one witness told The Daily Texan. "Then I hear a cop shout at an innocent girl jogging through West Campus with her headphones on."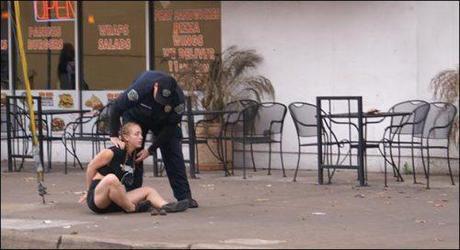 "She repeatedly pleaded with them, saying that she was just exercising and to let her go," the witness said.
The woman jogger, who looked to weigh no more than 110 pounds, apparently required four burly APD officers, two on bikes, unashamed about being caught on camera as the scene played out in broad daylight in full public view, to place her in the back of a squad car.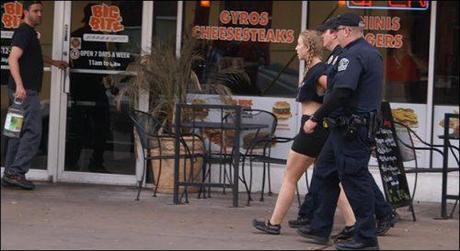 In footage of the incident, the woman can be heard saying, "I did nothing wrong," and "I was crossing the street," to which the person filming the event acknowledges, "I saw you."
"I didn't do anything wrong. I didn't do anything wrong," the woman screams as she's placed in the back of a squad car. "I didn't fucking do anything wrong. I just crossed the street."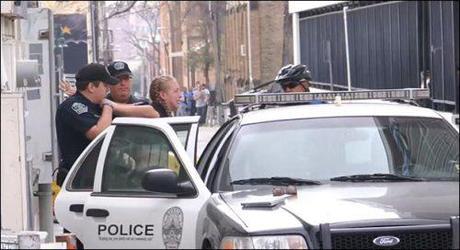 The photo above depicts the pain being inflicted on the woman during the arrest stemming from the punishing position officers are holding her hands, an awkward extended and high-behind-her-back contortion.
The torturous pose is reminiscent of a notorious 2012 Austin arrest in which officers manhandled a female passenger of a vehicle after she gave her friend advice about not having to submit to a sobriety test.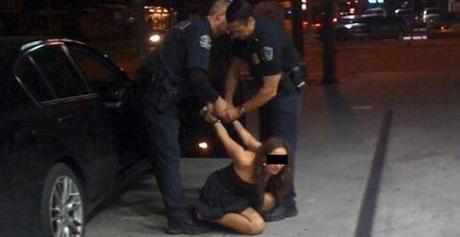 Ex-marine and activist Antonio Buehler documented the incident and was also later arrested himself after one cop claimed he spit in his face, an allegation Buehler vehemently denies.
In the jogger's case, APD spokespersons told the Texan officers "proactively" patrol the area around the UT campus conducting overall pedestrian and bike safety enforcement, but that there was no specific initiative in place to target jaywalkers.
This is just one more example of how the police state apparatus is encroaching on the private lives of citizens and more activities are becoming regarded as thought crimes, with everyone being guilty until proven innocent.
Update: Austin Police Chief Art Acevedo, in response to the deluge of negative press over the incident, issued a statement Friday defending the officers and saying they "had cause to detain & arrest."
"Thank you, lord, that it is a controversy in Austin, Texas — that we actually have the audacity to touch somebody by the arm and tell them, 'Oh my goodness Austin police we're trying to get your attention'," Acevedo said in a statement published in the Austin American Statesman, ignorant of the fact that if a citizen touched a cop in this manner it would be deemed "assault."
After reviewing audio and video reports, the police chief said he also thought 24-year-old jogger Amanda Jo Stephen's "limp routine" was an act.
"She did the limp routine, and in 28 years of law enforcement, I can tell you it happens all the time," Acevedo said, according to the Statesman. "Quite frankly she wasn't charged with resisting and she's lucky I wasn't the arresting officer because I wouldn't have been as generous."
One of the witnesses, Chris Quintero, who also photographed the event and blogged about it, told the Statesman he thought Stephen could have handled it better. "Looking at the video it was not too bad," Quintero stated. "Up until that point, I think (officers were) a little excessive. … But (Stephen) started yelling and making commotion. I think she handled it poorly."
Image credit: Youtube, Chris Quintero, The Daily Texan
In the 1960s-70s there was a term used to describe oppressive police. I have great respect for the police and first responders I know personally, but there are occasional exceptions. These latter I would call PIGs. They are a disgrace to the uniform.  ~ TD