The world of style and fashion does have some unwritten rules, and while most rules are there for a good reason, others simply appear to have been taken from the "because I say so" shelf.
While we encourage every man to challenge the limits and break the rules, it is important to know the motivation behind a rule and how to wear things correctly before you start breaking them, otherwise, you risk putting only weird looks together.
When it comes to debunking some rules and seeing whether they are relevant or not, many guys appeal to online forums, which, even though they can be helpful at times, are not always the best source of information, as you never know whether the person replying to your comment is honest and, even if they are honest, whether they can back up what they are saying. Some people believe that rules are rules, but if there is no reason for a rule to exist, why should it?
Let's take a look at some of the most common cases of fashion regulations and see whether there is any reason in them or not.
Myth #1: "Blue and green should never be seen / Black and brown will make you frown"
Answer: Fiction
We have heard these sayings so many times, with the "red and green" variation for the first one – that it makes us sick. But what can we do?  We put up with it and explain why these rules don't apply. There are many old rules regarding clothes and colors, but today we all know that these rules are not really based on clearco reasons.
If you are aware of the color theory, you will know to make the best out of your clothes' colors.
Let's take a look at some of the color combinations said not to work together and analyze why they go/don't go together.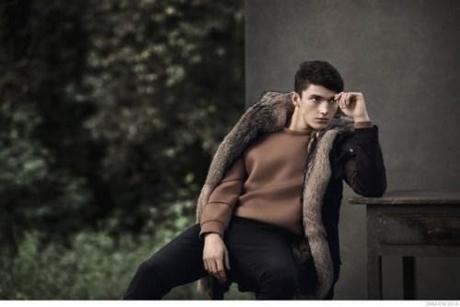 A black and brown outfit from the Zara fall-winter 2014 menswear collection
Brown and black: The reason many people consider that black and brown don't go together is because brown is on the dark end of the color spectrum and can be easily mistaken for black and therefore pairing the two would result in an outfit that lacks definition and which could appear muddy. This is something that could happen, but only if you choose the wrong shade of brown or a brown that lacks depth. A strong, powerful brown or a light almost chalky brown can work very well with black.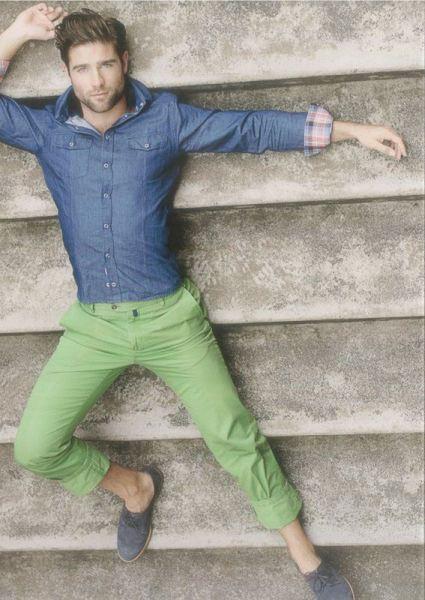 Blue and green: The reasons why blue and green should not be worn together remains a mystery, but what we know is why they do go together: Blue and green are close to each other on the color wheel, which means that they are in an analog relation. Analog color combinations are combinations consisting on colors that lie close to each other on the color wheel. These combinations are very harmonious and are often found in nature. Just look at how great a blue sky looks above a beautiful, green forest. Why shouldn't you use this palette in your outfits as well?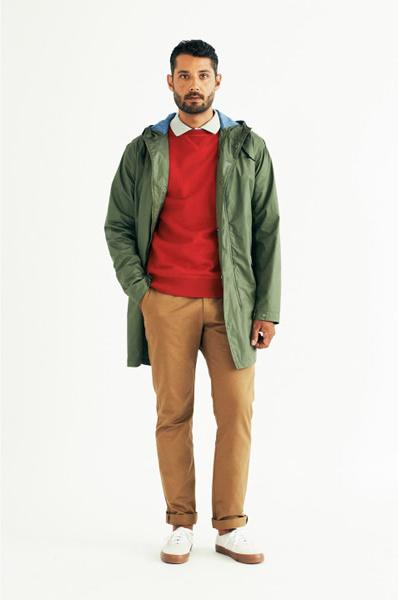 Red and green: The reason why red and green are said not to go together well is because they are both very strong colors and might end up clashing. Red and green are complementary colors, meaning they lie on opposite sides of the color wheel and can therefore be matched very well together. Our recommendation is to tone down one of the colors to obtain a harmonious effect, as otherwise you risk looking like a Christmas ornament.
Myth #2: Black makes you look thinner
Answer: Fact
Black, and dark colors in general make you look thinner, but only under one condition: your clothes need to be have the right cut and to be tailored as good as possible for your body. Wearing an oversized or an undersized black shirt will make you look misbalanced. Colors and patterns have slight shaping effects, but only when the cut of the garment is impeccably cut. Never rely on colors, patterns or prints to give you shape! Shape and size predominate color or embellishment.
Myth #3: Silver and gold don't go together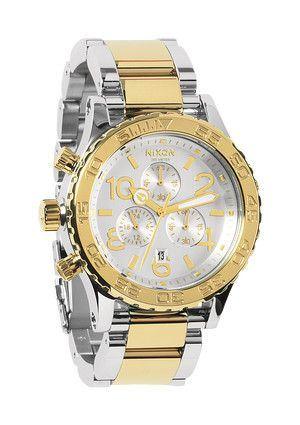 Silver and gold in one watch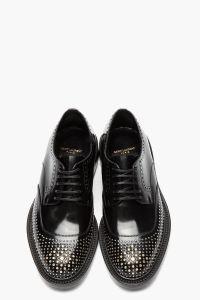 A pair of Saint Laurent black and silver shoes which can be worn with a golden watch
In fashion, silver and gold are neutrals and can be worn together. For example you can definitely wear a golden chain and a silver bracelet at the same time or a silver watch and a golden earring if you will. The same would apply to clothes: wearing a silver jacket with golden shoes should theoretically go, but in actuality it does not look as great. The reason is not because they are metallics, but because you would add too much of the same type of shine to your outfit. Wearing a golden jacket and silver shoes that shine with the same brightness but in different colors is something that's too much even for a Christmas tree.
Myth #4: Your tie should not match your pocket square
Answer: Fact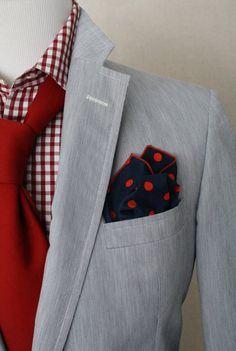 If you are wearing a tie and wish to add a pocket square as well, the rule is that the pocket square should not match your tie in fabric and shape. Therefore, if you are wearing a red cotton tie, you can match it for example with a dotted green silk pocket square. The reasoning behind the rule is that a pocket square should compliment your tie. There is no point in adding two accessories of the same type twice.
However, there are people who break this rule and look great doing it. Style expert Tim Gunn often wears matching ties and pocket squares, which gives him an old-timey vibe. Back in the day, your tie needed to match your pocket square, so wearing matching pieces is always going to be a reference to the past.
Myth #5: Suspenders and belts should not be worn together
Answer: Fact
Wearing both suspenders and a belt is a big sartorial faux-pas. The reason for this is because both the belt and the suspenders serve the same purpose, which is to hold your pants up. Wearing a belt and suspenders at the same time will only make you look afraid that you pants will fall off. To give you a better picture, wearing suspenders with a belt is the equivalent of wearing two blazers one over the other.
So there you have it, a few of the most men's fashion myths clarified. Now that you know why some fashion choices go and why others don't, you can easily make your own decisions and break the rules according to your will and preferences, while still staying stylish at the same time!
Fraquoh and Franchomme
P.S. Have you heard these rules? Do you follow them? What other myths would you like to see dispelled? Share your thoughts in the comments below! For more articles on style, fashion tips and cultural insights, you can subscribe to Attire Club via e-mail or follow us on Facebook or Twitter!
Share on Tumblr
0
'