Hello makeupholics!
I love natural glowing skin and touchwood I'm blessed with it too (all thanks to my mum's Bengali genes). But sometimes you need to fake it and for that I rely on highlighters. We don't have too many options for highlighters in India, however Revlon, Chambor and Faces do have options for liquid highlighters/illuminators, but still I'm lusting over theBalm Mary-Loumanizer :( Are you hearing Mum? I want it soon :0
Today I'll be reviewing Faces Ultime Pro Metaliglow in Topaz. These are available in 3 shades – Opal, Champagne and Topaz. Faces recently reformulated their Metaliglow range of highlighters in new packaging and awesome formula.
Faces Ultime Pro Metaliglow Topaz : Review & Packaging
Price : Rs 799
Quantity : 15 mL
Faces Ultime Pro Metaliglow Topaz Review, Swatches, Price & Availability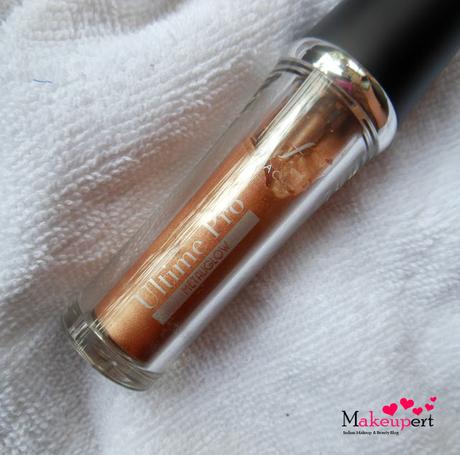 Faces Ultime Pro Metaliglow Topaz : Review & Price

PackagingFaces Metaliglow Highlighter now comes in a more convenient pump packaging and they remind me of the Becca highlighters a wee bit. These are very travel friendly (thanks to the plastic packaging) and convenient to use in comparison to the older concealer like packaging. For the first use, I need to press the pump several times but after then the product comes out in a single press without any fuss. The packaging is transparent and you can easily differentiate between the 3 shades (in case you own all the three).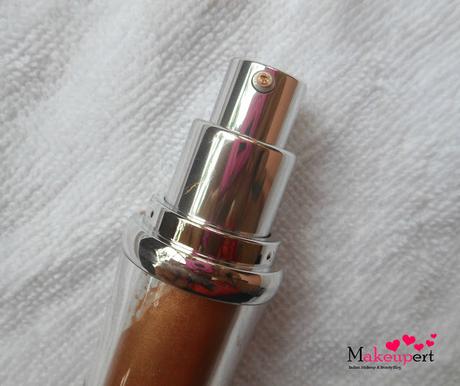 Faces Ultime Pro Metaliglow Topaz : Review & Packaging
Texture
The Faces Ultime Pro Metaliglow is a gel based liquid highlighter that feels light on skin because of the aqua base. The formula has very finely milled shimmers that do not look OTT. The reflective particles are very refined and deliver a soft glow to the skin. The glow is noticeable yet understated. The Faces Highlighters blends seamlessly but it sets quickly, hence you need to hurry up and blend everything well unless it might end up looking patchy. You can either dot the product on your face or mix it with your foundation for a radiant glow or body moisturizer for full body illuminator. It's a versatile product and I will definitely pick this over Chambor Highlighter.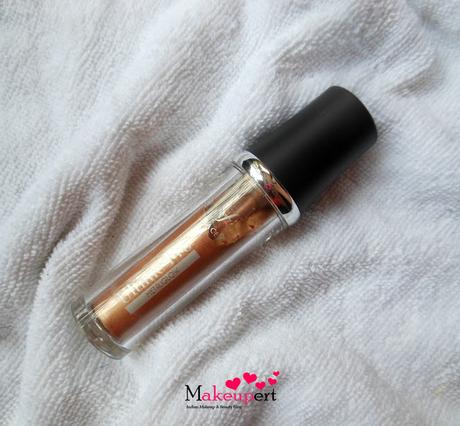 Faces Ultime Pro Metaliglow Topaz : Review, Packaging & Price
Waterproof
These are definitely waterproof highlighters yet they are not difficult to remove and any micellar lotion or cream based makeup remover does the job well.
Staying Efficacy
The Faces Metaliglow Highlighter is a very long stay product and stays put for 7-8 hours and they don't even budge or move around once set on the skin, making it perfect for parties, weddings and events. For the price, this is a great value for money and one of the best liquid highlighter/illuminator available in India.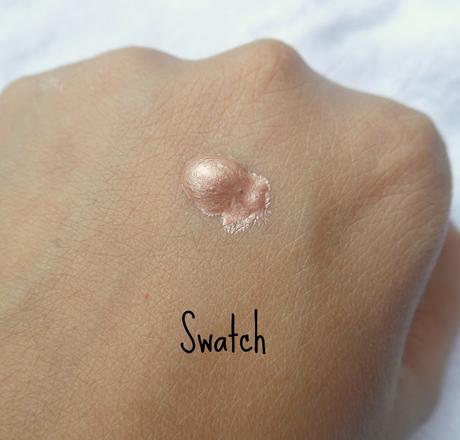 Faces Ultime Pro Metaliglow Topaz : Swatch
Topaz
When I tested all the 3 shades on the Faces counter, I fell in love with the Champagne, a gorgeous gold-champagne highlighter that is best suited for Indian complexion, but this was out of stock both online and in stores. Finally I bought Topaz, a warm rose gold shade that would work best on wheatish to medium complexion.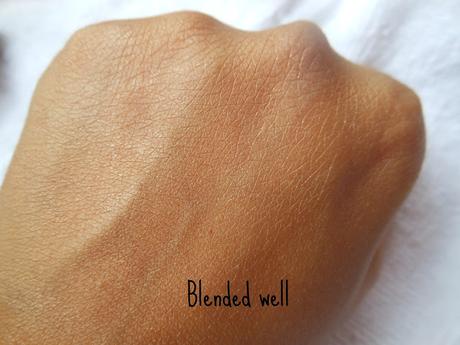 Faces Ultime Pro Metaliglow Topaz : Swatch blended well to skin
Pros
Easy to use pump packaging

Lightweight, gel based illuminator

Blends seamlessly into the skin

Fairly long lasting

Can be used in multiple ways

Contains finely milled shimmers that imparts radiant glow

Available in 3 shades

Topaz would suit Indian complexion well

Waterproof

Good value for money
Cons
It sets pretty quickly; hence blending might be a hitch for many

Champagne is the best for Indian complexion but out of stock everywhere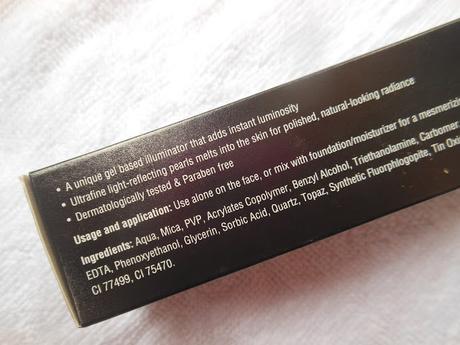 Best Highlighter Available in India : Faces Ultime Pro Metaliglow Topaz
Overall Verdict
The Faces Metaliglow is one of the best highlighter/illuminator available in India at just Rs 799. The texture is great for all skin types and if you are oily skinned and have been staying away from liquid and cream highlighters, then no more, You can go for these because they are light weight and non-greasy. They imparts delicate glow to the skin without emphasizing imperfections. The liquid-gel formula is super blend able and long wearing.
Rating : 4.75/5
Buy online at Amazon.in