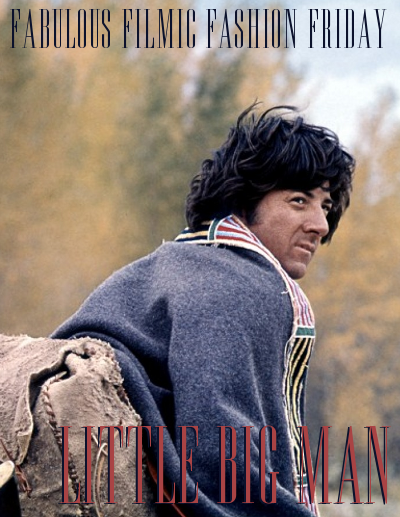 Fabulous Filmic Fashion Friday is back after the summer break, again with something totally different from what we've featured here before. Before I talk about the fashion of LITTLE BIG MAN, I would like to let you know that I might not be able to post this feature each week, mostly because not every film I see is much fashionably interesting, and also because it takes a lot of time. You can expect me to post every second week at least though.
The costumes of this 1970 western movie were designed by the distinguished film costume designer Dorothy Jeakins, also famous for films like The Sound of Music and the original True Grit. The story that takes place in the different worlds of the American Indians and that of the first settlers, delivers a great opportunity for creative and varied design - also because of the main character's changing lifestyle - and Jeakins fully utilises this potential. 
THE FIRST INDIAN PHASE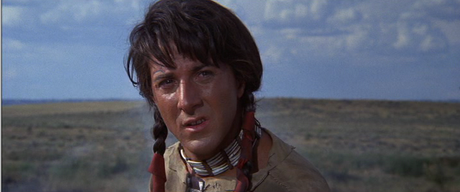 That I would ever see Dustin Hoffman with braids - it's a dream come true. Actually it almost suits him. He does look a bit Indian.
THE "CIVILIZED" PHASE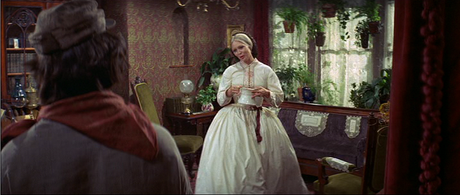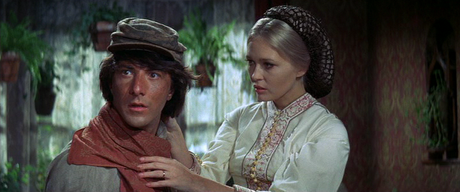 Jack gets adopted by the Pendrakes, his adoptive mother played by the awesome Faye Dunaway. This was my second film with her, and I'm already under her spell. Although these dresses must have been extremely uncomfortable, I somehow adore them. I also like her hair colour, it's almost silver.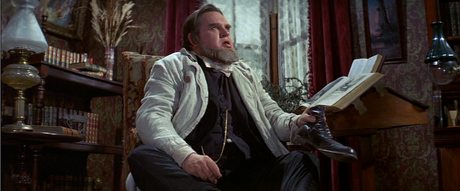 And this is Mr. Pendrake. His look is like out of a fashion history book.
THE RELIGIOUS PHASE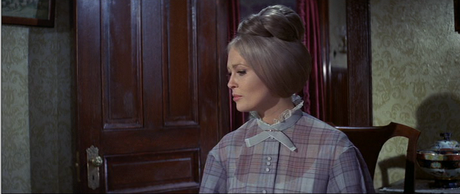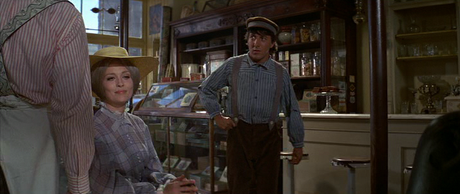 Jake finds a deep connection to Mrs. Pendrake - religiously of course - but an event destroys his faith very soon. Dustin Hoffman is so good at playing a character younger than himself, and he looks very convincing in these rather childish clothes. I'm extremely fascinated by Dunaway's hair do here.
THE MOUSTACHE PHASE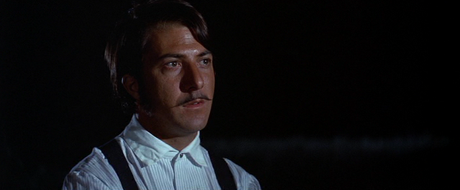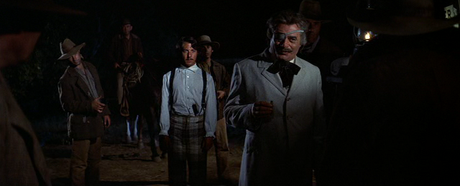 When a boy wants to show he's a man, he wears some kind of beard. Really, I've experienced this countless times. I think Hoffman has the looks to wear it, but somehow he still reminds me of an Italian gangster or a South-Indian action hero.
THE GUNFIGHTER PHASE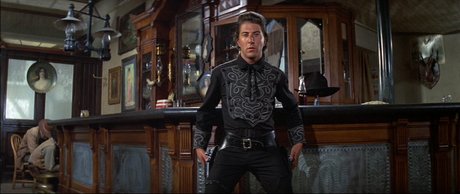 I am so crazy about this outfit. In fact, it was because of it that I decided to feature this film here. So western. So stylish.
THE OLGA PHASE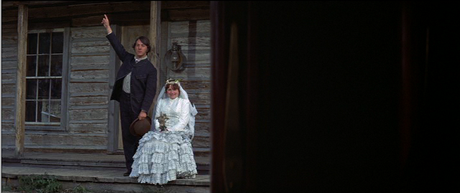 It's interesting how old some hair cuts can make you. Here I think that Hoffman looks much older than in some of the later phases. Anyhow, their wedding outfits are just horrible. But I love Olga's hairband - without a veil it would be quite cute.
THE SECOND INDIAN PHASE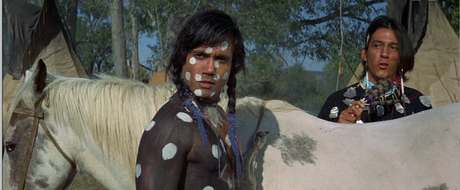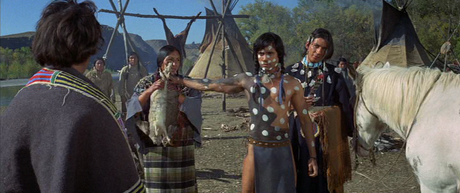 On his search for Olga, Jack eventually returns to his "home country" and tribe. One of his earlier enemies has become some kind of rebel that does the exact opposite of what's "normal". I like his body paint. But I guess I like anything with dots.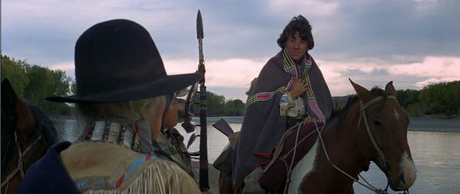 This is the outfit from the front image - it's very simple, and as always, that's why I love it. It's basically just a blanket. But a very beautiful blanket.
THE SUNSHINE PHASE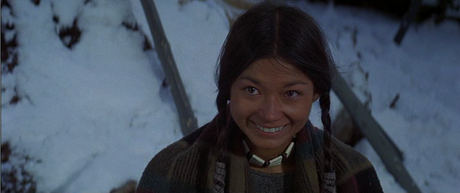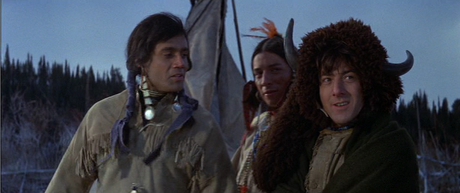 Sunshine is Jack's second wife, a sweet Indian girl. I find her very, very pretty, and natural. But what I like even more is Jack's... what do I call it... hat? I mean, it has horns!
THE DRUNK PHASE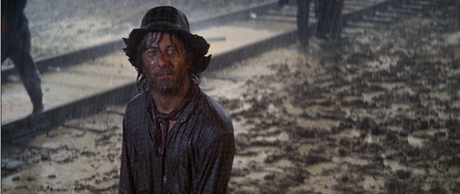 Well, in this phase Jack is drunk all the time, and his outfit it more than fitting. Notice the hat.
ANOTHER CIVILIZED PHASE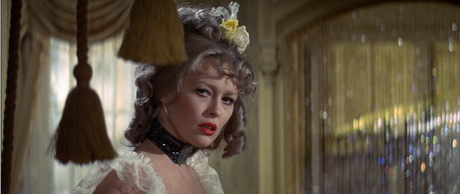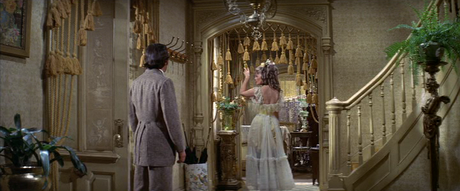 ... In which he meets Mrs. Pendrake again! Well, she's no longer what she used to be, but like Jack says, she hasn't lost any of her style.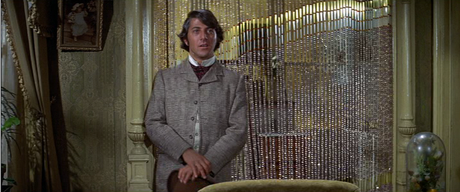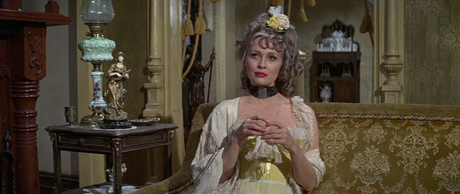 Of course she was a little prettier in the less kitschy and less yellow clothes from before, but it's fun to see what a prostitute looked like in those times.
THE CRAZY PHASE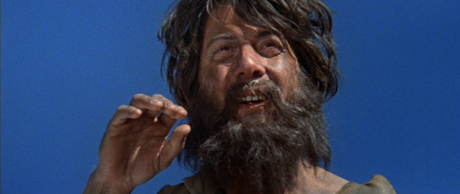 Just wanted to give you the pleasure of seeing Dustin Hoffman with a beard and long hair.
THE ENDING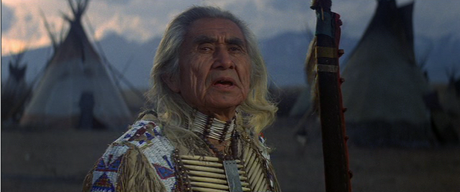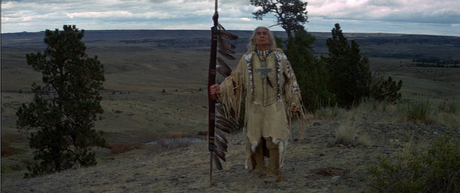 Of course you have to see Jack's "grandfather" too, before we're done here. Old Lodge Skins is the typical old Indian that you have in your head when you think "Indian". I like that. It actually moves me. Maybe I was an Indian in a previous life.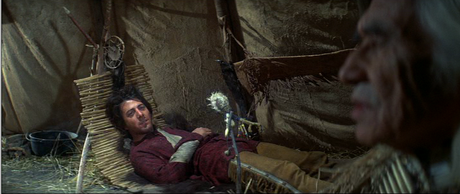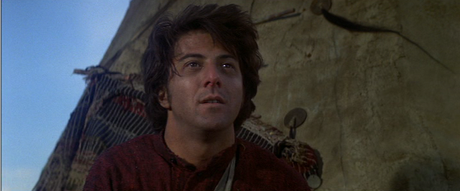 And here you see Jack one last time, in his last outfit. It's very fitting I think, because it's somewhere between Indian and Western clothing, and the blood-red color along with the beige is very natural. Actually, I think that Jack/ Dustin Hoffman looks his very best in this final scene, which isn't only because of the costumes. All they do is enhance this further.