As some of you may have figured out, I have a severe purse fetish. I love and I do mean love my purses. I would possibly spend more money on a purse then my clothing and because I do spend a decent amount on my purses, I have 3 rules that I stick with when it comes to my babies. 1) My purses will never sit on the floor, do you know how much bacteria sits on a floor? A recent study found traces of feces a.k.a shit on the bottom of some of the purses. As my elders use to say "a purse on the floor don't get no money", in those words exactly. 2) I NEVER lend my purses out to friends or family, you can borrow anything else but you can't borrow any of my purses. 3) Pens, cosmetics, and anything that may leak has to be carried in a smaller cosmetics case within my purse, an ink pen can absolutely ruin it!
Since I love purses so much, I decided to share my wish list of purses that are out of my price range but they are absolutely beautiful to look at, hey can a girl dream?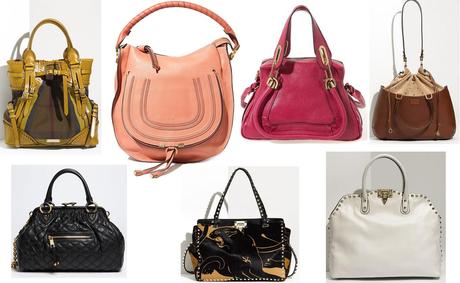 From Left to Right
1) Burberry Belted Check Print Shoulder Bag $1795.00 – I'm not a huge fan of Burberry but I adore this beauty loving the design of it and the color
2) Chole Marcie $1795.00
3) Chloe Paraty $1895.00
4) Fendi B Fab $1980.00
5) Marc Jacobs Stam $1395.00
6) Valentino Rock Stud Calf Hair Panther $2995.00 – I'm in Love!
7) Valentino White Calf Skin Leather Rock Stud Tote $1995.00
I'm in Purse Heaven

Tip: Stay away from fakes; if I can't get the real thing I don't want it. It makes no sense to pay $100.00 or more for a fake purse when you can easily go to the Coach, Michael Kors, or the Kate Spade outlet and get you a great quality authentic bag for a few bucks more. People pay $20.00 – $30.00 for these bags and then sale them to you for $100 or more. Years ago, before I knew better, I bought a fake Gucci bag. I thought I was "too cute" strutting my stuff down the street. Some lady said to me "omg your purse is soooooo cute, hold it up" and when I did the whole damn bag fell apart! I learned my lesson because that was embarrassing! There is fake "everything" these days!