Finding the best price for an item is not complicated. It only takes 3 things your electronic device (computer, laptop, smartphone or tablet), a few minutes of your time, and Google. This week I went on the hunt for some great wedges for the spring/summer season. When I shop for shoes and I find something I really like, I Google the name of the shoe to find out what other websites carries the shoe and who has the best deal. When I find the best deal I purchase the shoe I like right away! When it comes to shoes I don't wait! I wear a size 10 sometimes an 11 depending on the shoe. I'm 5'2 with size 10-11 feet, just call me Bigfoot! Most stores purchase less of these sizes so they're normally the first sizes to sale out. To my ladies who wear a 6, 7, or 8, I'm jealous because your sizes are always available in the clearance section (pout face).
I found this wedge from Steve Madden's Madden Girl brand called Cappe and thought it would be cute for me to strut my stuff. I found the Cappe on DSW for $44.95 and instantly thought they were too cute! So I immediately googled the shoe to see if I could get it cheaper than DSW's advertised price. In the end, I ordered the shoe from 6pm for $37.99 with free shipping and no sales tax. DSW charges sales tax on Illinois purchases so by buying from 6pm I automatically saved 9.5%.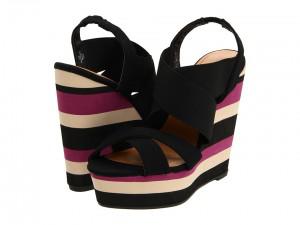 Tips for Finding the Best Deal
Shop on websites that don't have stores in your city, this allows you to automatically save money on sales tax. I love shopping for deals on DSW, Target, Wal-mart, and Best Buy but because they all have stores in Illinois I still have to pay the going tax rate of 9.5% on all purchases. Although DSW offered me free shipping after adding the sales tax the total came out to $49.22. By buying the shoes from 6pm I saved $11.23 because the shoes were $6.26 cheaper and then I saved on the tax. If a retailer has a physical presence in the state then it must collect sales tax if not then you are exempt. That's the accountant in me!
Although it is now officially spring the best time to shop for winter clothes is now. All of the cute sweaters, hats, gloves, and coats now cost about 50 to 75% less than they did in October. I seen the most darling pair of Juicy Couture leather gloves but refused to pay $98.00 for them, the gloves are now $35.99 and will never go out of style. Trendy sweaters and coats are timeless pieces in my opinion; so anything you purchase for the winter now will still be in season next winter. I saw this Miss Sixty coat on Torrid for about $70.00 a few months ago. I just purchased it for $23.00 and I can guarantee the coat will still be cute and stylish in October.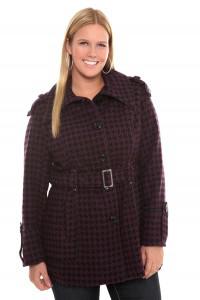 Sign up for the websites e-mail list and rewards program. By doing this you will be notified of special sales and you will received discounts and promotions exclusive to people who subscribe to the mailing list. If you don't want your e-mail bombarded with deals and offers set up an additional e-mail account and use that to register just make sure you check it for any deals or special offers you may receive. Signing up for the rewards program can be beneficial as well. DSW sends me a $10.00 gift check a few times throughout the year; Torrid gives me 5% off all purchases after I spend $250.00. Certain banks offer programs as well, Bank of America has add it up that gives you a certain percentage back on all purchases from participating retailers Wal-mart, Guess, Expedia, Macys, Saks, & Apple all participate in this program. Every dollar counts J
Pick up items from the store to save on shipping if they have a location close to you. Most retailers will ship free if you agree to pick the item up. Fabulous Beauty Find on a Budget
Fabulous Beauty Find of the Week
As always, I didn't have time to get a manicure last week so over the weekend I purchased this Sally Hansen Salon Effects nail polish strips in a design called kitty kitty. They cost me about $8.00 and they are genuinely a time and money saver. I've had them on my nails for 6 days and they have yet to peel, chip, or dull out on me. I normally get my manicures during my lunch break and it cost me $15-$18 depending on where I go. 3-4 days later my polish starts to chip away because I don't have the time to put a clear coat over them every day and wait for them to dry. The polish strips are awesome and they come in a variety of designs and are very easy to apply. Paying $8.00 for nails that still look cute 6 days later is well worth it. You can find Salon Effects at your local Walgreens, CVS Pharmacy, or Target. The average person can spend $1000.00 or more a year getting manicures and pedicures. It's all about looking good and keeping money in your pocket!
HAPPY SHOPPING!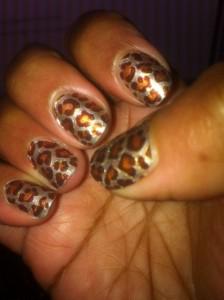 My Nails 5 Days after applying Sally Hansen Salon Effects