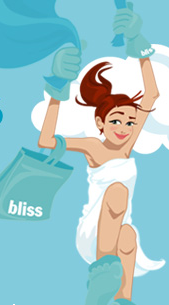 Fun Bliss Branding*
As my sister was approaching a very special birthday; the big four zero, I wanted to mark the occasion by treating her to some luxurious pampering. Being the only one in the UK, I thought a trip to the
Bliss Spa in London
would fit the bill nicely.
I had been there before to use up some gift vouchers on the 
Betweeny Wax
 and the
Hot Milk and Almond Pedicure
. Both treatments were excellent; the waxing was effective and pain-free and the pedicure left my feet feeling very soft and silky smooth.
I really like the whole
Bliss
branding and it's light hearted approach to treatments and products. I think it's image is fun, girly, appealing and removes the stuffiness you can sometimes experience when going into beauty salons (especially in Chelsea dah-ling!)
The Bliss Spa menu is extensive and their treatments range from facials to "guy maintenance" for men.
For my sister's birthday, I booked the Fabulous Facial and the Hot Milk and Almond Pedicure through the on-line reservations system, where I chose a session time and a therapist. Quite a unique selling point from my perspective! Some spas that I had approached earlier were either fully booked or would not take bookings until 2 weeks before the treatment and since my sister was travelling down from Scotland for the weekend, I wanted to have the treatments guaranteed.My sister is too generous, she insisted on me having a Fabulous Facial at her expense (crazy girl!) so it would just be plain rude to decline her very kind offer.On arrival, we were taken downstairs to the Locker Room and Lounge.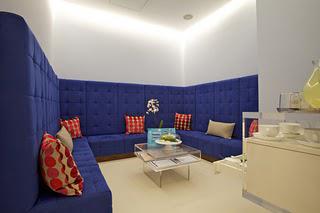 Inside Bliss Spa Lounge*
We were assigned a locker equipped with waffle-style robe and flip flops. Post de-robing, you can either enjoy the sauna or hang out in the tastefully decorated Lounge area where we pondered over the selection of cheese and crackers, fruit juice, herbal teas and the brownie buffet. There is also a huge selection of magazines including Cosmo, Marie Claire and Vogue and in those few moments you do feel as if you are experiencing something rather special!It wasn't too long before the beauty therapist popped in to escort me to the treatment room.The room was a nice temperature and I tucked myself underneath a snug blanket on the treatment bed. Although I was having a facial, part of the treatment also involves a shoulder, neck, arm and foot massage so it is best just to wear underwear for the treatment.
Suffice to say, the dim lighting, ambient temperature and relaxing music does set the scene for you to drift off.As you would expect, the therapist asked me what my usual skincare routine was and did I want to focus on anything in particular etc. Then a light with very high intensity shone on my face as she was able to fully examine all the pollution my face had been exposed to since my last facial.The therapist was very friendly and she spoke with a very soothing voice – all to put me at ease.As with most salons, I appreciate as well as providing the treatment, the therapist has a duty to promote relevant Spa products or additional services. Part of this facial has the option to customise it further with "build-ons". My therapist offered me the refining fruit acid wash for an additional £15 or the super-smoothing enzyme peel for £55. Double eek! I was already paying £112.40 for the facial, which is the most I have paid for any facial, so to pay extra for "build-ons" was I thought, a touch excessive.
The facial itself was very nice. It started with what smelt like a melon scented cleansing milk, followed by a refining scrub and then an "extraction" process. I have never actually experienced this before and it is perhaps this process which distinguishes the Bliss facial from the others I have had to date. It involves using a tool to remove blackheads.I had a few on my nose and forehead and I did squirm quite a bit as she set to work squeezing out all the dirt. But you know what they say; no pain, no gain and although it may have been slightly uncomfortable, the result was well worth it!After the extractions a menthal soothing balm was applied to the skin which serves as a type of cooling agent. This was followed by a customised moisturising mask.While the mask sets, a mini massage on arms, neck, shoulders and feet is given. Just lovely.
The removal of the mask signifies the end of the treatment and my skin felt clean, refreshed, hydrated and soft.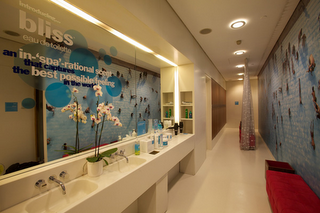 Inside Locker Room in Bliss Spa*
I went back to the Lounge just to top up on my refreshments before heading back to the Locker room.They have so many products you can help yourself to in this area such as :Lemon and Sage Body Scrub
Fabulous Foaming Face WashLid and Lash WashNot to mention a plentiful supply of cotton wool, combs and hairspray.Back upstairs, my sister was waiting at the Quick Service Station for her toes to dry.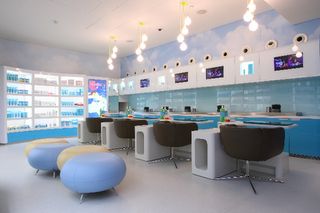 Quick Service Stations for manicures and pedicures*
She agreed that this was indeed a real treat. Soaking your feet in a warm bath of almond scented milk while your feet are given the utmost care; scrubbing and focussing on the really dry skin areas of heels and the balls of your feet, moisturising and cuticle clipping. All this before an undercoat and two coats of colour are applied. Like me, she feels that it is the best pedicure she has ever had!Did I mention while having a manicure or pedicure you can tune in and watch TV? I think she watched
Gossip Girl
(when I was there it was
Sex and The City
) and you can also induldge in one of their many fruit cocktails.Before leaving the salon ,one of the assistants applied an oil to my sisters' nails and wrapped them in clingfilm before she put on her socks and boots to minimise any damage. I thought this was a very nice touch!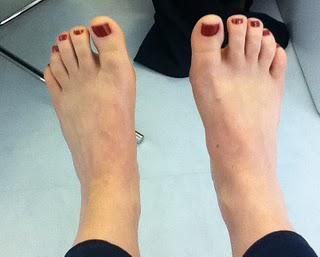 Bliss Pedicure: The Finished Article
One month later, and my sister tells me that the polish has maintained its quality finish. No chipping -what a fabulous result!Priced at £61.30, it is expensive but you get what you pay for.
If planning a pedicure for your summer holiday, it would be worth considering the Hot Milk and Almond Pedicure  - if only for its resilience!I think Bliss is an ideal place to spoil someone. I couldn't actually afford to visit the spa as part of my regular beauty routine but perhaps if I mention the Hot Foot Pedicure, number 3 on my 
Health and Beauty Wish List
 to hubby often enough, perhaps a voucher will appear in my Christmas Stocking! Stranger things have happened!
If you fancy treating yourself or someone special, why not book an appointment at:
http://www.blissworld.co.uk/spa/spa-411/locations/bliss-london.aspx
Tell them MeLikeyUK sent you!
Enjoy x
*Photographs sourced from Bliss website.