All the glitz and glamour that is the music industry came out in full force this past Sunday night for the 2011 Billboard Music Awards. While the Billboard Awards honor the best of the best in music, those in attendance are more than great musical artists—they are the movers and shakers of pop-culture, entertainment and fashion. Names like Katy Perry, Lady Gaga, Nicki Minaj and others are becoming as well known for their avant-garde fashion choices as they are for their newest hit records. So to put it simply, the 2011 Billboard Awards had a hot, must-see red carpet!
Unlike other awards shows, the fashion at the Billboards is reflective of the artist, not necessarily super formal. Selena Gomez turned up the heat in a D&G black dress with a very high slit, while Rihanna gave us a refreshing change in an all white Max Azria pant suit, proving that there really is no dress code for the Billboards. One of my favorite looks of the night was on Ms. Taylor Swift, who ended up leaving for the night with three awards in her hands! The young country starlet always manages to get it right from head to toe and this was no exception.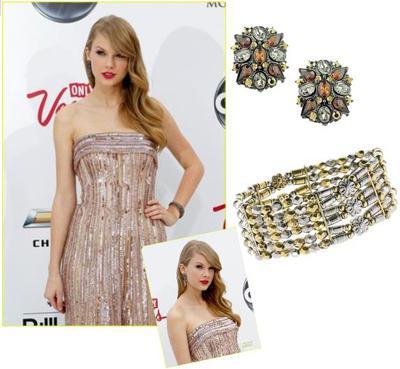 Taylor wore a dazzling blush colored
Elie Saab
gown and played down the sparkles with a soft wave in her hair and a hot pink lip. Tres chic! And I applaud her for pulling one of my favorite tricks in the book- accessorizing with unexpected jewelry! It may be summer, but instead of putting on floral baubles or bright colored jewelry as we've seen many stars do, especially with neutral tone dresses, Taylor wore a mixed metal bracelet and topaz crystal earrings. Going for the unexpected always catches my eye and I personally love the accessory choices she made. This should just prove that fashion trends may come and go with the season, but jewelry can be mixed and matched with just about everything, anytime of year!
To get Taylor's look, check out our Brown Crystal Medley Stud Earrings and Metallic Heights Brass & Silver Beaded Bracelet. Both of these styles are timeless and easy to wear in any season! Plus, if you pick up these styles today you can save big! Remember, we're having our Me-MORE-ial Day Sale this weekend only, so get to shopping and saving and have a fabulous Friday!