2011 was a good year for fresh faces in fashion. The best dressed of the year were not the typical style icons we see time and time again such as Anne Hathaway and Halle Berry. Instead we saw up and coming stars who proved they were a fashion force to be reckoned with. One of those stars who wowed us time and time again, was Emma Stone. Not only did this young actress consistently look fabulous on and off the red carpet, she always managed to step out in something new and exciting. Her style was unpredictable which always made it exciting to see what she would come up with next. From her blonde hair and minimal peach Calvin Klein moment to the picture perfect pink and red Giambattista Valli number, Ms. Stone definitely made her first year on the red carpet a winning one.
Awards season is officially kicking off! Just this week, we have seen stars at the People's Choice Awards and Critic's Choice Awards all leading up to the Golden Globes this upcoming Sunday, so needless to say there will be plenty of red carpet recaps coming up! But before we get into the thick of Awards Show season, let's take a look at how well Emma Stone has already started off this red carpet rally!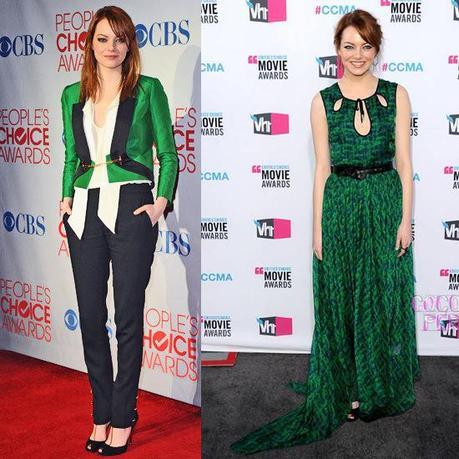 We've only seen two awards shows and it already seems as though green is the new red! Joining Nina Dobrev and Chloe Moretz in bright green numbers, Emma Stone wore two different emerald ensembles to the Critic's and People's choice awards shows this past week. As it is a natural accent to her red locks, Emma looked chic as could be at the People's Choice Awards in a Gucci tux with fierce accents from head to toe! Later in the week at the Critic's Choice Awards, Emma opted for a softer Jason Wu pre-fall green and blue print gown with her hair worn loosely up. Each of these looks are so different and yet totally Emma and we like that she kept with the green theme.
But Emma Stone's true standout moment of the week had to be her cream colored J Mendel dress she wore to attend the National Board of Review in New York City. To fight the wintry NYC air, Emma showed up to the event in a classy Michael Kors coat that matched her dress exactly. With the sparkling accents on the front of the dress, golden Christian Louboutin pumps and dark red lips, Emma proved to us once again why she is constantly on the best dressed list!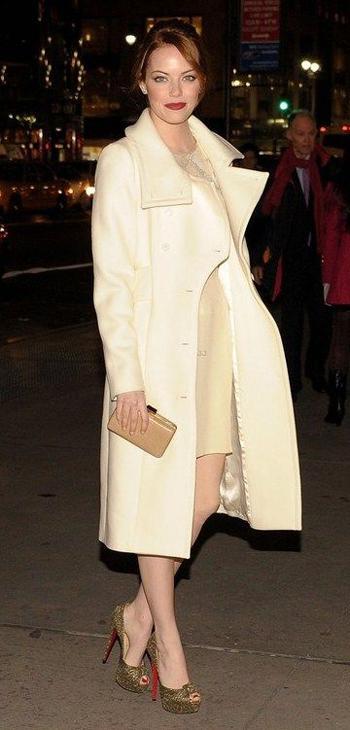 And while she kept her accessories to a minimum, we're still guessing she dropped a pretty penny on her
Jack Vartanian
jewelry. But for simple studs and a chic cocktail ring, there is no need to break the bank! 1928's Amore Dazzling Sun Button Earrings have an undeniable sparkle that makes them look like the real deal. And our Vintage Inspired Silver & Jet Black Oval Ring is a favorite to take any look from day to night. And you can get each of these pieces for just $20 or less! Now that's a fab find!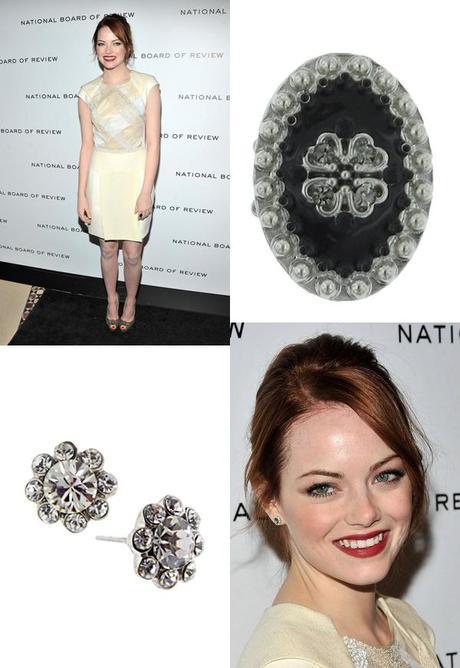 Hope you're getting ready for awards season! Check back for all of the fashions and flops on the red carpet and of course, even more fab finds! Have a fabulous Friday!
'