There are so many different trends popping up this season that are making fashion exciting and interesting. For example, patterned pants are more in this year than your average pair of denim. The hottest colors of the season are bright and bold instead of the neutral tones that normally come with fall. And as I mentioned in a previous blog post, the Little White Dress is taking the spotlight from the LBD.  Usually reserved for summer months only, white was all over the F/W 2011 runway shows, especially in dress form.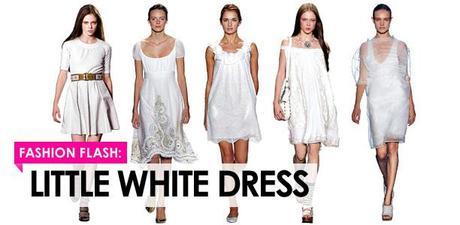 White is normally a difficult color to wear in the cooler fall and winter months because most of the time it comes in light weight, breezy materials and designs. You can still wear your favorite white summer dress you just have to know how to style it so you don't look like you stepped right off the beach. Try it with some tall riding boots and a leather jacket. Or maybe some brightly colored tights with a scarf and a beanie. Just like your favorite LBD you will come to learn that the possibilities are endless!
Recently, Demi Lovato stepped out in a LWD and put her own edgy spin on it with a leather jacket, metallic belt and rocking Christian Louboutin booties. We love everything about Demi's look here especially those hot red lips. She looks so effortlessly chic, proving that wearing a white dress in fall is easy to do and make your own. You can start with something as simple as black accessories as Demi has done, or you can add in some other colors and textures. The choice is up to you!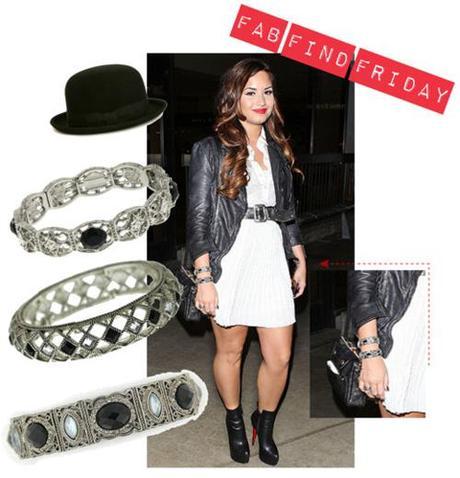 Another thing about the starlet's style that caught our eye was her jewelry. Here, Demi is wearing two of what appear to be the same bracelet together and we have to admit we love it! Normally when it comes to stacking bracelets we like combinations that include different sizes of bracelets, textures and colors but this is proving us wrong. The dynamic duo she put together has a classic vintage appeal that makes them look like they came straight from 1928! So of course we picked our favorite silver and black bracelets that look just like Demi's! The question is- will you wear two together? Or maybe mix two of these styles together?

Have a fabulous Friday!