Hi there! Remember THIS post which I reviewed on Beautylash lashes or THIS Facebook post which I mentioned that I will review my Sasa Haul? Well, today I'm going to give a detailed review on the makeup I used in my Beautylash review post! In case you've forgotten what I've got, here's basically what are the products I've used to create my look below: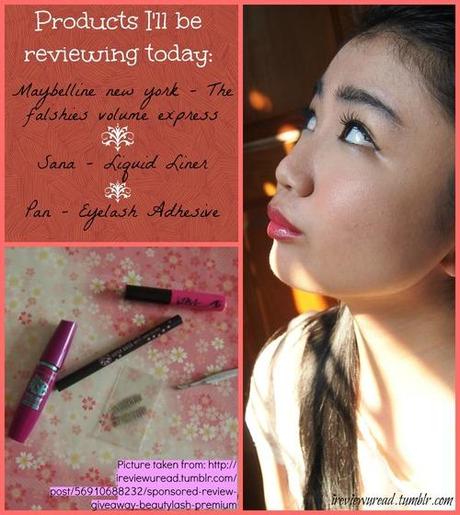 No photo editing done for that picture of me! (NOTE: The fake lashes which I have on in the photo is the Premium Series Design #1053 )
I realized that the word "falshies" in the picture is spelled wrong. It's supposed to be "falsies".

Note: The 3 makeup products which I will be reviewing in the post are NOT sponsored at all.
So let's start!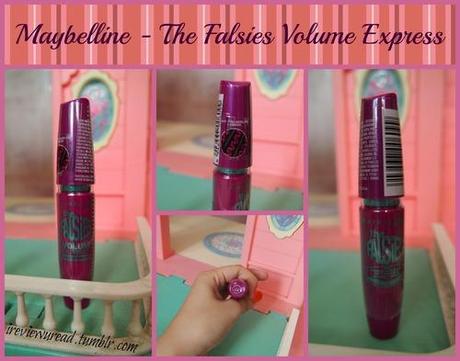 The first product which I'm going to start with is Maybelline New York - The Falsies Volume Express!(Black)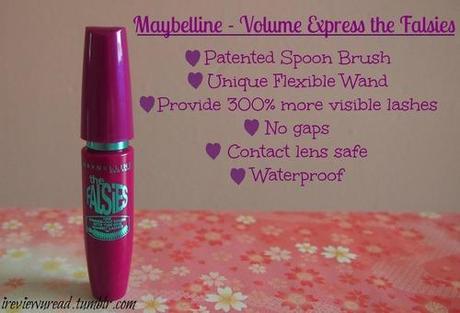 I realized that this Mascara have been out for quite a long time however the reason I still bought this over the other newer editions (eg. Maybelline Lashionista) was because I was not looking for a Mascara which gives extreme long lashes or extreme volume. I was just looking for a Mascara which gives one a natural look and then I came across this Mascara at Watsons. So, I bought it.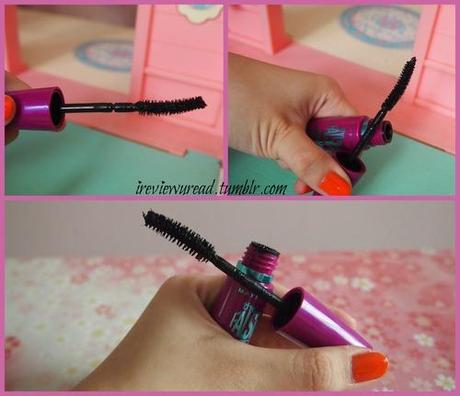 Ok firstly, I've got to admit I'm a mascara noob. Yes, I've tried other mascaras before in my life however, I realized that every time I put them on, I always seemed to cause myself to have extreme clumpy lashes which make me dreaded to put on mascaras. However, when I first tried this mascara, I noticed, THERE'S NO CLUMP! I'm so ecstatic that I put on a few layers before I decided I should stop.
What's really outstanding when you use this mascara is that it really gives you the falsies look. Meaning? It makes you look like you are putting on fake eyelashes even though you are not.
One downside on this Mascara is that once you put more then 1 layer of Mascara, you'll notice slight gaps on your lashes. Otherwise, this mascara lives up to it's reputation of "The Falsies"

Overall I would give this mascara 4 and a half IreviewUread stars because I really was expecting a normal mascara so no complains on having not enough volume for it.

You can get this mascara at any nearby departmental store (like Watsons, Guardian etc.) for $20.90 [Because of a voucher I got mine for half price! :D] .
Next! we shall move on to Sana- Superquick Matte Liquid Liner (Black)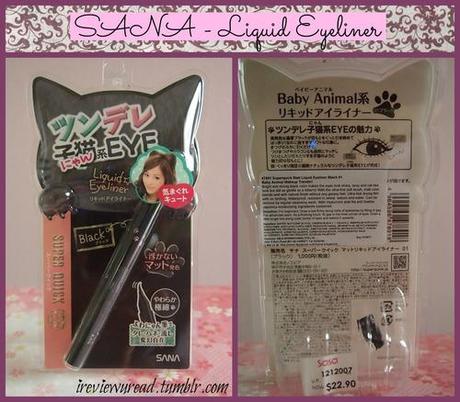 As seen from my Facebook post, I got this Cat liner in a SASA Haul with the 2 HUGE bottles of toner (I will review that in the future) and my eyelash adhesive (I will review that later in this post).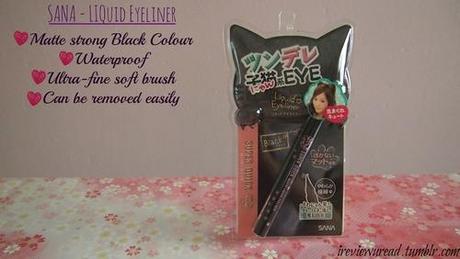 This eyeliner was actually promoted to me by the promoter in store. I was originally looking for the KATE liquid liner and somehow I was promoted this cutely packaged liner and after a quick decision, I bought it (Thinking back, I did not even look at the price….*forehead slamming myself* ).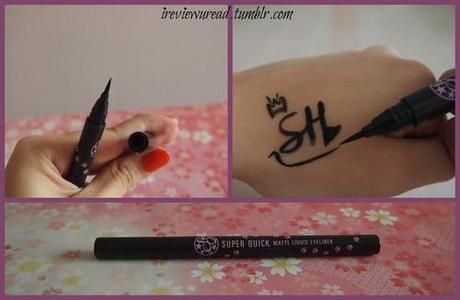 The SANA Matte Liquid Liner is a very easy to use eyeliner. If you are a first time user who is looking to just draw a line on your eyes very accurately, this is the liner for you!
As seen from above, the eyeliner brush is very easy to control for the brush is quite thin and the eyeliner is shaped like a pen. If you use it's tip to draw, you'll notice a very thin unnoticeable line. However, if you slowly add layers or bend the eyeliner slightly as you draw, you'll get a thicker layer!
Now let's see how durable is it in water! The following GIF shows me wiping the eyeliner aggressively with a tissue soaked in tap water: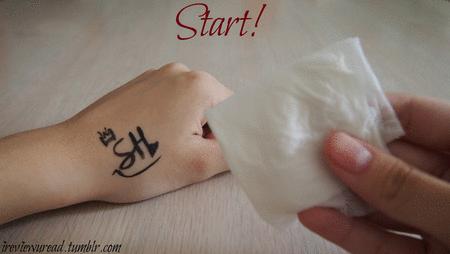 As seen from above, some of the eyeliner came off after slightly aggressive rubbing (an example use to show the result of the situation in which if you were to sweat/cry/get splashed by water and you decided to rub your eyes). So generally speaking, you'll probably need to touch up on your eyeliner if that happens.
Next, I show you how easy it is to remove the eyeliner using Biore - Makeup remover!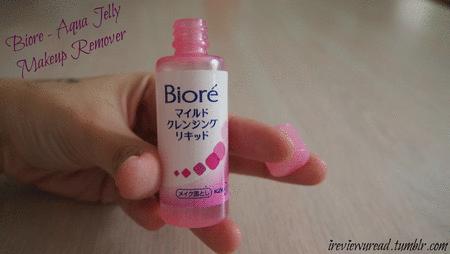 Refer to how I got the Biore Aqua Jelly makeup remover sample HERE
If the sample redemption link don't work, you can try THIS link (I don't know if the redemption of the Biore Aqua Gel sample have expired or not but if you never try you'll never know!)
Ok back to the eyeliner I felt that the eyeliner can be simply removed with just gentle rubbings of the makeup remover!


Overall, I would give the SANA - Superquick Matte Liquid Eyeliner Black 4 IreviewUread Smiles for I felt that the eyeliner can be removed too easily. With just a simple rub of my eyes, I realized that I need to touch up my eyeliner. I know this function is good in a way that you can remove the eyeliner easily by just merely washing your face with your normal cleanser but it also has ins cons. However, what I really like about this liner is that it's easy to use for first timers, produce a thin, solid black line when drawn and finally easy to control.
You can get the SANA - Superquick Matte Liquid Eyeliner Black at any SASA stores or other departmental stores for S$22.90 (Yes I realized it's a little pricey but this eyeliner is really one of those kind where you pay for it's quality)

Last but not least, the PAN - Eyelash Adhesive!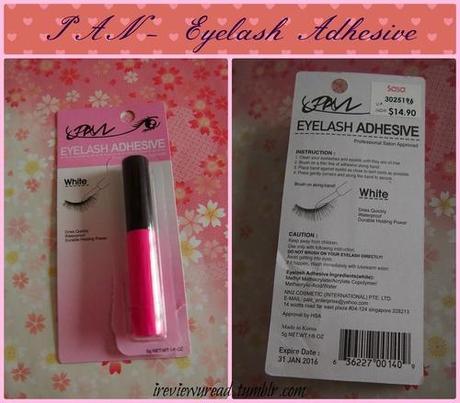 This PAN - Eyelash Adhesive is also one of the items I got in my SASA haul (Ok I might have eagerly teared open the package on my way home to see how was it)
Why did I got this eyelash glue instead of the highly popular DUO eyelash glue? Well, it's cause, I've read reviews about the DUO eyelash glue and these reviews about the eyelash glue shows more cons then pros of the eyelash glue. Another reason would be, I'm looking for a brush type which can allow me to apply the glue on to the false eyelashes as accurately as possible.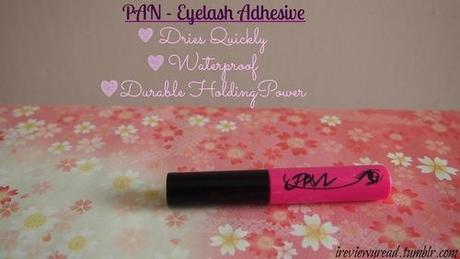 Like the eyeliner, this eyelash glue was recommended by the promoter. (This time I looked at the price first!)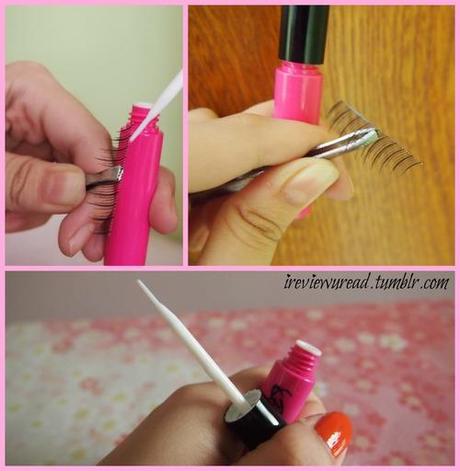 Basically, this Eyelash Adhesive is very easy to use because of it's brush and like it's description, this glue dries rather quickly and have a great durable holding power! I have yet to try of it's waterproof so let's put that aside!

Overall, I would give this glue 5 IreviewUread Smiles because of it's easy to use functions! This would be a great glue to recommend to first time buyers! On top of that, it can also be used as a double eyelid glue!
You can get this at SASA or other departmental stores for $14.90!
Ok that's basically the end of my review! BYE!
~~~
Psst. Noticed my nail color alternate from Bright orange to nothing at all? Well that's because I took photo of the products on different days! Stay tune to my blog to read how did I get that FREE orange manicure !!
Get yourself updated with IreviewUread activity by liking my Facebook page here: https://www.facebook.com/IreviewUread