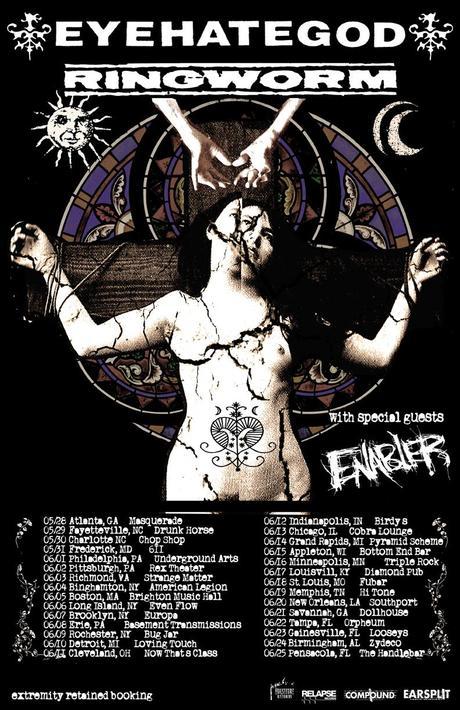 Eyehategod
, the long-awaited self-titled full-length from New Orleans' legendary volume assassins, is now available for preorder in North America via iTunes. Sixth track, "Worthless Rescue," will be available for download immediately, with the rest of the album delivered digitally on May 27th.
Preorder yours now at THIS LOCATION.
The dates for the band's late May/June headlining run with metallic hardcore behemoths, Ringworm, and morose punk metal perpetrators, Enabler, are all confirmed, with today marking the kickoff of a four-day live incursion on the West Coast followed by an appearance at Three Floyds Beer's annual Dark Lord Day Festival and a special performance in Baltimore, Maryland with High On Fire and Corrosion Of Conformity. A full list of dates can be viewed below.
EYEHATEGOD
's forthcoming long player was assembled and financed entirely by the band along with US label partners, Housecore Records. Already dubbed, "the record that EHG fans have been waiting for; a stomping and venomous set of eleven tracks that reignite the band's amazing propensity for down-trodden, electric blues and with their late drummer LaCaze behind the kit," by Vice Magazine mega music portal, Noisey, Eyehategod features vocals recorded and produced by Housecore president Philip H. Anselmo at his own Nodferatu's Lair and serves as the band's first proper release in over a decade. The domestic version will come in a CD digipack, while the LP will be housed in a gatefold jacket. The first pressing will be limited to 1600 copies and made available in the following color variations: black (600 copies), purple (300 copies), clear (400 copies), purple and gray (300 copies).
EYEHATEGOD Live Assaults 2014:
4/22/2014 Rock Shop - San Jose, CA
4/23/2014 Midtown Barfly - Sacramento, CA
4/24/2014 Branx - Portland, OR
4/25/2014 Rock Shop - San Jose, CA
4/26/2014 Dark Lord Day Festival - Munster, IN
4/27/2014 Ottobar - Baltimore, MD w/ High On Fire, Corrosion Of Conformity
w/ Ringworm, Enabler:
5/28/2014 Masquerade - Atlanta, GA
5/29/2014 Drunk Horse - Fayetteville, NC
5/30/2014 Chop Shop - Charlotte NC
5/31/2014 611 - Frederick, MD
6/01/2014 Underground Arts - Philadelphia, PA
6/02/2014 Rex Theater - Pittsburgh, PA  
6/03/2014 Strange Matter - Richmond, VA  
6/04/2014 American Legion Post 80 - Binghamton, NY
6/05/2014 Brighton Music Hall - Boston, MA
6/06/2014 Even Flow - Long Island, NY  
6/07/2014 Europa - Brooklyn, NY  
6/08/2014 Basement Transmissions - Erie, PA
6/09/2014 Bug Jar - Rochester, NY
6/10/2014 Loving Touch - Detroit, MI
6/11/2014 Now That's Class - Cleveland, OH
6/12/2014 Birdy's - Indianapolis, IN
6/13/2014 Cobra Lounge - Chicago, IL
6/14/2014 Pyramid Scheme - Grand Rapids, MI
6/15/2014 Bottom End Bar - Appleton, WI
6/16/2014 Triple Rock - Minneapolis, MN
6/17/2014 Diamond Pub - Louisville, KY  
6/18/2014 Fubar - St. Louis, MO  
6/19/2014 Hi Tone - Memphis, TN
6/20/2014 Southport - New Orleans, LA  
6/21/2014 Dollhouse - Savannah, GA
6/22/2014 Orpheum - Tampa, FL
6/23/2014 Looseys - Gainesville, FL
6/24/2014 Zydeco - Birmingham, AL
6/25/2014 The Handlebar - Pensacola, FL
Eyehategod
preorder packages including various CD, LP and T-shirt bundles are currently available via Housecore Records at

THIS LOCATION

. And if you missed it, soil yourself to a stream of "Robitussin And Rejection" HERE as well as "Agitation! Propaganda" HERE.
http://www.eyehategod.ee
http://www.facebook.com/OfficialEyeHateGod
http://www.thehousecorerecords.com