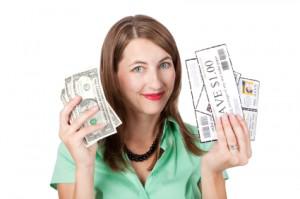 Anyone who has clipped coupons (whether they faithfully peruse the Sunday paper or they just wait for the grocery store coupons to come in the mail) knows how good it feels to watch the price at the check-stand plummet thanks to those little pieces of paper.  And for some people, couponing can turn into a hobby that leads to hundreds of dollars in savings every time they hit the market, or even results in a shopping trip that is totally free (or produces store credit for their next grocery order).  They will stockpile goods just so that they can take care of all their daily needs without any cost.
Welcome to the world of extreme couponing!  The savings are so fantastic that people are willing to devote dozens of hours each week to poring over circulars (like Albertson's flyers or Krogers weekly ad), sifting through the contents of coupon websites (such as Coupon Mom), and searching for in-store deals that match up with coupons (not to mention coupons that stack).  For some people, saving money has become a full-time job (whether they work at an actual job or not).  And when you're saving thousands of dollars a year on your grocery bill, maybe it's worth the time expenditure.  But it does beg the question: can this hobby turn into an obsession?
You'll be tempted to say yes, but there are a number of criteria that must be met in order for any activity to qualify as an obsessive behavior.  An obsession is generally classified as a psychological disorder that leads to anxiety and centers on certain repeated thoughts and behaviors.  In this case, it would pertain to saving money through the use of coupons.  And indeed, some people could exhibit symptoms of obsession.  Extreme couponing can easily cross over into this territory when those who practice it begin to feel nervousness, anxiety, or panic if they can't find a coupon, a coupon is denied, they don't realize the savings at checkout that they expected, and so on.  This is a sign that something isn't quite right.
It can also be more obsession than hobby when it begins to take over your life.  If you find that you spend so much time on couponing that you are unable to play with your kids, see your friends, exercise, or do any of the things you would normally do, then there's a good chance you have crossed into obsession territory.  Of course, with the economy the way it is, this could just become a way of life for a little while until you get a new job or your stock portfolio rebounds, but if it is ongoing, you might want to take a look at what you're giving up in order to save a few bucks.
For the average extreme coupon shopper, though, the activity remains a hobby, something that becomes just another obligation in a busy lifestyle (but one that saves a ton of money).  And considering that you can use that money for relaxing spa days, a family vacation, or even to support other hobbies, it may not be a bad idea for anyone looking for ways to cut back without giving up the entertainment and activities they love.