Phuket is relatively new to me and while I have visited in the past it has only been on passing en route to the surrounding, less developed areas (hideaways in the north of the island, Koh Maprao (coconut island) and Koh Yao Yai). So to date I've failed to see Phuket city center and in honesty I've never mustered much excitement to do so. Today however, having arrived to Phuket Pier with time to waste, I will venture to the one area of Phuket which does appeal to me. The Phuket Old Town is an area of old colonial shop houses, century Sino-Portuguese architecture and to my surprise some old world charm. While I generally avoid tourist areas I find Phuket Old Town to not be so touristy with only a trickle of travellers and the most of them being domestic and ASEAN tourists. As expected however (as with popular colonial areas e.g. Georgetown, Penang) Phuket Old Town has become a tad artsy and hipster but thankfully not yet to an overbearing or annoying extent. The area still thrives with traditional trade, authentic architecture and a unique and mixed Thai and Chinese heritage.

---
Soi Romannee and Beyond
This cute and colourful side street (pictured above) is a popular starting point when exploring Old Phuket Town. While Soi Romannee is one of the better preserved streets in the area it is also a touch garish with brightly painted shop fronts and over the top decoration (great for them cute photo-ops). The same goes for the adjoining Thalang Road which at night is draped in multicoloured lighting and other effects. Interesting to see but it does take from local authenticity. Making the most of Old Phuket Town means pushing out from Soi Romannee and getting lost as surrounding areas are perfect for poking and pottering round. While I don't venture too far on my quick visit I find many unique features from local Chinese temples to traditional shop house cultures.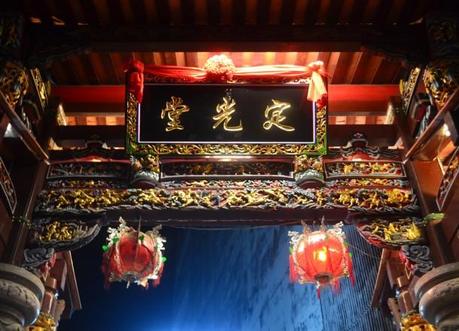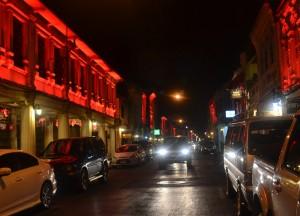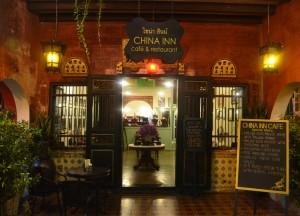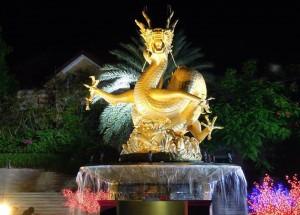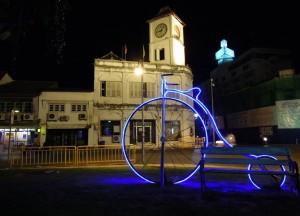 ---
Restaurants and Eating
The food in Phuket Old Town is alone worth the visit and many of the more tempting shop house restaurants are again found on Soi Thalang. On our visit we opt for the quieter side of the popular Wilai Restaurant where we find an exciting menu of Southern Thai foods, Chinese influenced dishes and tiny prices. My choice here was the Khua Kling Kai a Southern dish of hot, spiced ground chicken served with Thai omelet (Kai Giaow) and fresh vegetables (Pak Sod). Others on the table include the more Chinesey Hokkien Mee (Chinese Fried Noodles) and Moo Hong (Stewed Pork Belly in Chinese Spices). For dessert a southern influenced banana and chocolate roti. As above the food alone worth the visit to Phuket Old Town.