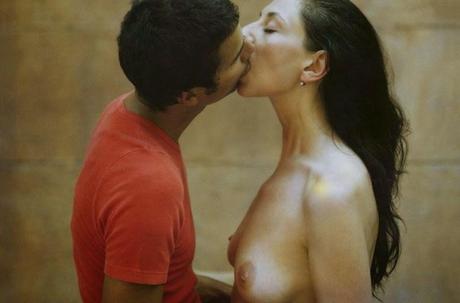 Me Kissing Vinoodh (Lovingly) 1999
Inez Van Lansweerde and Vinoodh Matadin 

guest edit 

the fashion issue

 of Aperture Gallery's newly revived magazine, and what the D

utch photography duo and fashion/art/advertising crossovers curated is a beautiful Ode to Mode that is as multi-tasking as they are.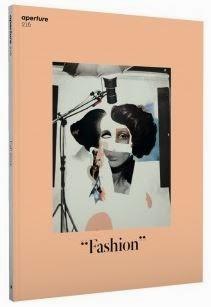 Inside the

 pepto pink cover, featuring Richard Hamilton's "Fashion-plate" the prolific duo showcases their own work, including some never before seen images, as well as that of other artists, photographers, film makers, and editors that influenced their work and the industry at large. 
Images and interviews run the gamut from Sixties Ed van der Elsken nudes to Shisheido ads from the 1970's to a portrait of rising star and all-around outlier Iggy Azalea accompanying an article about the forces shaping post-9/11 fashion. A healthy dose of current and mainstream imagery, like the editors' own iconic shots of Lady Gaga, Anya Rubik, and the ubiquitous Kate Moss are dotted throughout, providing the connective tissue for an issue that in just 131 pages gamely covers generations and genres of fashion, photography, and art.
HIGHLIGHTS OF "FASHION":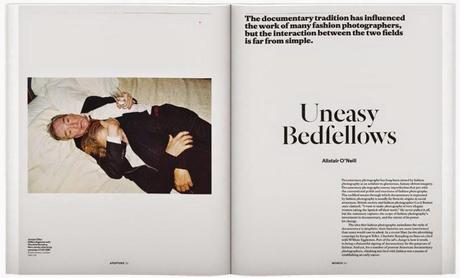 1.) "Uneasy Bedfellows", a referential article by Alistair O'Neill detailing the tricky relationships between documentary photography and fashion photography is especially pertinent given the glaring presence of the guest editors' blazing, delicious self portrait "Me Kissing Vinoodh (Lovingly)". 
------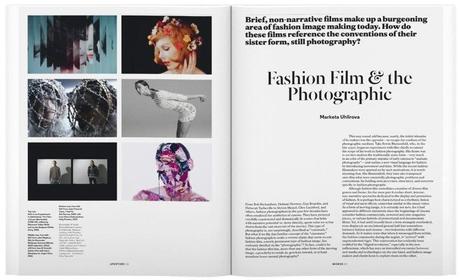 2.) Immediately after followed another article, "Fashion Film & the Photographic", a thoughtful reflection by Marketa Uhlirova that examined the similarities between the two titular mediums.
Fashion film, like fashion itself, is particularly fascinating in that it dances the fine line between art form and commercial, and is more often than not a little of both. One question posed by Uhlirova that even the casual fashion film buff can appreciate is the ever-present notion of "stillness" and "restricted expression". She offers two schools of thought, the first being that photographs are more memorable, and the second that consumers and buyers alike need stillness to be able to appreciate the fine details of the featured pieces. Whatever the reason, it definitely warrants further reflection, especially given the ever-increasing use of fashion filmography to express a designer's mood-du-jour and indeed inspire a tinge of desire dreamed up with the end goal of loosening purse strings.------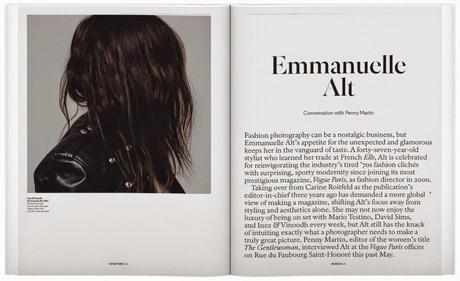 3.) As an overall fashion-busybody, I relished Penny Martin's interview with Emmanuelle Alt. Reading more like a conversation, with Martin frequently interjecting her own experiences in the industry to coax out admissions from Alt, the piece painted a gorgeous portrait of one of the industry's Anti-Editor Editors. I plan to frequently refer back to Alt's responses, like these below, which  you can find heavily earmarked and underlined in my copy of the magazine:
Penny Martin: When it comes to initiating a shoot, [are common] influences even mentioned between collaborators of the same age?Emmanuelle Alt: Well, this story began with Inez and me exchanging images by e-mail. Sometimes it comes from almost nothing; it might just be a color. When you're shooting in the sun—you know that strong blue sky in St. Barths—you need a contrast. So I might say, "What do you think about red and white?" And Inez is like, "Oh, yeah, sure!" I'll send a picture of a red shoe and a René Gruau illustration, which is full of red, and just a silhouette or a little sketch. It's not always photographs—often it's a painting or a frame-grab from a YouTube film. Very quickly, we'll start to build up an image of a woman, and then we can discuss the casting. Some photographers will keep changing their casting or think they need a stronger idea. But Inez isn't someone who hesitates. It's like three phone calls and everything is booked.---PM: How many people were on set with you and Inez and Vinoodh?EA: Oh, it was always twenty, minimum. You have the digital operator, and now you have a producer...it's like a mini version of the cinema industry.---PM: Which of the images that you were involved in creating do you look back at - which would you say were most important in terms of establishing your signature visual language?EA: About four years ago, my first story with David was "Commando" with Iselin Steiro - she was wearing army stuff; this was a tough, new character we created. I was very proud. And not long after I came to Vogue, I started wotking with Inez and Vinoodh and I think we really created something together.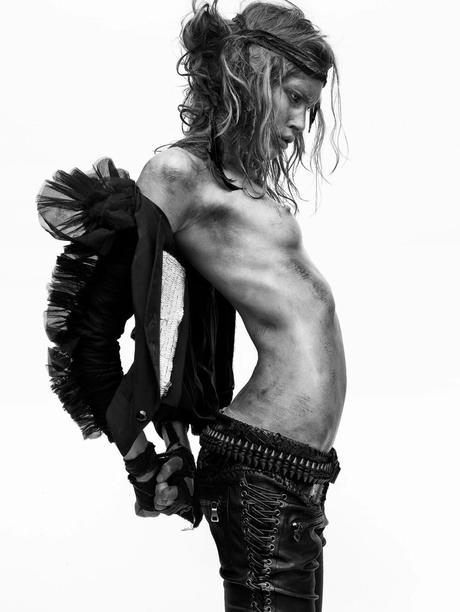 PM: Do you mean all those images of Jessica Miller with the extravagant poses?
EA: Yes, that was the beginning. They were good, I think. I loved the feminity and the mystery of Inez in them.
---
PM: I remember saying to [Vogue art directors] Michael and Mathias when they first got the job, "Oh my God, that archive! Having that resource downstairs is going to be great." I was so surprised when they replied that they had no intention of using it.
EA: It's a dilemma, working with an institution with such a history. "Should I look back? Should I not look back?"
PM: In our industry, a conversation about using archival references can be very nuanced. [People] might think you're accusing them of copying someone else's work.
EA: Well, people can't say they don't work with references - I mean, they're everywhere, from advertisers' storyboard to fashion designers' mood boards. But sharing a picture in order to discuss lighting or allude to Jessica Lange's hairstyle from a particular film is different from redoing something. And what's the point of that? It's like when singers cover "La vie en rose" - you just know it's going to be a disaster since there's nothing to add.
------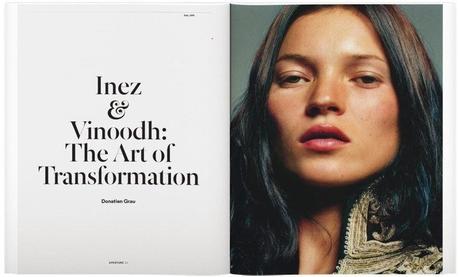 4.) In "Inez and Vinoodh: The Art of Transformation", Donatien Grau argues that the photograph "Me Kissing Vinoodh (Lovingly)" is a metaphor for the pair's relationship - both in art and in life. The sensual femininity, attachment, trust, and a fierce sense of equality depicted in the image, argues Grau, capture the very essence of the twenty-five year collaboration that has defied the individualistic nature of photography and yielded an incredible portfolio of work.
We're offered nearly 30 stunning photographs accompanying the article, among them these: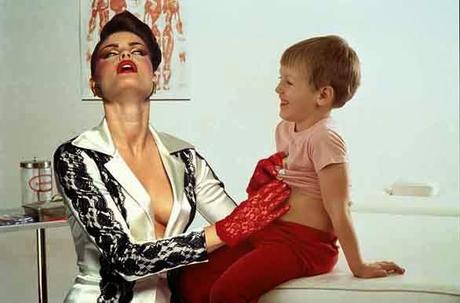 A two-tone stretch satin and lace pantsuit by Bertrand Marechal, The Face 1994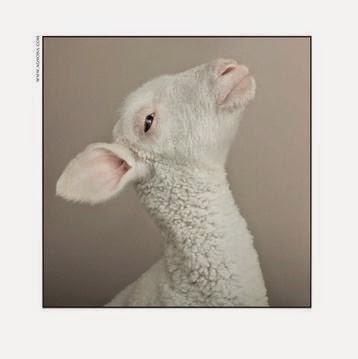 Lamb, Agnona Campaign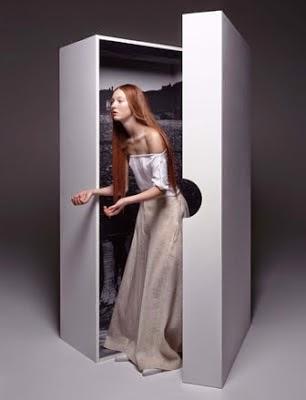 Maggie's Box, Yohji Yamamoto campaign 1998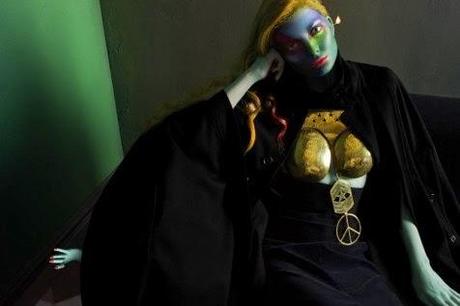 Eniko for Peace, Self Service Magazine
Pick up a copy of Inez and Vinoodh's "Fashion" issue at Aperture (547 West 27th Street, 4th Floor, NYC), or online - it's disguised as a magazine but will certainly become a trusted source of inspiration and reference, and a coffee table mainstay for years.
Cheers,
Renata